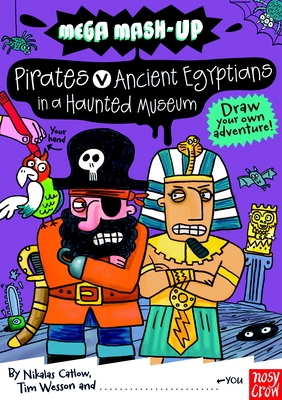 Mega MASH-Up: Pirates vs. Ancient Egyptians in a Haunted Museum (Paperback)
Pirates vs. Ancient Egyptians in a Haunted Museum
Nosy Crow, 9780763659011, 96pp.
Publication Date: April 24, 2012
Description
Draw Your Own Adventure Who will steal the priceless Golden Howler Monkey from the museum: the bloodthirsty pirates or the crazy Ancient Egyptians? These hilarious books take great subjects for boys and combine them in very short, wacky stories with bold illustrations that are incredibly easy and quick to read. Best of all, there's plenty of space left on each page, together with suggestions for how to fill it, so that kids can add their own drawings. These are chapter books - but they're doodle books as well.
About the Author
Nikalas Catlow and Tim Wesson met when Nikalas, who was working as a designer, thought Tim would be a good illustrator for some books he was writing. When they met they discovered that they lived across the street from each other! One idea led to another, which eventually brought them to the Mega Mash-Up series. They both live in London.
Advertisement