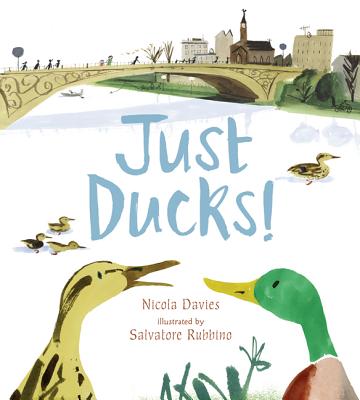 Just Ducks! (Hardcover)
Candlewick, 9780763659363, 32pp.
Publication Date: March 27, 2012
* Individual store prices may vary.
Description
A young girl shares her observations about the mallards near her house in an engaging, informative story sure to make a splash with duck lovers.

Quack quack, Quack-quaack-quack.
It's the first sound I hear every morning.

The young girl in this story may live in the city, but outside her window there's a river full of mallard ducks! She hears them as soon as she wakes up, and on the way to school she sees them upside down bobbing for food. Interspersed with fun facts, her enthusiastic commentary about her feathered neighbors — what they look like, how they behave, where they nest, where they sleep — pairs swimmingly with cheerful watercolor illustrations.
Back matter includes an index and a note about ducks.
About the Author
Nicola Davies is a zoologist and the award-winning author of many books for children, including Surprising Sharks,illustrated by James Croft; Ice Bear: In the Steps of the Polar Bear, illustrated by Gary Blyth; and White Owl, Barn Owl, illustrated by Michael Foreman. Nicola Davies lives in Wales.

Salvatore Rubbino is the author-illustrator of A Walk in New York and A Walk in London, the latter of which is an ode to his home city.
Praise For Just Ducks!…
Davies, a zoologist who has written excellent books for children about sharks, polar bears and owls, deftly tucks a range of duck facts into the sweet story of a girl who lives near a river filled with ducks... The setting looks like an idealized European hamlet. An elegant bridge stretches over a riverside park, and cyclists and church steeples dot the landscape. The unnamed narrator fits right in, stylishly clad in matching beret and scarf. But her friendly, down-to-earth vernacular is well pitched for the 6- or 7-year-old reader. No doubt, she will inspire others that age to visit and watch their local mallards.
—The New York Times

Davies's young narrator builds an impressive body of knowledge about ducks simply by watching the birds that live on and around the river that runs through her town...The text, set in a beautiful typeface that recalls rippling water, is pitch-perfect throughout, enthusiastic and confident, knowing without becoming precocious. Rubbino's watercolors combine a sketchbook immediacy and economy with an appreciation for the ducks' streamlined shape, handsome coloration, and placid and genial demeanor. Positively ducky all around.
—Publishers Weekly (starred review)

The daily activities of a young girl propel the easy-flowing language full of ducky details. Perfectly placed additional facts in smaller and similar-in-tone text are included on each spread...While Davies' text gently informs, Rubbino's mixed-media illustrations, done in a subdued palette of watery greens, grays and browns, truly impress... An ideal introduction to this familiar waterfowl—readers will enjoy diving right in.
—Kirkus Reviews (starred review)

A charming and informative tribute to the ubiquitous duck... The mixed-media artwork adds a sweet, old-fashioned character to the story. Created in a palette of greens and browns, the illustrations reflect the peaceful setting of the natural habitat in which these birds live. Like Robert McCloskey's MAKE WAY FOR DUCKLINGS (Viking, 1941), this gentle picture book celebrates the wonder and awe nature can inspire in everyday life.
—School Library Journal (starred review)

The easy-going, colloquial tone of the text makes the information surprisingly easy to absorb... Rubbino's watercolor paintings have a wonderful freshness and spontaneity about them, capturing the look and body language of ducks, while including details of physiology mentioned in the story. Beautiful, informative, and fine for reading aloud.
—Booklist (starred review)

Rubbino's art, vigorous, informal splashes of color with the fluidity of watercolor and the sharp-edged smoothness of digital illustration, relies on piney greens and russety browns in an earthtoned palette that exudes the damp chill of a duck-rich river in a frigid season; the gestural treatment of the ducks conveys their motion as they flap and preen. With a take-a-closer-look emphasis on animals that many youngsters have in their own neighborhoods, this is a useful addition to Davies' excellent early nature-study titles that both answers questions and brings biology to kids' doorsteps.
—Bulletin of the Center for Children's Books

In this nicely illustrated picture book, the reader gets more than beautifully detailed drawings and a little girl's story. . . .With careful reading, one learns about the pond behavior, mating, feeding, sleeping, and parenting habits of ducks. The illustrations' muted colors and the finely crafted font help to create an atmosphere that mimics the smooth progression of the ducks atop the water.
—Library Media Connection