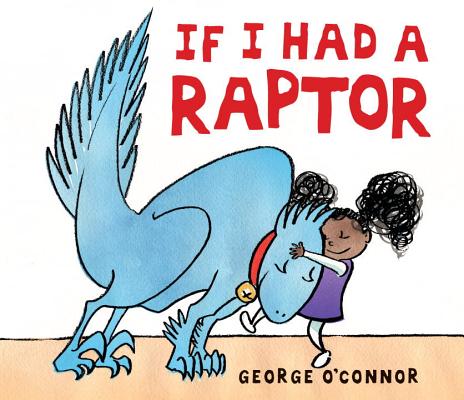 If I Had a Raptor
Hardcover

* Individual store prices may vary.
Description
A spunky and imaginative little girl dreams of the best pet ever — a fuzzy baby raptor to snuggle.

Our heroine can't think of anything better than bringing home a baby raptor — all teensy and tiny, fluffy and funny. It would cuddle and play, stalk birds and dust bunnies, and curl up on laps. In short, it would be the perfect pet! Readers may notice striking similarities between the raptor's behavior and that of a more common house pet. But whether their first love is dinosaurs or kittens, little people with big imaginations will definitely warm to this perfect picture book.
Praise For If I Had a Raptor…
A master cartoonist who strikes an ideal balance between visual sophistication and warmth, O'Connor does wonderful things with the gap between the hopes and dreams of the narrator, a small girl with wonderfully expressive pigtails, and the reality of pet ownership.
—Publishers Weekly (starred review)

In a switcheroo that even catless readers will spot immediately, O'Connor opens with a small girl sporting a winsome smile and big, scribbly hair—crouching next to a carton labeled "Free Raptors." Looking in the clean and simple illustrations like a blue dust mop with big eyes (and impressive claws), one "teensy and tiny" selection is carried home. ... The besotted little girl is just about as adorable as her raptor, with two enormous pom-pom ponytails framing her dark face. So cute. Who wouldn't want one?
—Kirkus Reviews

The roundly cartoonish illustrations, thick and loose pencil outlines and filled in with bright, textured watercolors on glossy paper, show off the similarities [between the raptor and a cat]. The blue, feathered raptor—a ball of fluff as a baby—grows up to curl its tail felinely around itself as it snuggles on the laundry and shine its dinner-plate eyes at night as its owner gets a glass of water. Though the most giggles will come from older kids who get the conceit in the modest comparison, even youngest ones who would thrill at the idea of a dinosaur pet will take to a storytime sharing of this imaginative tale.
—Bulletin of the Center for Children's Books

This story is a welcome addition to the dinosaur-as-pet genre... The earnest text is perfectly complemented by colorful pencil and watercolor cartoon illustrations, which show the joys and challenges of caring for a pet. ... Readers will appreciate the similarities between the impractical dino and more realistic animal pets, like cats or dogs. The text is lively and simple enough to make a great read-aloud.
—School Library Journal

With pictures and words that are at odds with one another, master cartoonist O'Connor imbues a potentially frightening situation with hilarity and warmth.
—East Bay Express
Candlewick, 9780763660123, 32pp.
Publication Date: May 13, 2014
About the Author
George O'Connor is the creator of several children's books, including the New York Times best-selling Olympians series, retellings of Greek myths in comic form. About If I Had a Raptor, he says, "Someone smarter than me once remarked that if your cat was a little bigger and you were a little bit smaller, it would eat you. That comparison informed my dino ization of the house cat in If I Had a Raptor." George O'Connor lives (with his clawed and clever cat) in Brooklyn.