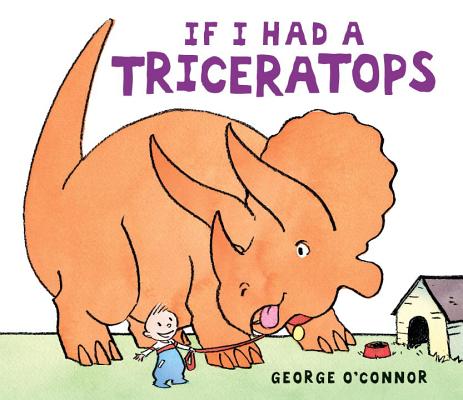 If I Had a Triceratops
Hardcover

* Individual store prices may vary.
Description
With deft visual humor, a New York Times best-selling author-illustrator imagines how awesome it would be to have a pet triceratops living in your backyard.

Wouldn't it be great to have a triceratops for a pet? If you had one, it would probably be your best friend. It would always want to play with you, and it would always know how you're feeling. On dark and stormy nights, if your triceratops got scared, you could let it sleep in your room. True, a triceratops is a little on the huge side, but that just means more pet to love, and more pet to love you right back! Just imagine your very own pet triceratops running out to greet you at the end of the day. Ooof! Wouldn't that be the best thing ever?
Praise For If I Had a Triceratops…
"If I Had a Triceratops" is amusing on its own, and together with its predecessor comprises a clever, funny allegory of the behavioral gulf between dogs and cats — and the way the owners of both remain blissfully untroubled by their pets' true, beastly natures.
—The New York Times

Tongue stuffed firmly in cheek, O'Connor lets his premise go positively nuts in the pictures while keeping the text understated for maximum irony. Different dino, same goofy premise and rapturous tone. Young dog lovers will understand perfectly.
—Kirkus Reviews

Dinosaurs and fantasies about a perfect pet are both topics loaded with kid appeal, and this picture book, which combines the two, is a real charmer. ... Rendered with thick-lined pen strokes and bright watercolors, the illustrations have a cartoonlike feel that will invite peals of laughter from the younger set yet are artful, imbued with a sophistication that adults will appreciate... Prehistoric pet ownership has never been more enchanting.
—School Library Journal

The illustrations are warm and cheerful-looking, and the good mood carries through to the very end: "If I had a triceratops, I would be the luckiest kid in the world."
—Booklist

The kids for whom this is a straight-up wishful fantasy will revel in the notion, and the book may spark discussion about other technically impossible but delightful pets.
—Bulletin of the Center for Children's Books

O'Connor has drawn these two characters with much exuberance and life by using pencil and watercolor. This book is a great companion to his first book, If I Had a Raptor, which also explores the possibilities if a young girl could have a bird-like dinosaur as a pet.
—Meridian Magazine

Larger-than-life fun for animal- and dinosaur-loving kids.
—Publishers Weekly
Candlewick, 9780763660130, 32pp.
Publication Date: February 10, 2015
About the Author
George O'Connor is the creator of several children's books, including the New York Times best-selling Olympians series, retellings of Greek myths in comic form, and the New York Times best-selling picture book Kapow! He considers himself a cat person, but if anyone knows where he might get a doglike triceratops, he could probably be convinced to switch up. George O'Connor lives in Brooklyn, New York.