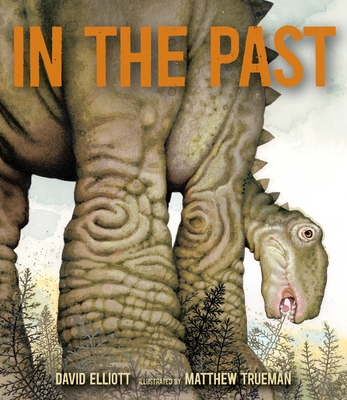 In the Past (Hardcover)
From Trilobites to Dinosaurs to Mammoths in More Than 500 Million Years
Candlewick, 9780763660734, 48pp.
Publication Date: March 20, 2018
* Individual store prices may vary.
Description
Return to the prehistoric era and discover a host of creatures both novel and familiar, from the mysterious trilobite to the famed T. rex.

Care to meet a dunkleosteus? An apatosaurus? How about the dragonflyesque meganaura? In a collection that's organized chronologically by epoch and is sure to intrigue everyone from armchair dino enthusiasts to budding paleontologists, David Elliott and Matthew Trueman illuminate some of the most fascinating creatures ever to evolve on the earth. Combining poems both enlightening and artful with illustrations perfect for poring over, this volume ensures fascinating trips back to a time as enthralling and variable as any in our planet's evolutionary history.
About the Author
David Elliott is the award-winning author of many books for children, including the New York Times best-selling And Here's to You! as well as On the Farm, In the Wild, In the Sea, and On the Wing. He is also the author of Baabwaa and Wooliam, illustrated by Melissa Sweet; Nobody's Perfect, illustrated by Sam Zuppardi; and The Two Tims, illustrated by Gabriel Alborozo. David Elliott lives in Warner, New Hampshire.

Matthew Trueman is the illustrator of several books for children, including Hippos Are Huge! by Jonathan London and One Beetle Too Many: The Extraordinary Adventures of Charles Darwin by Kathryn Lasky. He lives in Phillipsburg, New Jersey.
Praise For In the Past: From Trilobites to Dinosaurs to Mammoths in More Than 500 Million Years…
A dramatic portrait gallery of some of our planet's former residents down through the eras, with pithy odes in rhymed or free verse...Many of the informal facts and observations he adds at the end are just as memorably phrased. Highlights from life's last 544 million years infused with humor and wonder.
—Kirkus Reviews (starred review)

It's not just dinosaurs profiled here; the book heads all the way into the Quaternary period (that's the one we're currently in) and introduces creatures like the saber-toothed tiger ("Smilodon") and the Woolly Mammoth ("Mammuthus"). Trueman's full-bleed, vibrant portraits bring these long-extinct animals to energetic life, and a final spread offers up more scientific facts. A journey into the past that's a visual and linguistic joy.
—Booklist (starred review)

Prehistoric beasts are an evergreen favorite among kids, and this wonderful combination of art, poetry, and science is a great addition to libraries.
—School Library Journal (starred review)

Elliott's clever, winking poems are chiefly interested in keeping readers entertained: "Some way you were among/ the first to leave the ocean/ and touch the wet black earth," he writes as an armored Eurpterus slinks out of the water. "We're glad you did,/ for what it's worth." But closing notes should satisfy their curiosity about these ancient beasts—or send them searching for additional information.
—Publishers Weekly

Trueman's dynamic, creatively composed mixed-media illustrations plunge readers into past environments using awesome, sometimes scary perspectives: up close to the bloodied jaws of a carnivorous Dimetro- don, underneath the massive tail of a Brachytrachelopan or a striking Titanoboa, and within the giant ferns of the Triassic Period.
—The Horn Book

Any subject as simultaneously mysterious and accessible as the wide ranging and exotic animals that have roamed the earth deserves to have volumes of poetry written about it. This collection of poems is a good start.
—School Library Connection

In this terrific picture book for 3- to 7-year-olds, we see the coiled terror of the snaky Titanoboa, a mist of blood around his attacking jaws. And here is the nightmarish Yutyrannus, feathered like a chicken and built like a T. rex. David Elliott has written captivating odes, at turns jaunty and wise, for each animal.
—The Wall Street Journal

Prehistoric creatures and poetry? Perfect match! Humorous but informative verse will be sure to inspire little word-loving scientists.
—Scholastic Teacher

Artist Matthew Trueman's illustrations are big, bold, and bursting with color and detail.
—New York Journal of Books