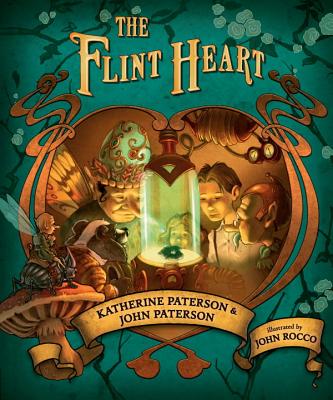 The Flint Heart (Paperback)
Candlewick, 9780763662431, 304pp.
Publication Date: August 14, 2012
Other Editions of This Title:
Paperback, Abridged (12/24/2018)
Compact Disc, Abridged (9/27/2011)
Hardcover, Abridged (9/27/2011)
MP3 CD, Abridged (9/8/2015)
* Individual store prices may vary.
Description
A robust and wildly entertaining fairy tale, freely abridged from Eden Phillpotts's 1910 fantasy and wryly retold by Katherine and John Paterson.

An ambitious Stone Age man demands a talisman that will harden his heart, allowing him to take control of his tribe. Against his better judgment, the tribe's magic man creates the Flint Heart, but the cruelty of it causes the destruction of the tribe. Thousands of years later, the talisman reemerges to corrupt a kindly farmer, an innocent fairy creature, and a familial badger. Can Charles and his sister Unity, who have consulted with fairies such as the mysterious Zagabog, wisest creature in the universe, find a way to rescue humans, fairies, and animals alike from the dark influence of the Flint Heart? This humorous, hearty, utterly delightful fairy tale is the sort for an entire family to savor together or an adventurous youngster to devour.
About the Author
Praise For The Flint Heart…
Magical adventure...A grand tale skillfully updated and tightened up, this should win the hearts of a new generation.
—Kirkus Reviews (starred review)

Told in the voice of a storyteller in the style of A. A. Milne or J. M. Barrie, the tale will make an excellent read-aloud. . . . The Patersons have done a lovely job updating and abridging this tale for today's readers.
—School Library Journal (starred review)

The Patersons have done a stellar job of maintaining the book's period feel while creating a fresher, tighter story that feels tailor-made for family reading.
—Publishers Weekly (starred review)

This timeless, enjoyable retelling is a strong choice for both a read-aloud and an under-the-covers escape.
—Booklist

This is a charming fantasy that can be enjoyed as a read-aloud.
—Library Media Connection

A distinctive English setting, complete with windswept moors and a magical forest, is paired with whimsical humor to make a cheerfully vibrant tale that simply begs to be read aloud in a family setting...a perfect gift book for children ready to move beyond the Tinkerbell version of fairyland.
—Bulletin of the Center for Children's Books

A marvelous modern fantasy.
—The Horn Book

Enchanting...A crowd-pleaser brimming with action, magic, and wit.
—Disney FamilyFun

This book could quickly become the family read-aloud favorite. It's old-fashioned bookmaking and storytelling, with a cast of characters and message for modern times.
—Shelf Awareness

For all the imaginative glory of children's fiction in the 19th and early 20th centuries, the language and prose style of the era can sometimes be daunting to the modern child. With this in mind, and with evident relish, Katherine Paterson and John Paterson have trimmed and reworked "The Flint Heart," a 1910 fairy tale by British writer Eden Phillpotts. In the Patersons' hands, the story still crackles with drollery and wordplay, but it is considerably lighter on exposition and magical esoterica.
—Wall Street Journal

In this fantasy "freely abridged" from the 1910 original by Eden Phillpotts, the prose by the husband-and-wife team retains some of the Edwardian voice of the original and laces the story with understated humor. John Rocco's digitally colored pencil drawings provide a perfect complement, glowing with fairy light...The Patersons have given new life to Phillpotts' original, retaining and enhancing the magical wonder of a tale that ought to endure as a classic. This beautifully made book exemplifies, as John Rocco said in a recent interview, "the importance of the physical book for children in this ever-growing digital age."
—BookPage

Given the language, the messages and the awe-inspiring illustrations, The Flint Heart is a perfect book to read aloud and enjoy with your child. You may end up in a conversation about the works of Shakespeare, why it is important to understand different points of view or why some people will go to any lengths to gain power.
—ABC7 "Sweet on Books"

This is a delightful story, with a wry sense of humor, a little quirkiness, and a wonderfully imaginative cast of characters reminiscent of the types I could imagine Alice meeting in Wonderland.
—James Patterson's Read Kiddo Read.com

An old story made new by Katherine Paterson, who is surely the Louisa May Alcott of our time.
—Washington Post