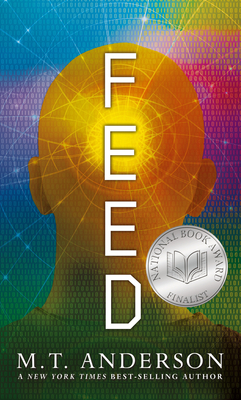 Feed (Paperback)
Candlewick, 9780763662622, 320pp.
Publication Date: July 17, 2012
Other Editions of This Title:
Prebound (7/17/2012)
Prebound (7/17/2012)
Compact Disc (3/11/2008)
Mass Market Paperback (8/1/2010)
Paperback (2/23/2004)
Hardcover (9/23/2002)
Paperback, Large Print (4/1/2020)
Library Binding, Large Print (4/1/2020)
Hardcover, Korean (5/27/2009)
Prebound (3/1/2004)
Prebound (3/1/2004)
* Individual store prices may vary.
Description
The tour de force that set the gold standard for dystopian YA fiction — in a compelling paperback edition.

For Titus and his friends, it started out like any ordinary trip to the moon — a chance to party during spring break. But that was before the crazy hacker caused all their feeds to malfunction, sending them to the hospital to lie around with nothing inside their heads for days. And it was before Titus met Violet, a beautiful, brainy teenage girl who has decided to fight the feed and its ever-present ability to categorize human thoughts and desires. M. T. Anderson's not-so-brave new world is a smart, savage satire that has captivated readers with its view of an imagined future that veers unnervingly close to the here and now.
About the Author
Praise For Feed…
Subversive, vigorously conceived, painfully situated at the juncture where funny crosses into tragic, FEED demonstrates that young-adult novels are alive and well and able to deliver a jolt.
—New York Times

"Another book that can be added to the list entitled 'YA Novels I'd Never Heard of But Which Turn Out to Be Modern Classics' and Feed may well turn out to be the best of the lot . . . Funny, serious, sad, superbly realized."
—Nick Hornby, The Believer

M.T. Anderson has created the perfect device for an ingenious satire of corporate America and our present-day value system...Like those in a funhouse mirror, the reflections the novel shows us may be ugly and distorted, but they are undeniably ourselves.
—The Horn Book (starred review)

The crystalline realization of this wildly dystopic future carries in it obvious and enormous implications for today's readers — satire at its finest.
—Kirkus Reviews (starred review)

This satire offers a thought-provoking and scathing indictment that may prod readers to examine the more sinister possibilities of corporate-and media-dominated culture.
—Publishers Weekly (starred review)

What really puts the teeth in the bite...is Anderson's brillinat satiric vision in the semaless creation of this imagined but believable world. The writing is relentlessly funny, clever in its observations and characters....
—Bulletin of the Center for Children's Books (starred review)

A gripping, intriguing, and unique cautionary novel.
—School Library Journal

Many teens will feel a haunting familiarity about this future universe.
—Booklist

Both hilarious and disturbing.
—Booklist Editors' Choice

In spite of its foreboding overtones, FEED is in a sense an optimistic novel. By involving its readers in the act it suggests is central to society's survival, the book offers hope.
—Riverbank Review

Although set in the future, Anderson's novel is a stunning indictment of contemporary America and its ever-increasing obsession with consumerism even in the face of impending environmental collapse . . . the novel is both intense and grim. It should, however, appeal strongly to mature and thoughtful readers who care about the future of their world.
—VOYA

Disturbing yet wickedly funny, with as brilliant a use of decayed language as Russell Hoban's post-apocalyptic RIDDLEY WALKER.
—Horn Book Fanfare, The

This dystopic vision is dark but quite believable. Sad and strong and scary.
—Chicago Tribune

The book is fast, shrewd, slang-filled and surprisingly engaging.
—New York Times Book Review Notable Books of the Year

This wickedly funny and thought-provoking novel is written in a slang so hip it is spoken only by the characters in this book. Teens will want to read it at least twice.
—Miami Herald

A darkly comic satire that can be read as a promise or a warning.
—Detroit Free Press

The flashes of humor as well as the cleverly imagined grim future world should quickly draw readers into this look at teenage love and loss, and at consumerism carried to its logical extreme.
—Kliatt Book Review

The scariest part of FEED's brilliantly conceived futuristic dystopia is that much of it isn't futuristic . . . To list all the prescient details in this novel would require taking something from nearly every page.
—Riverbank Review

Frightening in its realistic depiction of what is possible in a culture addicted to information, this novel is a guaranteed conversation-starter.
—Publishers Weekly Best Children's Books of the Year

It's exhilarating to decipher Anderson's futuristic adolescent slang, but his story is a serious one. He has an uncanny gift for depicting how teenagers see the world.
—BookPage

This language sets a perfect tone for the story of a teenage boy growing up in a frighteningly futuristic world . . . The scariest thing of all is its unnerving plausibility.
—Raleigh News and Observer

Surely one of the most prescient novels of last 20 years.
—Lev Grossman

As with the best futuristic fiction, it's scary how little needs to be exaggerated.
—Newsday

The novel is chilling in the way only a well crafted and darkly writ satire can be.
—DigBoston.com