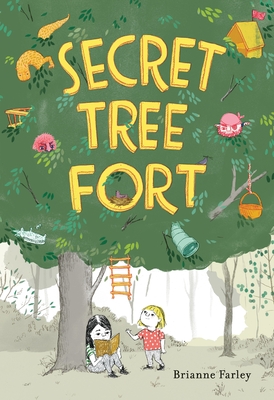 Secret Tree Fort (Hardcover)
Candlewick, 9780763662974, 32pp.
Publication Date: April 12, 2016
* Individual store prices may vary.
Description
Even a bookish big sister is drawn in by the promise of her imaginative sibling's spectacular hideaway.

I have a secret tree fort, and YOU'RE NOT INVITED!

When two sisters are ushered outside to play, one sits under a tree with a book while the other regales her with descriptions of a cool fort in a tree that grows ever more fantastical in the telling. What will it take to get the older sister to look up? The promise of a water-balloon launcher in case of attack? A trapdoor to stargaze through? A crow's nest from which to see how many whales pass by or to watch for pirates? Or the best part of all, which can't be revealed, because it's a secret?
About the Author
Brianne Farley is the author-illustrator of Ike's Incredible Ink. Her work has appeared in McSweeney's, the New York Times, and elsewhere. Originally from Michigan, Brianne Farley now lives and works in New York City.
Praise For Secret Tree Fort…
Creating a world of one's own as a child is the beginning of our stories, Farley shows — and is sometimes made more vivid when shared with a sibling or friend.
—New York Times Book Review

Like a beloved box rattling with tiny, precious, ferreted things, this delightful picture book holds small, wonderfully specific insights into childhood imaginings, feelings, and frustrations.
—Kirkus Reviews (starred review)

The text, written from the younger sister's perspective, is clear and appropriately simple, the large font and spacing between sentences making it approachable for beginning readers...This is a familiar and fun story, and a good resource for children with siblings.
—School Library Journal

Farley knows that, for many kids, the imagining can be as good as the having, and while the older girl eventually takes pity on her sister, the story reveals a keen emotional understanding of the frustration of being unable to bend a loved but dissimilar sibling to one's will.
—Publishers Weekly

Characters, along with the fantastical figments of the younger sister's imagination, are appealingly rendered in mixed-media illustrations that give a nod to child-made drawings. Similarly, Farley's quirky text embellishments ("Inside the fort, there's a marshmallow and chocolate storage compartment…") feel genuine and demonstrate a sensitivity for what children value. This tale of believable sibling rivalry gets a boost from its portrayal of unfettered creativity and an appreciation for the unbelievable.
—The Horn Book

The mixed-media fantasy is a visual delight, and big sister's relentless reading through her sister's ravings is an effective counterpoint. The reconciliation between the bookish and the boisterous hits just the right note, with the younger child conceding she made it all up, and the older realizing there might be some pleasure in making things happen rather than just reading about them.
—Bulletin of the Center for Children's Books

It's a sweet solution that highlights the kindness and indulgence of older siblings as well as the pull of make-believe. The pencil-and-ink illustrations start small, focused on the two girls, until the younger sister's imagination cranks into gear. As she reveals more about her fort, the illustrations show the two worlds overlapping.
—Booklist Online