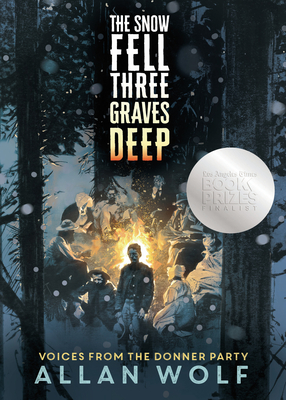 The Snow Fell Three Graves Deep
Voices from the Donner Party
Hardcover

* Individual store prices may vary.
Other Editions of This Title:
Compact Disc (9/8/2020)
Paperback (10/18/2022)
MP3 CD (9/8/2020)
Description
In powerful, vivid verse, the master behind The Watch That Ends the Night recounts one of history's most harrowing—and chilling—tales of survival.

In 1846, a group of emigrants bound for California face a choice: continue on their planned route or take a shortcut into the wilderness. Eighty-nine of them opt for the untested trail, a decision that plunges them into danger and desperation and, finally, the unthinkable. From extraordinary poet and novelist Allan Wolf comes a riveting retelling of the ill-fated journey of the Donner party across the Sierra Nevadas during the winter of 1846–1847. Brilliantly narrated by multiple voices, including world-weary, taunting, and all-knowing Hunger itself, this novel-in-verse examines a notorious chapter in history from various perspectives, among them caravan leaders George Donner and James Reed, Donner's scholarly wife, two Miwok Indian guides, the Reed children, a sixteen-year-old orphan, and even a pair of oxen. Comprehensive back matter includes an author's note, select character biographies, statistics, a time line of events, and more. Unprecedented in its detail and sweep, this haunting epic raises stirring questions about moral ambiguity, hope and resilience, and hunger of all kinds.
Praise For The Snow Fell Three Graves Deep: Voices from the Donner Party…
In a stroke of brilliance, Hunger serves as a Greek chorus throughout the book. The hunger for food becomes the characters' primary focus once the expedition goes figuratively south. But this narrative device also cleverly speaks to the many motivations of various Donner party members, including hunger for land, prestige, love, warmth and closeness to God. Although the surviving members of the group are eventually rescued, nothing is tied up with a neat and tidy bow. To his credit, Wolf does not sensationalize this story's numerous tragedies, nor spare the reader illuminating details. The Snow Fell Three Graves Deep is historical fiction at its very best.
—BookPage (starred review)

Wolf applies the same narrative treatment he expertly deployed in The Watch That Ends the Night (2011) to another infamous tragedy, that of the Donner Party...Wolf stokes empathy in the reader for these most unfortunate travelers, and those whose fascination is also sparked will want to dig into the book's back matter, which is packed with historical notes, biographies, stats, a time line, and resources on the Donner Party. Another bone-chilling, unshakable success by Wolf.
—Booklist (starred review)

Novelist-poet Wolf (The Watch that Ends the Night), using pacing that mimics the travelers' ratcheting plight, crafts a vivid story that humanizes the complicated episode it relates...Acknowledging the white presumptuousness of manifest destiny, Wolf honors the Miwok and their land, on which the Donner Party camped, as well as many of the tribal nations scarred by such wagon trips. Thoughtfully designed, ample white space evokes the bleakness of that interminable winter...An impressive, albeit woeful, slice of American history that older middle grade readers will sink their teeth into.
—Shelf Awareness for Readers (starred review)

"Meticulously researched, increasingly more compelling with every page, and stunningly imagined, this journey with the Donner party details the grim reality endured by eighty-plus souls from April 1846 to April 1847 during their tragic attempt to reach the west coast. The reader is drawn in, becomes a member of the party, and endures the hardships and desperation along with the struggling travelers. As we face challenges in a contentious world rife with illness, suspicion, and fear, we should look to this book to illuminate the struggle to retain our hard-won humanity."
—Karen Hesse, Newbery Medal–winning author of Out of the Dust

"Magnificent, apocalyptic, tender, and meticulous, The Snow Fell Three Graves Deep traverses all that it means to be human and all that it takes to survive."
—Gigi Amateau, author of Come August, Come Freedom

"In a nearly athletic feat of craft and imagination, Allan Wolf guides us on a trail whose final stop is the darkest part of our own humanity. What would I have done? we are forced to ask. This is a brave, important book, powerful in its effect and deep in its perception of the many faces of Hunger. An essential read for these times."
—David Elliott, author of Voices: The Final Hours of Joan of Arc

Allan Wolf has truly carved out a niche for himself in the realm of the historical novel-in-verse...Even the most reluctant readers, and certainly American history students, will find this historical novel riveting. Pair this with the author's New Found Land: Lewis and Clark's Voyage of Discovery (Candlewick 2004).
—School Library Connection

There's plenty of scope for melodrama here, but given the reality of death by starvation, the roles of prayer, recrimination, despair, and hallucination are apt. The scheme of multiple voices allows Wolf to first establish personalities and then to follow the respective fates...End matter, ranging from Wolf's commentary on how he approached fictionalizing this historic chapter to lists and statistics and thumbnails on Donner Party members, earns its hefty page count.
—Bulletin of the Center for Children's Books

In this ambitious novel in verse about the infamous 19th-century expedition, Wolf (The Day the Universe Exploded My Head) accomplishes the seemingly impossible: an evocative and sympathetic rendering of a horrific historical event...The rich extensive back matter (including "Native Americans and the Donner Party," "Reality Checks," and numerous statistics) adds historical context and factual clarity to this arresting saga.
—Publishers Weekly Online

This historical narrative reads like a thriller, with nature, arrogance, ignorance, and greed as the villains, and it focuses on white settlers without glorifying them...This mature corrective to cultural mythology horrifies and edifies.
—Kirkus Reviews

The plight of the infamous Donner Party is told in the form of short essays, prayers, and poems...Wolf provides detailed notes and historical context. The names of local tribes and the Indigenous name for the lake the families sheltered at are provided. Brief biographies of the survivors round out the notes. VERDICT A detailed account of the Donner Party's travel and survival. A good companion title Skila Brown's To Stay Alive.
—School Library Journal
Candlewick, 9780763663247, 416pp.
Publication Date: September 8, 2020
About the Author
Allan Wolf is an acclaimed poet and storyteller. Along with his two other historical verse novels, The Watch That Ends the Night: Voices from the Titanic and New Found Land: Lewis and Clark's Voyage of Discovery, he is the author of The Blood-Hungry Spleen and Other Poems About Our Parts and the young adult novels Who Killed Christopher Goodman? and Zane's Trace. Allan Wolf lives in Asheville, North Carolina.
1. The author uses an unusual device to tell the story: Hunger is the narrator. What did you think of this? Did it work for you?
2. Occasionally, Wolf turns to rhymed verse for his narrative (see page 27, "Upon Independence Rock," for the first instance). Other passages are written in a free-verse style, using non-rhyming everyday language, almost like a monologue in a play. The words of Hunger are written in standard prose. What do you notice about these three different styles? How does Wolf use these forms to affect the reader in different ways?
3. If you had been confronted with the choice of following the Hastings Cutoff or the older established road, knowing just what our pioneers were told, which one would you have been likely to take?
4. On page 33, Hunger says, "Curiosity is just a variety of hunger. Hunger is just a variety of hope." What do you think these statements mean?
5. One of the saddest scenes that Wolf describes is when the party is crossing the Great Salt Lake Desert and Virginia's pony becomes terribly weak and cannot continue (page 83). Virginia's mother slaps her hand for giving the pony water when there is none to waste. And then they leave the pony behind, lying on the hard white earth, watching as they disappear into the distance. What were their choices here? Did they make the best one?
6. When the Donner Party encounters Native Americans, we learn how the pioneers viewed the native population. On page 96, Hunger says, "Just as they are weighed down by their many possessions, they are weighed down by their sense of entitlement. Had the white strangers not looked upon them with such disdain, the Shoshone might have offered directions, six days back, to an easy pass at the northern end of the range that leads straight to Mary's River and the established California Trail." What does sense of entitlement mean? Why do the white men feel that they are entitled? How does it affect their trip and their lives?
7. Two young men of the Miwok people, Salvador and Luis, "the Savior and the Slave," leave Sutter's Fort to help out the Donner Party. What kind of men are they? What do they think about the white people they are traveling with? Do they become fully integrated with the group?
8. When Reed is at Sutter's Fort, he confesses to Sutter that he had killed a man because he wanted Sutter to know the truth. Sutter says, "Let me tell you what I know about The Truth, Reed. The Truth . . . is entirely in the telling" (page 171). What does this mean? Do you agree with what Sutter says?
9. Tamzene Donner cherished the memory of her first husband, Tully, not truly letting George Donner, her second one, into her heart. What changed to cause her to risk her own life to be with him when he was dying?
10. Can you imagine a situation in which you would eat a fellow human being? Is it too horrifying to even contemplate, or does it just make sense when you are dying of hunger?