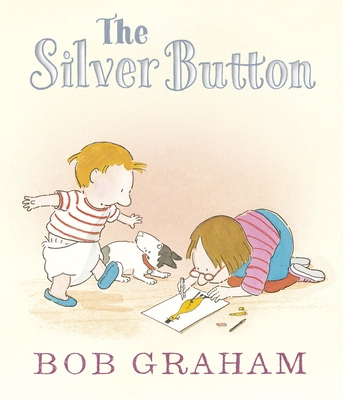 The Silver Button (Hardcover)
Candlewick, 9780763664374, 32pp.
Publication Date: October 8, 2013
Other Editions of This Title:
Prebound (2/28/2018)
Paperback (2/28/2018)
* Individual store prices may vary.
Description
At the same moment that Jodie's baby brother takes his first step, a city's worth of moments unfold in a masterful picture book from Bob Graham.

At 9:59 on a Thursday morning, Jodie draws a duck. As her pen hovers in the air, ready to add a silver button to the duck's boot, her little brother Jonathan pushes to his feet, sways, and takes his first step. At the exact same moment, their mom plays a pennywhistle in the kitchen, a man buys fresh bread at the bakery, a baby is born, a soldier says good-bye to his mom, a granddad and granddaughter play with leaves in the park, a blackbird finds a worm. . . . From an ordinary scene of an apartment strewn with child's artwork and toys to a bird's-eye view of a city morning pulsing with life, Bob Graham celebrates a whole world-vision in a single moment, encouraging readers to stop, observe, and savor the world around them.
About the Author
Bob Graham is the author-illustrator of many award-winning books for children, including A Bus Called Heaven, How to Heal a Broken Wing, and April and Esme, Tooth Fairies. He lives in Australia.
Praise For The Silver Button…
This is an elegant piece of living theater, something into which readers can nestle and observe. ... A book to bathe in, reminding readers that something magical is happening every instant.
—Kirkus Reviews (starred review)

In his inimitable, deceptively simple style, Graham celebrates what can happen in a single moment and reminds readers to pause and observe. ... While the story is minimal, there is a lot to see and absorb. The detailed pictures bear repeated inspection, the characters are appealing, and the story is very child-oriented. This unusual offering will enhance collections and work equally well in classrooms or one-on-one.
—School Library Journal (starred review)

In this quiet, thought-provoking picture book, Graham marvels at the myriad things that transpire in a moment's time. ... Graham deftly depicts an array of perspectives in his signature ink-and-watercolor artwork...The understated sentences gently encapsulate moments that are mundane, melancholy, and joyful, encouraging readers to ponder all that might be happening in the world at any given instant.
—Publishers Weekly (starred review)

[F]amiliar, homespun artwork and simple observations... [A] slightly older crowd will have the sense, even if they can't put it into words, of both how big yet particular the world is, and what a wondrous thing it is that everyone is a part of an infinite whole.
—Booklist

Graham, always a gentle observer of the quotidian, regales audiences with a steadily zooming-out cross-section of city life to illustrate the millions of events packed into a minute. Graham's prose is both simple and quietly lyrical, with a focused present tense that enhances the book's encapsulation of a moment, while his signature line and watercolor illustrations with their gentle hues and rounded features enhance the tenderness of this tale.
—Bulletin of the Center for Children's Books

It's rare for such an admirably simple children's book to suggest so much that's profound. "The Silver Button" is indeed something very special, a book that speaks to the old and the young at their own levels, but says the same thing to both.
—The New York Times Online

This sensitive picture book celebrates the synchronicity of one precious tick of the clock.
—The Wall Street Journal

Graham perfectly synchronizes the four-vignette sequence that echoes the opening... All of the meticulous details of this family's warm household fall away to focus on this one life-changing minute. Graham simultaneously illustrates how each life is the sum of these fleeting moments, and how important it is to pay attention so as not to miss them. Bravo!
—Shelf Awareness Pro