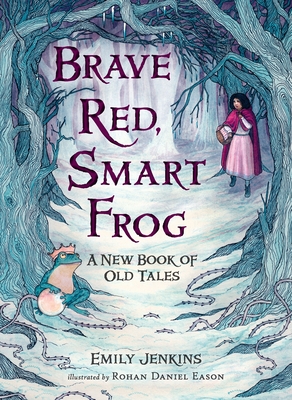 Brave Red, Smart Frog
A New Book of Old Tales
Hardcover

* Individual store prices may vary.
Description
Step into a wintry forest where seven iconic fairy tales unfold, retold with keen insight and touches of humor.

There once was a frozen forest so cold, you could feel it through the soles of your boots. It was a strange place where some kisses broke enchantments and others began them. Many said witches lived there — some with cold hearts, others with hot ovens and ugly appetites — and also dwarves in tiny houses made of stones. In this icy wood, a stepmother might eat a girl's heart to restore her own beauty, while a woodcutter might become stupid with grief at the death of his donkey. Here a princess with too many dresses grows spiteful out of loneliness, while a mistreated girl who is kind to a crone finds pearls dropping from her mouth whenever she speaks. With empathy and an ear for emotion, Emily Jenkins retells seven fairy tales in contemporary language that reveals both the pathos and humor of some of our most beloved stories. Charming illustrations by Rohan Daniel Eason add whimsical details that enhance every new reading.
Praise For Brave Red, Smart Frog: A New Book of Old Tales…
'Brave Red, Smart Frog' is subtitled 'A New Book of Old Tales,' and the stories in it include riffs on 'Snow White' and 'Red Riding Hood.' But Jenkins adds welcome layers of texture to parables we think we know well.
—The New York Times Book Review

Fine, spare prose distinguishes these shrewd retellings of seven familiar tales...Eason's drawings, one for each story, conjure an atmosphere of otherworldliness with deep forests and thatched cottages huddled in snow.
—Publishers Weekly (starred review)

The traditional dark Teutonic forest that harbors wolves, witches and little girls in red cloaks becomes a sparkling but no less forbidding icy wood in 'Brave Red, Smart Frog,' a wise and sophisticated retelling by Emily Jenkins of seven favorite fairy tales…Ms. Jenkins connects her stories with tricks of language that are as quietly clever as they are appealing.
—The Wall Street Journal

Several folktales are linked together by their setting in Jenkins' retellings...there's certainly a storytelling cadence to Jenkins' iterations and they'd make a nice readaloud, especially to youngsters who might want to add their own details.
—Bulletin of the Center for Children's Books

This slim, handsome volume includes an illustrated title page for each tale with a simple, nicely sketched setting usually framed in the forest's twining branches...A welcome visit for fairy-tale fans, and a useful introduction for readers not so familiar with these enduring stories.
—School Library Journal

In an author's note to this brief, charming collection, Jenkins mentions that her goal is not to reimagine classic fairy tales, but rather tell them in a way that honors the oral tradition of the original stories. In simple, straightforward narratives, she retells seven stories, some of which ("Snow White," "Red Riding Hood," "Hansel and Gretel") will be familiar to readers, while others ("Three Wishes," "Toads and Pearls," "The Three Great Noodles") will most likely be completely new.
—Booklist

Jenkins does not shield readers from the violence found in traditional tales, but she does present readers with beautifully crafted versions, each enhanced with an introductory pen and ink illustration. This would be a fine addition to collected fairy tales.
—School Library Connection

Emily Jenkins...has written her own versions of seven familiar fairy tales and they are fresh, lovely and wonderful. They are beautifully written and full of humor and wisdom but they are not saccharine.
—Buffalo News

A brilliant, highly entertaining blending of seven classic fairy tales, Brave Red, Smart Frog: A New Book of Old Tales is guaranteed to command many repeat readings of this enchanting book.
—Reading Eagle (from Kendal Rautzhan's "Books to Borrow")

Subtly untraditional, with lovely prose.
—Kirkus Reviews
Candlewick, 9780763665586, 104pp.
Publication Date: September 5, 2017
About the Author
Emily Jenkins is the author of many books for children, including Tiger and Badger, illustrated by Marie-Louise Gay, and A Fine Dessert, illustrated by Sophie Blackall. She is also the author of the middle grade Toys series, illustrated by Paul O. Zelinsky, and its picture book companion, Toys Meet Snow. Emily Jenkins lives in New York City.

Rohan Daniel Eason has illustrated several books for children, including My First Kafka: Runaways, Rodents, and Giant Bugs by Matthue Roth. Rohan Daniel Eason lives and works in London.