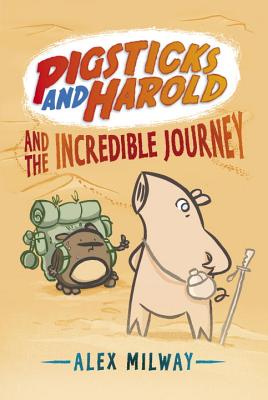 Pigsticks and Harold and the Incredible Journey
Hardcover

* Individual store prices may vary.
Other Editions of This Title:
Paperback (8/4/2015)
Description
In a wry early reader, the world's most optimistic pig and his nervous hamster sidekick set out on an exploration to find the Ends of the Earth.

Pigsticks is the last in a noble line of explorers, and he's decided it's time for him to follow in his forepigs' footsteps — with an assistant to do the heavy lifting, of course. When his help-wanted ad draws a motley crew of candidates, he chooses a hapless delivery hamster named Harold. As the unlikely duo set off from Tuptown with plenty of tea cakes in tow, Pigsticks is breathless with excitement (and Harold is struggling for breath under all the gear). But after a long trek through jungles, over deserts, and up a giant ice-topped mountain, the last crumb of cake is stolen by a herd of thieving goats, and their goal is nowhere in sight. Will they ever discover the Ends of the Earth? Could it be in the last place they'd ever think to look?
Praise For Pigsticks and Harold and the Incredible Journey…
Milway develops his characters into quite lovable friends that children will adore. Pigsticks is certainly in charge, but it is clear that without his assistant, his goal will never be realized. Ample illustrations and a large font make this is a solid chapter book addition for new and/or struggling readers.
—School Library Journal

Milway's ink illustrations ... [use] sequential panels to show the duo's progress, and the art often reveals the truth behind the deadpan text. "Harold was definitely going deeper into the jungle than any hamster had gone before," he writes as Harold sinks into a pit of quicksand. An entertaining kickoff to a series of adventures, whether Harold likes it or not.
—Publishers Weekly

When Pigsticks, a pig with wanderlust, teams up with Harold the hamster, anything can happen. ... Humorous cartoon illustrations appear on most pages and extend the text, adding to the chuckles. ... Funny.
—Kirkus Reviews

With rich vocabulary, humor, and busy illustrations, this book should satisfy the young illustrated fiction reader in your library.
—Library Media Connection

Milway's humorously dramatic writing keeps the story moving along at a snappy pace. The plentiful pictures, rendered in ink and colored digitally, offer a stylized, cartoonish world. Pigsticks' oversized snout, baby-blue eyes, and changing headgear (suited to the various climes) give him presence, while rotund, brown Harold elicits sympathy with his clearly overstuffed backpack. Budding adventurers and lovers of comic stories will enjoy this duo's escapades, and a spot of cake afterwards would not go amiss.
—Bulletin of the Center for Children's Books

In three generously illustrated chapters we follow the explorers as they survive swamps, deserts, rickety rope bridges, malevolent mountain goats, and an avalanche to return home triumphant. The art is slapdash-goofy: Pigsticks looks like a yam with a snout, and Harold is a mustachioed hacky sack. Frequent disconnects between text and pictures carry much of the humor in this tongue-in-cheek-funny (everybody will have the pleasure of seeing right through Pigsticks's charming arrogance) early chapter book. Plums for grownups? Mild satire of the British-colonial mindset and some porcine parodies of cubist masterworks on Pigsticks's walls.
—The Horn Book

[W]hen it comes to children's literature there are a few elements that can be counted on to endear book to reader. Characters with wildly opposite dispositions (and the humor that stems from their relationship). A journey's usually good. And vibrant, modern illustrations never hurt. Early Reader Pigsticks and Harold by Alex Milway has all of these elements. It's entertaining, it's subtly sophisticated, and it's a book that readers won't want to put down.
—100 Scope Notes
Candlewick, 9780763666156, 84pp.
Publication Date: May 27, 2014
About the Author
Alex Milway's interest in furry creatures first reared its head in his Mousehunter trilogy, in which weird and wonderful mice ran riot all over the world. With his Mythical 9th Division series, the author-illustrator mastered the art of drawing a troop of yetis whose main purpose was to save the world. Alex Milway works from his home in London.
or
Not Currently Available for Direct Purchase