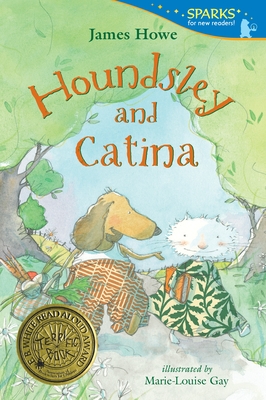 Houndsley and Catina (Paperback)
Candlewick Press (MA), 9780763666385, 36pp.
Publication Date: April 9, 2013
Description
The subtle dance of friendship -- from holding your tongue to knowing what to say -- is played out in three sweetly humorous tales about an unlikely, likable pair. Catina wants to be a famous writer. Houndsley is an excellent cook. Catina thinks Houndsley is a wonder. Houndsley thinks Catina is a very good friend. So what should Houndsley say about Catina's seventy-four-chapter memoir? And can Catina find the right words of comfort for Houndsley after the big cooking contest fiasco? James Howe's funny and endearing world of ginger tea, no-bean chili, and firefly watching is brought to life in cozy watercolors by Marie-Louise Gay in this tender chapter book about what it means to be friends.
About the Author
JAMES HOWE is the acclaimed author of more than seventy books for young readers, including the much-lauded BUNNICULA and its sequels. Of HOUNDSLEY AND CATINA, he says, "When my daughter was little, my favorite books to read to her were about best friends like Frog and Toad, George and Martha, and Winnie-the-Pooh and the other inhabitants of the Hundred Acre Wood. HOUNDSLEY AND CATINA grew out of my love for books like these and my belief that friendship is worth far more than prizes or fame." MARIE-LOUISE GAY is the author and illustrator of many award-winning books, including the Stella and Sam series. She says of this book, "When I first read HOUNDSLEY AND CATINA, I was captivated by the evocative and emotional quality of their friendship. It was a joy to create these two wonderful characters and the world they live in."
Advertisement