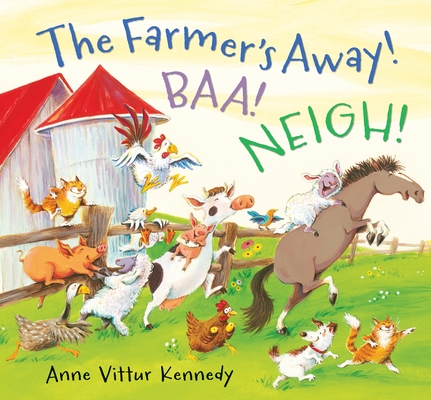 The Farmer's Away! Baa! Neigh! (Hardcover)
Candlewick, 9780763666798, 32pp.
Publication Date: April 22, 2014
* Individual store prices may vary.
Description
When you see a horse, say neigh! The animal sounds tell the story in an infectiously rhythmic picture book that's a delight to read aloud.

What mischief do the animals get up to when the farmer's back is turned? Anne Vittur Kennedy lets us know in the animals' own words! There will be boating, of course, and a picnic, a rollercoaster ride, Jet Skiing, a hot-air balloon, ballroom dancing — oh, no! Could that arf! arf! arf! mean the farmer's heading back? Even the youngest listeners can read this book aloud by following along with the pictures and making each animal's sound.
About the Author
Anne Vittur Kennedy started out as a music teacher in public schools, but shifted to illustration in 1982. She has illustrated many children's books, including the Miss Fox series by Eileen Spinelli and the Pony Scouts series by Catherine Hapka. Anne Vittur Kennedy lives near Columbus, Ohio.
Praise For The Farmer's Away! Baa! Neigh!…
Colorful acrylic spreads burst with action, while the cheerful, catchy text consists entirely of rhymed, onomatopoeic animal sounds as the frolicsome cows, horses, birds, pigs, dogs and mice, as well as other animals, sing together to form a nonsensical chorus that toddlers will happily join. ... Babies, toddlers and very young emergent readers will delight in the strong, playful rhythm and energetic and detailed illustrations in this introduction to the noisy world of animal sounds.
—Kirkus Reviews (starred review)

It is the bright colored pencil and acrylic illustrations that tell the story. The animal faces are comical and expressive, and the rhythmic text may appeal to the ears of the littlest ones. ... Older children ... will relish the silly pictures and may find humor in the nonsense words. A high-spirited addition.
—School Library Journal

The storyline is simple and easy to follow, and the text ("Neigh neigh baa baa quack quack tweet/ arf oink ree ree cluck cluck cheep!" cry the critters as the farmer heads off ) rejoices in its own verbal musicality. ... The rhythmic animal sounds pair pleasingly with the detailed and amusing colored pencil and acrylic illustrations, and kids will appreciate the opportunity to make one-to-one connections between the animal sounds and the animals. This would be an energetic choral reading selection, and the limited vocabulary puts it within reach of beginning solo readers as well.
—Bulletin of the Center for Children's Books

It's meant for little kids, but even cynical grown-ups will at least get a chuckle at Kennedy's hilarious animal-farm book — filled with colorful, expressive illustrations. When the farmer is out plowing the fields, the animals finally begin to enjoy themselves. ... All the while, the only words we see are animal sounds — neigh, baa, quack, cluck, ribbet, plus a few splish splashes and an eek. Even PETA couldn't object.
—The New York Post