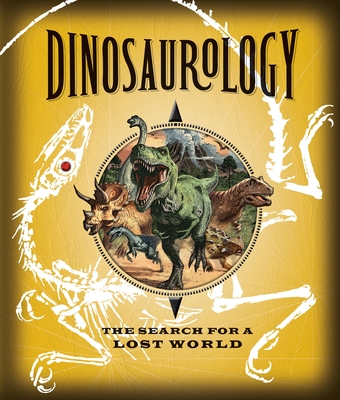 Dinosaurology (Ologies)
Hardcover

* Individual store prices may vary.
Description
Could dinosaurs still roam the earth? With this discovery in the 'Ology series, readers come face-to-face with living, breathing dinosaurs.

What if dinosaurs had not died out? What if whole colonies of the prehistoric beasts had survived on a remote island off the coast of South America? This adventure in the best-selling 'Ology series offers young dinosaur lovers a tantalizing taste of what that would be like. The year is 1907, and young adventurer Raleigh Rimes is on an expedition to South America with real-life explorer Percy Fawcett. There he discovers the unimaginable: living dinosaurs roaming the rain forest! Presented as a journal detailing their extraordinary (and hairraising) encounters with the amazing beasts — fearsome Tyrannosaurus rex, pack-hunting allosauruses, predatory velociraptors, armored triceratops, and other species — Dinosaurology is filled with flaps and booklets offering dinosaur lore, along with such novelties as a sample of dinosaur skin, a pouch of ground stegosaurus horn, and more.
Praise For Dinosaurology (Ologies)…
An engrossing blend of fact and fiction.
—Publishers Weekly

Be warned: may cause a severe outbreak of dinophilia among middle-grade readers.
—The New York Times

Dinosaurology mixes excellent information with an Edwardian-style story. As with other works in the series, interactive elements such as flaps, pull-outs, packets of glitter, and shiny relia add three-dimensional interest. The illustrations, both in full color and archival black and white, are appealing and informative.
—School Library Journal

Yellowed pages studded with notes, maps, drawings and lift-the-flap extras detail the boy's adventures and bring to life many prehistoric creatures, remains and encounters. This fictional account is an entertaining way to learn a lot of facts, including a brief history of paleontology, dinosaur characteristics and behavior, plus a great deal about popular prehistoric creatures not classified as true dinosaurs, such as the Megalodon, Ichthyosaurus and Pterodactyl.
—BookPage Children's Corner

Engaging... Highly enlightening... Dinosaurology stretches across time to highlight anachronistic-for-1907 facts that illuminate as they entertain.
—Metro Philadelphia
Candlewick, 9780763667399, 30pp.
Publication Date: September 24, 2013