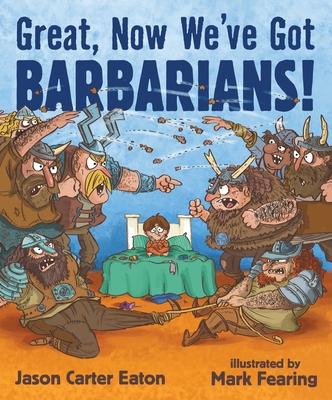 Great, Now We've Got Barbarians!
Hardcover

* Individual store prices may vary.
Description
An untidy kid sets off a pest invasion like no other in this boisterously fun picture book about the perils of messy habits.

Playing and having fun is a kid's job, right? Cleaning up is a parent's job, right? Why do grown-ups make such a fuss about tidiness and cleanliness, anyway? What's the worst that could happen? A couple of ants pass through? A lone little mouse pays a midnight call? No big deal, right? Right? Author Jason Carter Eaton and illustrator Mark Fearing are here to caution you that being a slob might in fact be a big deal—a really big deal. Maybe even a BARBARIAN-size deal! This outrageously absurd cautionary tale might just make you think twice about the cupcake crumbs in your bed and the half-eaten cheese curls behind the sofa. After all, you could end up with an infestation of barbaric proportions!
Praise For Great, Now We've Got Barbarians!…
Jason Carter Eaton (The Facttracker) and Mark Fearing (Tommy Can't Stop!) team up in a hilarious picture book that parents will love every bit as much as kids. The cartoonish barbarians, with their scruffy beards, horned helmets, scars and tattoos are like overgrown puppies, and just as threatening. Even dyed-in-the-wool slobs won't mind being on the receiving end of this fun cautionary tale.
—Shelf Awareness for Readers (starred review)

Fearing's cheeky style perfectly accompanies these grungy Viking-helmeted, oddly endearing warriors...Break out the mead and pop a horned helmet on your head for the funniest pest invasion this side of Tromsø.
—Kirkus Reviews

The story has the narrative momentum and comic beats of a cartoon short, and although Eaton's (How to Track a Truck) text tends toward the literal, Fearing (Superhero Instruction Manual) has a broad visual repertoire when it comes to goofy, hirsute men in animal pelts and horned hats. It's the truth served up with a good laugh, and it gives parents a new calamity to invoke the next time they're confronted with a messy room.
—Publishers Weekly

In the spirit of David McPhail's Edward and the Pirates and David Shannon's How I Became a Pirate, a boy learns that his untidy habits have the unwelcome effect of inviting barbarians into his house...Fearing's cartoon illustrations make the Viking-esque barbarians look more ridiculous than frightening. Many of the spreads include funny details, such as the invaders snacking on cat food, building forts from stolen blankets and pillows, and making a fire out of croquet mallets in the garage.
—School Library Journal

A fun read. No messin' around.
—BookPage
Candlewick, 9780763668273, 40pp.
Publication Date: February 14, 2017
About the Author
Jason Carter Eaton is the author of How to Train a Train and How to Track a Truck, both illustrated by John Rocco, The Day My Runny Nose Ran Away, illustrated by Ethan Long, and other books. He lives in Westchester, New York, with his wife, two kids, dog, cat, and, happily, NO barbarians (at least not when the weather is warm).

Mark Fearing is the author-illustrator of The Great Thanksgiving Escape, among other books for children. He lives in Oregon, along with a bunch of shaggy barbarians who love his two-car garage.