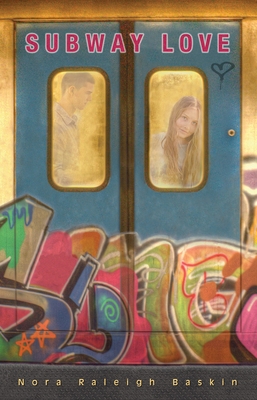 Subway Love (Hardcover)
Candlewick, 9780763668457, 224pp.
Publication Date: May 13, 2014
Other Editions of This Title:
Compact Disc (5/13/2014)
Hardcover (5/13/2014)
Compact Disc (12/22/2015)
MP3 CD (5/13/2014)
Compact Disc (5/13/2014)
* Individual store prices may vary.
Description
What if destiny leads you to your soul mate, but the laws of time conspire to keep you apart?

If her parents had never divorced, Laura wouldn't have to live in the shadow of Bruce, her mom's unpredictable boyfriend. Her mom wouldn't say things like "Be groovy," and Laura wouldn't panic every weekend on the way to Dad's Manhattan apartment. But when Laura spots a boy on a facing platform, lifting a camera to his face, looking right at her, Laura feels anything but afraid, and she can't forget him. Jonas, meanwhile, thinks nonstop about the pretty hippie girl he glimpsed on the platform — trying to comprehend how she vanished, but mostly wondering whether he will see her again in a city of millions — and whether if he searches, he would have any chance of finding her. In a lyrical meditation on love, Nora Raleigh Baskin explores the soul's ability to connect, and heal, outside the bounds of time and reason.
About the Author
Nora Raleigh Baskin is the acclaimed author of several novels for young readers, including Surfacing and All We Know of Love. She lives in Connecticut.
Praise For Subway Love…
A wonderfully unique love story that made me believe in the possibility of fate bringing two souls together, whatever the odds.
—Jo Knowles, author of See You at Harry's and Living With Jackie Chan

Baskin methodically and tautly unwinds their time-transcending romance... Artfully depicting the transformation of New York City through photography and street art, Baskin interweaves a powerful narrative of change into an already powerful love story.
—Booklist

Baskin embraces magical realism in this evocative story... Alternating between Laura's and Jonas's point of view during and between their meetings on the subway, the novel captures the essence of the times in which both teens live and expresses the teens' dissatisfaction with their situations. While Baskin keeps certain things ambiguous, such as the nature of the time travel, the book's themes remain clear. The teens' love for each other is eternal, providing figurative and literal escape from less-than-perfect homes.
—Publishers Weekly

This is a quiet, heartfelt love story that is not only about two kids falling for each other but also about their healing from painful events and learning to take charge of their own fate, despite the failures of the adults in their lives. Although she's shadowed by her abuse, Laura's not defined by it, and Baskin paints her as an active and eager partner in her emotional and physical relationship with Jonas, not just a girl needing to be saved. A subplot involving a subway graffiti artist further contextualizes their romance and leaves readers with the message that this love story, like any love story, is both singularly important and also just one of many human narratives.
—Bulletin of the Center for Children's Books

Baskin makes the time travel seem believable and leaves readers hopeful by relaying an ending that fits with the theme, "Know how to live in the time that is given you." ... Readers will be intrigued and enjoy this romance.
—School Library Journal

Baskin's gentle story focuses on the Hebrew myth of the beshert, the soul mate, two people linked together outside time and space. ... The book's true romantic triumph comes when Jonas tells Laura, "I don't matter and we don't even matter. You matter to me and you have to matter to yourself." Take that, Twilight.
—VOYA

A page-turner of a short novel, skillfully designed to encourage both family and classroom discussion of difficult topics such as divorce, abuse, first love, intermarriage, and coping with the end or loss of both casual and important relationships.
—Philadelphia Jewish Voice

Quietly resonant... Baskin accomplishes the tricky feat of making Laura's everyday 1970s life seem both novel and familiar. Her two main characters have a lot in common, including parents who disappoint them and resulting feelings of alienation. Maybe their friendship can't last forever, but what can? Riding the train from one end of the line to the other — and back again — they forge a connection that is healing and, ultimately, beautiful.
—The Chicago Tribune
or
Not Currently Available for Direct Purchase