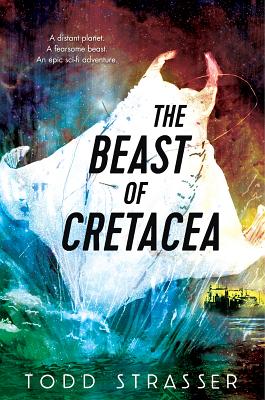 The Beast of Cretacea
Hardcover

* Individual store prices may vary.
Description
Master storyteller Todd Strasser reimagines the classic tale of Moby Dick as set in the future—and takes readers on an epic sci-fi adventure.

When seventeen-year-old Ishmael wakes up from stasis aboard the Pequod, he is amazed by how different this planet is from the dirty, dying, Shroud-covered Earth he left behind. But Ishmael isn't on Cretacea to marvel at the fresh air, sunshine, and endless blue ocean. He's here to work, risking his life to hunt down great ocean-dwelling beasts to harvest and send back to the resource-depleted Earth. Even though easy prey abounds, time and again the chase boat crews are ordered to ignore it in order to pursue the elusive Great Terrafin. It's rumored that the ship's captain, Ahab, lost his leg to the beast years ago, and that he's now consumed by revenge. But there may be more to Captain Ahab's obsession. Dark secrets and dangerous exploits swirl around the pursuit of the beast, and Ishmael must do his best to survive—if he can.
Praise For The Beast of Cretacea…
Strasser's pacing is flawless, and his characters well drawn. While Ishmael's true past is unveiled slowly, readers will find themselves drawn to his obvious bravery and loyalty from the very first page...A must-read maritime adventure story for a new generation.
—School Library Journal

Equal parts Moby-Dick retelling, environmental cautionary tale, and coming-of-age story, Strasser's fantastical SF epic blends disparate pieces into a harmonious whole...Strasser weaves an engrossing tapestry that evokes a sense of wonder and calls to the imagination.
—Publishers Weekly

You don't need to have read Moby-Dick to enjoy Strasser's science-fiction retelling...Recommend to readers of pure adventure (with no romance!) on the high seas.
—Booklist

With The Beast of Cretacea, Todd Strasser (The Wave; Give a Boy a Gun; Fallout) crafts a thrilling interplanetary adventure based on Herman Melville's classic story of revenge and madness, Moby Dick...High-tech gadgets, from drones to virtual reality goggles, add a modern twist to this apocalyptic adaptation, part political satire, part environmental cautionary tale.
—Shelf Awareness

...a pure adventure core...
—Kirkus Reviews

There's a whole lot of book here: gripping descrip- tions of an Earth polluted beyond belief, time travel, long passages featuring gory sea battles, mystical island folk, and, of course, the overlaps with a very famous book...
—Bulletin of the Center for Children's Books

Those who enjoyed Rives' Across the Universe trilogy (Razorbill) will enjoy this new spin on saving planet Earth.
—School Library Connection
Candlewick, 9780763669010, 432pp.
Publication Date: October 13, 2015
About the Author
Todd Strasser is the internationally best-selling author of numerous books for children and teens, including Fallout and the classics The Wave and Give a Boy a Gun, which are taught in classrooms around the world. Todd Strasser lives in New York.