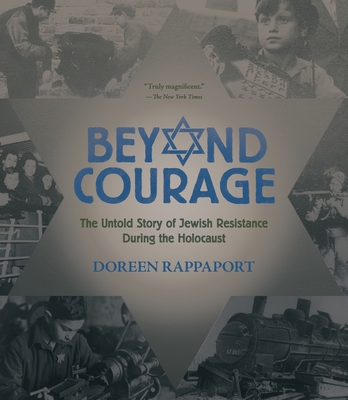 Beyond Courage (Paperback)
The Untold Story of Jewish Resistance During the Holocaust
Candlewick, 9780763669287, 240pp.
Publication Date: January 23, 2014
Other Editions of This Title:
Hardcover (9/11/2012)
MP3 CD (6/27/2014)
Prebound (1/23/2014)
MP3 CD (9/1/2012)
Compact Disc (9/1/2012)
MP3 CD (2/11/2014)
Compact Disc (2/11/2014)
Pre-Recorded Audio Player (9/11/2012)
MP3 CD (9/11/2012)
Compact Disc (9/11/2012)
* Individual store prices may vary.
Description
"The very model of excellence in nonfiction. . . . An astonishing and inspiring survey. . . . A necessary, exemplary book." — Kirkus Reviews (starred review)

Through meticulously researched accounts — some chronicled in book form for the first time — Doreen Rappaport illuminates the defiance of tens of thousands of Jews across eleven Nazi-occupied countries during World War II. In answer to the genocidal madness that was Hitler's Holocaust, the only response they could abide was resistance, and their greatest weapons were courage, ingenuity, the will to survive, and the resolve to save others or to die trying.
Back matter includes a pronunciation guide, a list of important dates, source notes, a bibliography, a bibliography by chapter, and an index.
About the Author
Praise For Beyond Courage: The Untold Story of Jewish Resistance During the Holocaust…
Rappaport has written the kind of narrative that can change readers' perceptions; her commitment to recovering stories of Jewish resistance during the Holocaust is not only powerful but also historically significant. By gathering and carefully organizing accounts from throughout the Nazi era, she is able to relate the entire tragedy and at the same time to challenge us to see it anew…Rappaport's devotion to uncovering these instances, whether issuing from academic papers, museums, interviews or memoirs, and her care with narrative structure, locating the rare archival images and using them generously throughout, is truly magnificent. On each page you sense that it meant everything to her to track down the truth and get it exactly right.
—New York Times

In a book that is the very model of excellence in nonfiction, Rappaport dispels the old canard that the Jews entered the houses of death as lambs led to the slaughter... Thorough, deeply researched and stylistically clear, this is a necessary, exemplary book.
—Kirkus Reviews (starred review)

With all the shelves of Holocaust books about the millions lost in the genocide, this is one of the few histories to focus in detail on Jewish resistance across Europe—those who fought back and saved others. The intricate deceptions are as compelling as the confrontations, and the underground escape stories make for thrilling adventure. . . An important addition to the Holocaust curriculum.
—Booklist (starred review)

This well-written and affecting volume is an excellent example of a history title with wide appeal. It belongs in every middle and high school library.
—School Library Journal (starred review)

These true stories . . . honor the incredible human spirit in the face of unimaginable suffering and torment.
—Publishers Weekly (starred reiew)

Rappaport's engrossing storytelling will entice many teens to read cover-to-cover, while the organization and rich supporting features will guide teen researchers to specific topics, and the brevity and substance of individual entries will be valued by history teachers for classroom oral readings.
—Bulletin of the Center for Children's Books (starred review)

Reading this book will give people the power to believe that defiance is possible and human hope will live on.
—VOYA

This book captures the essence of Jewish resistance in an attention-grabbing and touching collection of personal stories complemented by powerful photographs.
—Library Media Connection

With numerous archival photographs, including portraits of the brave individuals it describes, BEYOND COURAGE is beautifully designed and a sobering, bittersweet read.
—The Wall Street Journal

This book has rightly gotten starred reviews from every review outlet that bestows stars; it's a vital contribution to Holocaust literature as well as a very gripping book.
—Tablet Magazine

Doreen Rappaport's book is an important contribution to Holocaust literature for young readers. Its compelling stories reflect the geographic diversity of Europe's Jewish communities, and represent several types of resistance. The narrative style is engaging, and presents stories against the larger context of the Nazi war against the Jews. Profusely illustrated, the book is a valuable tool for teaching themes of Jewish resistance.
—Bonnie Gurewitsch, Archivist/Curator of the Museum of Jewish Heritage - A Living Memorial to the Holocaust, NY

Rappaport is to be commended on a book devoted purely to those acts of courage, recognizing and remembering the Jewish heroes of our no-too-distant past.
—Jewish Book World

An amazing book.
—Jewish Image Magazine

This book is an essential read for anyone interested in one of the most appalling events in history.
—New York Journal of Books

All of the stories...are fascinating, inspiring, and humbling, vivid reminders.
—Reading Today Online (International Reading Association)

The emotional immediacy of the subject matter combined with Rappaport's clear prose and excellent design layout incorporating poetry, photography, maps, artifacts and songs, all combine to make this an extraordinary effort. (starred)
—Shelf Awareness for Readers

Thoughtful, well-researched.
—Washington Post