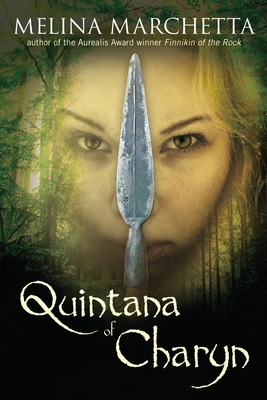 Quintana of Charyn (Paperback)
The Lumatere Chronicles
Candlewick, 9780763669300, 528pp.
Publication Date: May 27, 2014
Other Editions of This Title:
Hardcover (4/23/2013)
Compact Disc (5/27/2014)
MP3 CD (5/27/2014)
Compact Disc (5/27/2014)
* Individual store prices may vary.
Description
"Vivid and wholly satisfying. . . . A stand-out fantasy series." — Booklist (starred review) 

Separated from the girl he loves and has sworn to protect, Froi and his companions travel through Charyn searching for Quintana and building an army that will secure her unborn child's right to rule. While in the valley between two kingdoms, Quintana of Charyn and Isaboe of Lumatere come face-to-face in a showdown that will result in heartbreak for one and power for the other. The complex tangle of bloodlines, politics, and love introduced in Finnikin of the Rock and Froi of the Exiles coalesce into an engrossing climax in this conclusion to Printz Award winner Melina Marchetta's epic fantasy trilogy.
About the Author
Praise For Quintana of Charyn: The Lumatere Chronicles…
Marchetta, known for her mastery of character, shows herself here to have conquered the intricacies of plot, worldbuilding and theme...Readers will have a hard time forgetting the complex, deeply human characters that populate this multifaceted narrative.
—Kirkus Reviews (starred review)

Marchetta triumphantly concludes the trilogy that began with Finnikin of the Rock, as the kingdoms of Lumatere and Charyn attempt to bridge past atrocities through a new generation of leaders...One of the hallmarks of this series has been the complexity and attention Marchetta gives to both primary and secondary characters, creating a richly human cast of damaged but noble individuals...Readers who have fallen in love with Quintana, Froi, Finnikin, Isaboe, and others will eagerly seek out what fate has in store for them.
—Publishers Weekly (starred review)

The plot is more straightforward, while the previous volumes' excellent features—world-building, plotting, and characterization—continue to shine. Marchetta builds on the reader's knowledge of this world, adding rich sensory details to enhance the sense of place...A stand-out fantasy series.
—Booklist (starred review)

[T]hose who have read the first two volumes of the Lumatere Chronicles will find this thrilling conclusion both heartbreaking and utterly satisfying. Yet again, Marchetta seamlessly weaves together the personal and the political, exploring the larger societal implications of her characters' actions while keeping a tight focus on their emotional lives. The obstacles in the relationships among her main characters mirror the tensions built by prejudices and ignorance throughout their lands, and the setbacks they experience as they work toward peace, both as a community and as individuals, are painfully authentic. The romances are sweet but tempered by reality, the triumphs are great but leave many scars, and even the happy ending here is bittersweet in its resolution. It's a suitably impressive conclusion to an epic series.
—Bulletin of the Center for Children's Books

Like the other books, this one begs to be read slowly and savored for its carefully crafted plotting, lyrical language, and fully fleshed-out characters.
—School Library Journal

[T]he book will mesmerize readers with several hair-raising moments that ratchet up tension; memorably detailed descriptions provide vivid images of the setting; and Marchetta's themes of belonging and forgiveness are powerfully wrought. Fans of Megan Whelan Turner and Elizabeth Wein should find this exceptional series especially compelling.
—The Horn Book

Recommend this book for readers of high-brow, realistic fantasy who enjoy stories with just a touch of the magical.
—VOYA

All I can say is, I immediately reread it because I didn't want to say good-bye to these people. And it's a Favorite Book Read in 2013.
—A Chair, a Fireplace, and a Tea Cozy (SLJ blog)