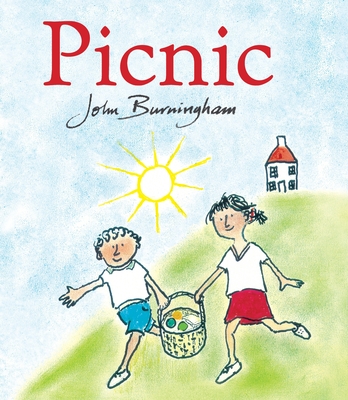 Picnic (Hardcover)
Candlewick, 9780763669454, 32pp.
Publication Date: May 13, 2014
Other Editions of This Title:
Hardcover, Korean (12/2/2013)
* Individual store prices may vary.
Description
The renowned John Burningham is in classic form with a simple story of a boy, a girl, and some animal friends that invites the child listener to join in.

One day, Boy and Girl head down the hill with a picnic basket and meet a fancily dressed Sheep, Pig, and Duck. They all set off to find the perfect place to sit outside — until they see Bull coming! A short-lived chase segues into a gentle interactive text as the friends wend their way from an idyllic outdoor world to a welcoming house on a hill. (Can you find Pig's ball? Shall we find your bed?) In a charmingly understated tale with child-friendly illustrations and a hint of sly humor, John Burningham evokes a perfect summer day with a fresh new picture book.
About the Author
John Burningham (1936-2019) was one of the world's most recognized and beloved illustrators. His work has received countless awards, including a Boston Globe–Horn Book honor for It's a Secret! and two Kate Greenaway Medals. Over his fifty-year career, John Burningham wrote and illustrated more than thirty picture books, including Picnic, Motor Miles, and Mouse House. He and his wife, Helen Oxenbury, had three children.
Praise For Picnic…
A picture-book master presents an engaging feast of a bedtime book. Just as Boy and Girl pack their picnic basket with everything they'll need for a perfect luncheon, Burningham packs every part of his book's design with details that contribute to its success.
—Kirkus Reviews (starred review)

Carefree sensibility and bucolic charm... Burningham's trademark sketchy insouciance, with broken black outlines and dappled marker coloring, establishes a playful, sunny tone that's perfect for a day in the spring-green countryside. The simple, jolly figures revel in spare, open vistas with plenty of space for listeners to accompany them, while the interactive hunt-and-seek game extends the fun for the story hour set. This one will find its way into the regular rotation in no time.
—Booklist (starred review)

A beautifully simple story of a girl, a boy, a duck, a sheep, and a pig at play. ... This lovely picture book is vintage Burningham and will appeal to the youngest of readers. The text is short and sweet with the illustrations providing the details. ... Reminiscent of a simpler day, this book is a breath of fresh air—a time out of a busy schedule to enjoy the beauty of a picture book with a young child.
—School Library Journal

Displaying his signature sly humor, Burningham follows a boy and girl (conveniently named Boy and Girl) as they try to find a place to picnic with friends Sheep, Pig, and Duck, who are dapperly accented with kerchiefs, hats, bowties, and other accessories. ... The items are easy to spy, tailoring the challenge to younger preschoolers, while pithy sentences and easy-to-grasp vocabulary will help beginning readers sound out the sentences. Vivid, springy greens and yellows, coupled with loose and exuberant black outlines, lend vibrancy and airiness to Burningham's paintings.
—Publishers Weekly

The simplicity of the short, streamlined text and the large, clear illustrations make it easy to successfully share this with little ones. Direct addresses to the reader increase the interactivity... Burningham's trademark lively and unaffected painting style continues here, with squiggly outlines, spots of bright color, and slightly mottled backgrounds adding vigor to the clean, open compositions; the nattily attired pig is particularly winning. ... Cheerful and entertaining, and parents will appreciate the sly segue into bedtime.
—Bulletin of the Center for Children's Books

Lovely... Across airy pages filled with brightly accented drawings, the book follows a boy, a girl and a group of dapper animal friends on a lunchtime excursion to the countryside. With deceptive simplicity, the gentle story is full of age-appropriate satisfactions.
—The Wall Street Journal

A lyrical novel filled with magical realism.
—The Seattle Times