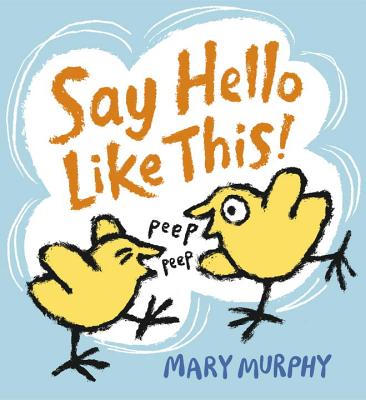 Say Hello Like This (Hardcover)
Candlewick, 9780763669515, 32pp.
Publication Date: February 11, 2014
* Individual store prices may vary.
Description
The creator of a Kiss Like This offers an exuberant concept book about the irresistible sounds that animals make. The perfect baby gift!

Different kinds of animals say hello in their own way. And who better than Mary Murphy to introduce their voices to the youngest of listeners? Full of funny adjectives and sound words, this charming companion to Mary Murphy's A Kiss Like This is an ideal read-aloud for the very youngest of listeners and is sure to engage babies as they first learn to talk.
About the Author
Mary Murphy is the creator of the companion book A Kiss Like This. She is also the authorillustrator of I Kissed the Baby! as well as Quick Duck!, Slow Snail, Utterly Lovely One, Pando Foo and the New Friend, and How Kind! She lives in Galway, Ireland.
Praise For Say Hello Like This…
Toddlers and their adults nationwide will welcome with open arms this clever coupling of animal sounds and lift-the-flap elements. ... Murphy's thick, black outlines and bright (but never garish) colors will do well with large groups, and the half-page flaps that turn to reveal the various animal sounds will guarantee that this becomes a crowd pleaser. While few would argue that there is a dearth of quality animal-sound books out there, fewer still would fail to be charmed by Murphy's smartly targeted book for the ankle-biter set. A hoot (pun intended).
—Kirkus Reviews (starred review)

Sturdy, glossy pages show the animals eyeing each other with friendly interest; flipping vertical flaps reveals the beasts in the midst of their raucous hellos. Murphy's rich pastel washes and thick, painterly black outlines give "Say Hello Like This!" a prettiness that's matched by an exuberant typeface new readers should enjoy deciphering.
—The New York Times Book Review

As with her fabulous "I Kissed the Baby!," Mary Murphy returns with a book that invites interactive play with preschoolers as she introduces animal sounds and behaviors. ... Soon to become a family favorite.
—Shelf Awareness for Readers

As with A Kiss Like This, the half-page flaps that reveal the salutations ("A chicken hello is flappy and clucky . . . /like this! cluck cluck cluck") will be extra fun layered on top of the boisterous animal noises that kids will surely want to chime in on. Murphy's distinct ink and watercolor illustrations again pair strong shapeliness and a candy-coated color scheme to make for a friendly visual experience that matches the book's sweet, silly tone. The bold outlining of the pictures and the participatory nature makes this a winning choice for library lapsits or storytimes on animal sounds—especially ones that enthusiastically encourage toddler noisemaking.
—Bulletin of the Center for Children's Books

In this cheerful concept book, Murphy uses a mix of fun adjectives and noises to introduce children to animal sounds. ... Reminiscent of Lucy Cousins's style, the vibrant ink and watercolor illustrations with bold black outlines are eye-catching. Combined with spare, large-print text on ample white backgrounds and a lift-the-flap page layout, they pack undeniable child appeal.
—School Library Journal

[A] cheery companion to A Kiss Like This... From "flappy and clucky" chicken salutations to the "tiny and tappy" introductions beetles make, fun-to-say words dance across the ample white background space. The sweetly silly cast of boldly outlined, wide-eyed animals — including a pair of exuberant leaping frogs and two toothy donkeys wearing goofy floral hats — comes together for a colorful, cacophonous splash at the book's end as they encourage readers to chime in with a big "Hello!" of their own.
—Publishers Weekly

Each spread offers just enough detail to pique interest due to some clever bookmaking; when youngsters flip a flap, they will observe that the scene has changed considerably. ... The repetitive phrasing acts as a prompt, encouraging youngsters to chime in. This builds, ultimately, to a direct invitation to young readers to say hello. They will—with gusto!
—Booklist Online

As with her fabulous "I Kissed the Baby!," Mary Murphy returns with a book that invites interactive play with preschoolers as she introduces animal sounds and behaviors. ... A delicious word sums up the sound of all the animals gathered on the penultimate spread ("hullabaloo!"), which rhymes with the "one hello missing—let's hear it from you...." Spatters of paint simulate fireworks as all the animals await the last word from youngest book lovers: "Hello! like this!" Soon to become a family favorite.
—Twenty By Jenny