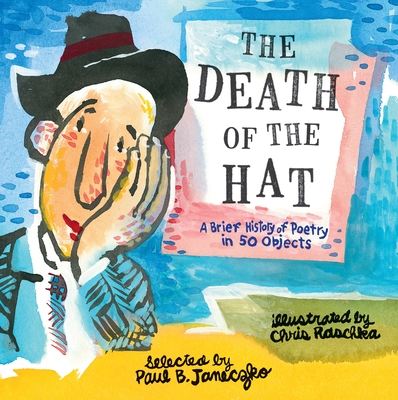 The Death of the Hat
A Brief History of Poetry in 50 Objects
Hardcover

* Individual store prices may vary.
Other Editions of This Title:
Paperback (3/6/2018)
Description
A celebrated duo reunites for a look at poems through history inspired by objects—earthly and celestial—reflecting the time in which each poet lived.

A book-eating moth in the early Middle Ages. A peach blossom during the Renaissance. A haunted palace in the Victorian era. A lament for the hat in contemporary times. Poetry has been a living form of artistic expression for thousands of years, and throughout that time poets have found inspiration in everything from swords to stamp albums, candles to cobwebs, manhole covers to the moon. In The Death of the Hat: A Brief History of Poetry in 50 Objects, award-winning anthologist Paul B. Janeczko presents his fiftieth book, offering young readers a quick tour of poets through the ages. Breathing bright life into each selection is Chris Raschka's witty, imaginative art.
Praise For The Death of the Hat: A Brief History of Poetry in 50 Objects…
Raschka's playful watercolors on crisp, white backgrounds distill both images and emotions from the poems. ... Another winning collaboration from two luminaries.
—Kirkus Reviews (starred review)

Raschka's lively, vibrant watercolors frame the text, enhancing and imbuing the poems with life.... This award-winning pair have once again delivered a book to be celebrated.... An excellent addition to any collection
—School Library Journal (starred review)

Janeczko and Raschka's stellar fourth poetry collaboration, following A Poke in the I and other acclaimed titles, presents a chronological "history" of the development of poetry, from the Middle Ages to the present.... Janeczko's selections and Raschka's characteristically airy illustrations let readers uncover layers of meaning, possibility, and emotion in poems from Rumi, Emily Dickinson, William Wordsworth, Pablo Neruda, Edna St. Vincent Millay, and others. Janeczko's substantial introduction gives an overview of poetry's evolution over the centuries, yet works like Lord Byron's "A Riddle, on the Letter E" resonate powerfully on their own: "The beginning of eternity, the end of time and space,/ The beginning of every end, and the end of every place."
—Publishers Weekly (starred review)

This accessible collection, containing poems from a wide variety of eras, regions, and styles and by a diverse group of writers, is a subtly thoughtful and engaging gateway to classic poetry, and a superb resource for the classroom.
—Booklist (starred review)

That all the poems are about objects unifies the collection; their chronological organization provides structure ... Raschka's soft, impressionistic watercolors showcase each poem.
—Horn Book

Raschka's droll sweeps of watercolor and ink are by turns bright, bold, humorous and solemn, while Janeczko's selections range from simple riddles to longer meditations.... The way in to this poetry is through objects, yet the intangible universe of human thought and experience is captured here with them. These things that seem so real are only temporary, but the poems may last for centuries.
—The Washington Post

An interesting mixture of old-fashioned tastes and contemporary sensibility.
—Bulletin of the Center for Children's Books

The practical pleasure of an anthology of poetry is the ease with which you can dip in—and bail out. Children and their parents are likely to feel both impulses with "The Death of the Hat: A Brief History of Poetry in 50 Objects," an elegant if faintly odd collection of verses compiled by Paul B. Janeczko. Ornamented with Chris Raschka's loose, lively watercolors, the pages seem to emanate cheer, but there is an elegiac feel to many of the pieces that will leave a more melancholy impression on the reader.
—The Wall Street Journal

Truly a young person's introduction to the heights and depth and breadth of poetry...For many a bewildered adult, wishing to bring poetry to a young reader and not knowing how or where to begin, "The Death of the Hat,'' will be a positive godsend.
—The Boston Globe

Much like peanut butter and jelly, poetry and art are a perfect pair. Janeczko and Raschka have again prepared another delicious snack; the watercolors are a delicacy, light and playful.
—School library Connection

This historical approach to poetry and poets through the ages is a wonderful addition to poetry collections.
—Literacy Daily
Candlewick, 9780763669638, 80pp.
Publication Date: March 10, 2015
About the Author
Paul B. Janeczko (1945–2019) was a poet and teacher who edited numerous award-winning poetry anthologies for young people, including A Poke in the I, A Kick in the Head, A Foot in the Mouth, and The Death of the Hat, all of which were illustrated by Chris Raschka; Firefly July, illustrated by Melissa Sweet; and The Proper Way to Meet a Hedgehog and Other How-To Poems, illustrated by Richard Jones. He also wrote Worlds Afire; Requiem: Poems of the Terezín Ghetto; Top Secret: A Handbook of Codes, Ciphers, and Secret Writing; Double Cross: Deception Techniques in War; The Dark Game: True Spy Stories from Invisible Ink to CIA Moles, a finalist for the YALSA Award for Excellence in Nonfiction for Young Adults; and Secret Soldiers: How the U.S. Twenty-Third Special Troops Fooled the Nazis.

Chris Raschka is the illustrator of many books for children, including The Hello, Goodbye Window by Norton Juster and A Ball for Daisy, both Caldecott Medal winners; Yo! Yes?, a Caldecott Honor Book; and I Pledge Allegiance by Bill Martin Jr. and Michael Sampson. He is most recently the author-illustrator of The Cosmobiography of Sun Ra. Chris Raschka lives in New York City.