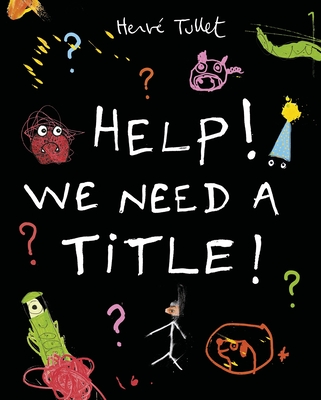 Help! We Need a Title! (Hardcover)
Candlewick, 9780763670214, 64pp.
Publication Date: May 13, 2014
* Individual store prices may vary.
Description
What if you picked out a book to read, but the characters weren't ready for you yet? A clever new picture book from the creator of the New York Times bestseller Press Here.

Take a peek inside this book and you'll find some characters (though they're still a bit sketchy). They'll be perplexed to see you, so they'll quickly try to track down their author (who has a lot more work to do). What you won't find is a story, or a title, because — guess what? The book isn't finished yet! But surely the author must have a story to tell? In this charming "meta" picture book, children of all ages are encouraged to interact with a book still in the process of being invented. And that's a story in itself!
About the Author
Hervé Tullet is the creator of more than fifty children's books, including Press Here, which has been translated into twenty-seven languages. He loves to provoke surprise with his books, as well as in the dynamic workshops that he takes part in. He lives in Paris and is celebrated internationally for his playful, inventive, and interactive storytelling.
Praise For Help! We Need a Title!…
Tullet breaks the fourth wall in this fantastic book. His characters look readers right in the eye and talk directly to them. ... They're all unpolished scribbles created with various media and mixed in with smudges, smears, doodles, and notes the author has written to himself. The chaos is great fun and gives the appearance of a book in progress. ... With this book, Tullet adds to his repertoire of interactive creations unparalleled in their cleverness and merriment.
—School Library Journal (starred review)

With plenty of self-referential good cheer, Tullet makes fun of picture books—and of himself, too. ... After creating a hasty story for his characters, the author chases everybody out. Particularly effective is Tullet's use of varying visual vocabularies to signal the frame stories and the narratives inside them, while exuberant splashes and splotches read as the happy embrace of imperfection.
—Publishers Weekly

Clever new metafiction from the prolific French artist. ... In the adeptly controlled chaos within, Tullet outlines the elements of a good story while supplying kids with plenty of inspiration to create their own.
—Kirkus Reviews

The genius creator of "Press Here" once again involves readers in the action—this time as the audience that inspires his characters to improve upon their story. ... While the characters may be critical of their author, youngsters will be thoroughly entertained by the interplay between Tullet and his creations. This could launch all kinds of discussions about the ingredients for a good story.
—Shelf Awareness