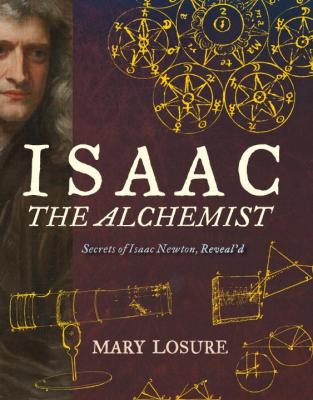 Isaac the Alchemist
Secrets of Isaac Newton, Reveal'd
Hardcover

* Individual store prices may vary.
Other Editions of This Title:
Paperback (9/11/2018)
Description
A surprising true story of Isaac Newton's boyhood suggests an intellectual development owing as much to magic as science.

Before Isaac Newton became the father of physics, an accomplished mathematician, or a leader of the scientific revolution, he was a boy living in an apothecary's house, observing and experimenting, recording his observations of the world in a tiny notebook. As a young genius living in a time before science as we know it existed, Isaac studied the few books he could get his hands on, built handmade machines, and experimented with alchemy—a process of chemical reactions that seemed, at the time, to be magical. Mary Losure's riveting narrative nonfiction account of Isaac's early life traces his development as a thinker from his childhood, in friendly prose that will capture the attention of today's budding scientists—as if by magic. Back matter includes an afterword, an author's note, source notes, a bibliography, and an index.
Praise For Isaac the Alchemist: Secrets of Isaac Newton, Reveal'd…
Much about Newton's life has to be conjecture, but the author adds details from history and from her understanding of human behavior that make this splendid story both convincing and accessible to her readers. Illustrations, engravings from the time and pages from his notes, and interesting afterwords add to the appeal. Narrative nonfiction at its best and most convincing.
—Kirkus Reviews (starred review)

Losure adeptly presents the complex subjects of chemistry, math, and physics, along with alchemy-related recipes...an excellent addition to reinforce lessons on how to find and use primary sources. Losure has written a volume that both informs and excites. Highly recommended for middle school science biography sections.
—School Library Journal (starred review)

Perhaps even more impressive than her re-creation of Newton's world, however, is her re-creation of the man himself—or rather, the boy who became the man—without embellishing the historical record with speculation and conjecture. Thus, the reader is left with the bare facts of Newton's life—his difficult and troubled childhood, his prodigious talent at Cambridge, his prickly and reclusive nature, and his famous Laws of Motion—but more importantly, Losure has communicated his very essence, recalling Albert Einstein's assertion that "imagination is more important than knowledge."
—Horn Book (starred review)

In this charming biography of Isaac Newton (1642–1727), Losure (Wild Boy) posits that "this last sorcerer—this greatest of all alchemists—was the same man who banished magic from the scientific world." ... Period images and afterwords with curiosity-spiking headings such as "Stinks, Bangs & More Chymical Secrets" bring additional depth and interest to this study of Newton's surprising pursuits.
—Publishers Weekly

Losure's treatment of those investigations is no arcane intellectual exercise but a biography that, in a manner similar to Kathleen Krull's lively Isaac Newton (BCCB 5/06), delights in her subject's curmudgeonly quirks and intellectual prowess...Losure's "Most Amazing Addendum" offers excerpts from period notebooks and writings that readers won't want to miss, as well as the expected citations, sources, and index.
—Bulletin of the Center for Children's Books

Concise and direct, this biography of Isaac Newton makes optimal use of primary sources...A useful book on all counts.
—School Library Connection

Mary Losure dilates on [the] private quirks of the future mathematician and physicist in 'Isaac the Alchemist,' a highly enjoyable work of narrative nonfiction for 9- to 15-year-olds.
—The Wall Street Journal

Mary Losure brings a poet's touch to this wondrous biography for children of the great scientist with its fascinating focus on his lonely childhood.
—Buffalo News

Losure writes with a lively enthusiasm and with admirable clarity, bringing to life a picture of a lonely, prickly boy who spent his life thinking about difficult questions seemingly only to satisfy his own drive to understand.
—The Booklist Reader

He would also (by following his own odd and lonely path) become one of the greatest scientists who ever lived." Illustrated with engravings and pages from Newton's notebooks and published works, Losure's narrative account of Isaac Newton's life and work supports these statements in an accessible and engaging fashion.
—Literacy Daily

This intimate portrait is a fascinating look at how science slowly but surely banished magic.
—Plain Dealer
Candlewick, 9780763670634, 176pp.
Publication Date: February 1, 2017
About the Author
Mary Losure, author of The Fairy Ring and Wild Boy, has worked as a reporter for Minnesota Public Radio and a contributor to National Public Radio. She lives in Minnesota.