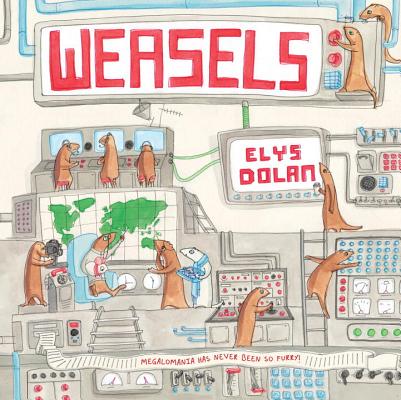 Weasels
Hardcover

* Individual store prices may vary.
Description
Find out how the weasels' dastardly plans for world domination are foiled in this hilarious, off-the-wall debut picture book.

Weasels. What do you think they do all day? Plot world domination — that's what! This rollicking madcap weasel adventure is packed full of mischief and mayhem, featuring hilarious weasel antics rendered in Elys Dolan's exuberant style. Will the weasels succeed in taking over the world?
Praise For Weasels…
[T]here's much pleasure to be had in hunting down all the individual stories and piecing together the odd ongoing plotline... However, Weasels offers even broader appeal through its humor, which is laced with absurdity... and steeped in a campiness and affectionate satire that suggests cartoons and pop-culture memes... The result is an appealing combination of sophisticated yet goofy humor and undemanding text that will draw many youngsters, and the book's appeal to a wide age range makes it an excellent choice for older and younger kids to share and snort over together. Weasels is just the mammalian madhouse to move kids from Anno to the anarchic.
—Bulletin of the Center for Children's Books (starred review)

With generous visual detail, [Dolan] unveils the numerous characters, situations, and machinery involved in the conspiracy. Dozens of subplots and personalities crowd the pages. ... Those who take the time to explore the riot of sardonic cartoonery will be well rewarded.
—School Library Journal (starred review)

Very entertaining... With a nod to James Bond, the evil mastermind wears a monocle and Nehru jacket and strokes a white pet; meanwhile, in eventful, mixed-media illustrations we see his minions bantering and drinking coffee—lots of coffee—while operating enormous blinking, whirring machines. Will the world be saved? Or will weasels inherit the earth? Witty drawings in the endpapers hint at the outcome in this diversion for 5- to 8-year-olds.
—The Wall Street Journal

[D]ebut author Dolan ... [is] a talent to watch. In the first of many carefully inked, densely populated, and literally laugh-out-loud spreads, the weasels are seen gathered in a war room, plotting moves on a giant strategy map of the world as their fearless, monocle-wearing leader pets a mouse; it's Dr. Strangelove meets Goldfinger meets Meerkat Manor. ... Dolan fills her pages with visual and verbal jokes about coffee obsessions, tech geeks, bureaucracy, and unsafe workplace practices
—Publishers Weekly

Dolan's mixed-media double-page spreads feature busy, often multileveled interiors, with scores of critters furiously causing as much trouble as they ameliorate. ... Observant kids will discern that Dolan cleverly employs a blue-eyed white weasel as both the cause and the solver of the machine's malfunction. Their parents will chuckle over the Blofeld-like weasel stroking a white mouse. ... Amid sight gags, crossed wires and way too many espresso drinks, these weasels rule!
—Kirkus Reviews

Who knew that weasels were plotting world domination? That's what we learn in this kooky picture book... It's crazy fun, with a glimpse on the endpapers of what the world will look like if they succeed.
—San Francisco Chronicle

A conspiracy theory has never been so fun.
—Parents Magazine (tablet edition)

Dolan ratchets up the already-silly premise with her cute, cartoony illustrations of industrious, big-eyed rodents scrambling over the page—up and around machines awash in knobs, levers, and reels. From the clever before- and-after endpapers to the satisfying concluding countdown, Weasels will tickle your funny bone.
—Booklist
Candlewick Press, 9780763671006, 32pp.
Publication Date: February 25, 2014
About the Author
Elys Dolan grew up in a part of England that consists almost entirely of trees and cows, and she was named after a department store in Wimbledon. She's never let either of these things hold her back and recently graduated from the Cambridge School of Art. She was awarded second place in the Macmillan Prize and was also short-listed for the Waterstone's Picture This Prize. She lives in Cambridge, England.