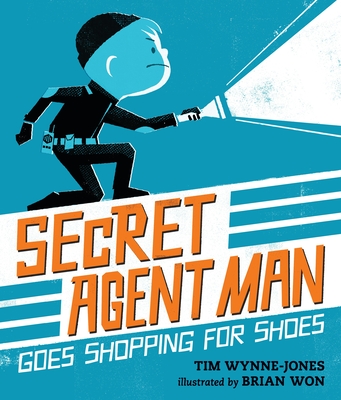 Secret Agent Man Goes Shopping for Shoes (Hardcover)
Candlewick, 9780763671198, 32pp.
Publication Date: June 14, 2016
* Individual store prices may vary.
Description
A charismatic young boy turns an everyday outing into a thrilling, top-secret adventure in this energetic, offbeat picture book.

Secret Agent Man (S.A.M.) needs new shoes. His mom — er, sidekick, "K" (short for Kay) — takes him shopping. But the operation will be dangerous: to start with, Shoe Store Man looks shifty. "Frisk him," says S.A.M. With the help of a Team of Expert Spies and keen observation skills, will Sam find that his brand-new tiger-striped shoes convey a new superpower . . . and that he can now tie his own shoelaces? Imaginative play is the mission in this witty picture book with retro illustrations that cleverly merge S.A.M.'s escapades with the ordinary world. Roar!
About the Author
Tim Wynne-Jones is the author of numerous picture books — including the Zoom trilogy, illustrated by Eric Beddows — and novels, including The Emperor of Any Place, Blink & Caution, and The Uninvited. Tim Wynne-Jones lives in Ontario, Canada.

Brian Won was a shoe salesman before he began creating children's books. He is the author-illustrator of Hooray for Hat! A Chicago native, he now lives in southern California.
Praise For Secret Agent Man Goes Shopping for Shoes…
Wynne-Jones (the Zoom trilogy) creates some lovely, offhanded rapport between mother and son ("We are matching tigers," says S.A.M. "Roar," says K.)...[Won's] digital images, which combine the look of 1960s animation with a variety of compositional styles, handily capture both everyday sights (a shoe salesman carrying an improbable number of shoeboxes) and the drenched-in-shadows menace of imagined international intrigue.
—Publishers Weekly

Text and art find their comedic stride when S.A.M. looks for K. in the Holding Cell of Despair (the toilet) and the Rocket Silo (broom closet)...Energetic compositions and appealing artwork bolster this spy-friendly text.
—Kirkus Reviews

The snappy language and playful atmosphere are very entertaining, especially when K plays along with S.A.M.'s game and when S.A.M.'s new tiger-striped shoes help him come to the rescue when K disappears after a boom of thunder (she's outside collecting the laundry before a rainstorm). This spirited story captures the enthusiasm of make-believe games, not to mention the appeal of brand-new sneakers.
—Booklist

The rather irksome task of shoe shopping gets the golden Bond touch here, as our young 007 takes both the tasks of finding new beaters and protecting the world with equal seriousness, resulting in an entertaining mix of satire and gentle humor...His Team of Expert Spies (three of his stuffed animals) and his code names for various locations in the house (the bathroom is the "Holding Cell of Despair," while the piano bench is the "Torture Chamber") are sure to elicit chuckles from viewers. Don't be surprised if a few kids show up at the next storytime clad in black, flashlight in hand, and, of course, wearing some super-sweet sneakers.
—Bulletin of the Center for Children's Books

The realistic and the imaginary realms merge at climactic points, with the illustrations appearing either split screen–style or with a frightened Sam shown as a child against the dark S.A.M. background. Children will enjoy sharing Sam's clever, creative adventure. A terrific read-aloud with bold, dynamic art.
—School Library Journal

This is a silly story that discusses a topic young children can personally relate to...The story is easy to follow and the images are very bright and vivid, instantly drawing the reader's attention.
—School Library Connection