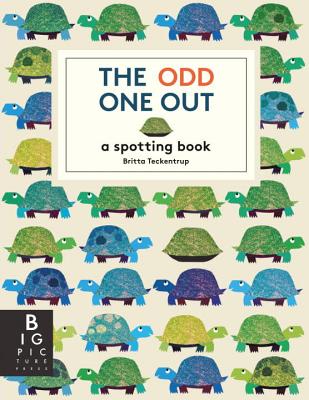 The Odd One Out (Hardcover)
Big Picture Press, 9780763671273, 32pp.
Publication Date: March 11, 2014
* Individual store prices may vary.
Description
Which bird has caught the worm? Where is the queasy monkey? And can you spot the scaredy-cat? Never has a search-and-find game been so pleasing to the eye. Each spread features fun rhyming couplets, beautiful and complexly patterned artwork, and a hidden surprise. A stylish title from the talented Britta Teckentrup, presented in an elegant format.
Praise For The Odd One Out…
Surely the trendiest creatures in children's books this year... Teckentrup's multimedia illustrations have the look of silk-screen prints, with color overlays to create a sense of texture. ... Looking carefully takes patience and persistence, and children will feel a pleasurable sense of reward when, in the case of those lemurs, they at last locate the one — among its hundred-or-so friends — with its eyes crossed.
—The New York Times Online

Accompanying each illustration, packed end to end with friendly animals, is a short rhyming verse that tells you who to look for, and each picture has its own tone- defining color scheme and design concept, keeping the experience fresh with each turn of the page. Little eyes will be very eager to spot each hidden figure and will find an appropriate level of challenge doing it ... Whether they're sharing this in one-on-one reading time or as a fun group activity, young animal lovers will be fully engaged.
—Booklist Online

A fun seek-and-find book featuring animals of all kinds. ... The brief rhyming text is well paced, making it easy to read aloud, though this will be a one-on-one share rather than a group read. There are many picture puzzle books available, but this one stands apart because of its whimsical illustrations and well-written rhyming clues.
—School Library Journal

In this classic take on a hunt for the odd one out, Teckentrup creates elegant Escher-like wallpapers of prints depicting a varied selection of interesting animals. ... Subtle coloration and textures and thoughtfully chosen background colors give the pages a hand-printed feel.
—Kirkus Reviews

Teckentrup asks readers to scan pleasingly patterned images for an "odd one out." ... Teckentrup's mod block-print graphics, reminiscent of Laura Ljungkvist's stylized work, present dizzying crowds of creatures—seals, lemurs, penguins, and butterflies among them.
—Publishers Weekly Online

The Golden Age of children's book illustration may have ended in the 1930s, but we are surely living through some sort of extended epoch of graphic excellence in books for small children. How else to explain the profusion of arrestingly stylish books about numbers, colors and concepts? Britta Teckentrup makes a chic contribution to the category with "The Odd One Out," a collection of rhyming puzzles that encourages children to seek and find a single inconsistency in various animal-filled tableaux. ... [Y]ounger ones will take pleasure in spotting the tiny, feathery pink shrimp amid a great shoal of colorful fish, for instance, or pointing to the one cross-eyed lemur in a mustard-colored troop.
—The Wall Street Journal

Wonderful... Reading the story and finding all the odd animals could take quite a while, but the illustrations are so beautiful you won't mind taking your time with each page.
—NPR, Best Books of 2014

Each page features rhymes along with elegant illustrations that are sure to mesmerize.
—Parents Magazine (tablet edition)