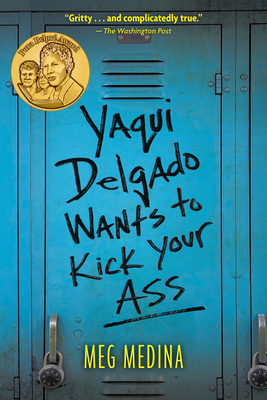 Yaqui Delgado Wants to Kick Your Ass
Paperback

* Individual store prices may vary.
Other Editions of This Title:
Digital Audiobook (3/11/2013)
Library Binding, Large Print (3/11/2020)
Paperback, Large Print (4/11/2020)
Compact Disc (8/26/2014)
MP3 CD (6/27/2014)
Description
"Honest and exquisitely crafted." — Kirkus Reviews (starred review)

One morning before school, some girl tells Piddy Sanchez that Yaqui Delgado hates her and wants to kick her ass. Piddy doesn't even know who Yaqui is, never mind what she's done to piss her off. But as the harassment escalates, avoiding Yaqui and her gang starts to take over Piddy's life. In an all-too-realistic novel, Meg Medina portrays a sympathetic heroine forced to decide who she really is.
Praise For Yaqui Delgado Wants to Kick Your Ass…
A nuanced, heart-wrenching and ultimately empowering story about bullying. . . . Interweaving themes of identity, escapism and body image, Medina takes what could be a didactic morality tale and spins it into something beautiful: a story rich in depth and heart...Far more than just a problem novel, this book sheds light on a serious issue without ever losing sight of its craft.
—Kirkus Reviews (starred review)

Medina emphasizes Piddy's acute sense of isolation without overplaying it, and she absolutely respects the totality of Piddy's quandary . . . The message here is that tough and unfair stuff is really tough and unfair, but it's also survivable; that's a takeaway that readers will recognize as both true and valuable.
—Bulletin of the Center for Children's Books (starred review)

Yaqui may think she's tough, but it's Piddy and some of the other female characters, namely Piddy's mother and her mother's flamboyant best friend Lila, who make more lasting impressions. Medina's setting stands out as well . . . Teens will identify with Piddy's struggle.
—The Horn Book (starred review)

The Latino cultural milieu adds a richness and texture that lifts this up above many problem novels. The plot points are dexterously intertwined, and the characters are distinct. A real bonus for those looking for a bullying book for older readers that is not simplistic.
—School Library Journal (starred review)

Yaqui Delgado Wants to Kick Your Ass should be taught in schools, read by counselors and parents, and used as a tool to discuss the importance of finding your voice, telling the truth and asking for help.
—Common Sense Media

Amid an explosion of bully books, Meg Medina's novel stands out for its honesty about girl-on-girl violence and its intelligent, insightful narrator. . . .  Medina brilliantly captures the sense of foreboding that envelops bully victims.
—Shelf Awareness

A powerful read! As tough and honest as its title, this novel takes an unflinching look at the unjust and cruel consequences of bullying. The story of Piddy Sanchez's transformation is full of the kind of truth teen readers will instantly recognize. I highly recommend it.
—James Howe

I cried and cheered for Piddy in equal measure. Medina perfectly captures the devastating impact of bullying—and the powerful influence of kindness in recovery. I love this book and miss Piddy already!
—Jo Knowles

Poignant, powerful, pull-your-heart-apart sad, snort-out-your-nose funny—a nuanced, honest telling of how courage and choice can triumph over the hell of being bullied.
—Carrie Jones, Author of the Need series and co-editor of Dear Bully

This is a charming, straightforward, captivating story with universal teen themes that should find a home in all high school fiction collections.
—Library Media Connection

Meg Medina is the author I studied, and still study, to learn how to write for children. Her ear is impeccable; the way she captures not only dialogue but also communicates adolescent feelings without being condescending nor pitching extra soft softballs. Few people get the balance of writing about and for teens right.
—Elizabeth Acevedo, New York Times bestselling author

Medina authentically portrays the emotional rigors of bullying through Piddy's growing sense of claustrophobic dread, and even with no shortage of loving, supportive adults on her side, there's no easy solution. With issues of ethnic identity, class conflict, body image, and domestic violence, this could have been an overstuffed problem novel; instead, it transcends with heartfelt, truthful writing that treats the complicated roots of bullying with respect.
—Booklist

The fast-moving plot explores family (especially mother–daughter) relationships, the importance of communication, and personal integrity. As Piddy witnesses and experiences abandonment, harassment, and brutalization, she realizes that her own reaction is most important. Her decision to make positive choices is a great example for teens. The story, fueled by the controversial title, holds cross-cultural appeal.
—VOYA

Piddy is a strong heroine whose sense of self is realistically jarred by her conflicting emotions. Medina effectively prods at the motivations behind bullying (without excusing it) and sensitively explores the delicate balance between belonging and maintaining individuality.
—Publishers Weekly

There's a lot packed into this vibrant small book which will make it a favorite for teens. . . Lots of action with a realistic setting, dialogue, relationships, problems, and solutions make this book a winner. The cover—a blue locker with graffiti for the title—will attract reluctant readers. The content will keep them reading to the end and wanting more, especially to hear Yaqui's story.
—SLJTeen

Books about bullying are on the rise as adults grapple with its causes and impact — and young people struggle to deal with it. This gritty novel manages to transcend the usual earnest fictional treatment by delivering a protagonist who is more than a mere victim and an ending that rings complicatedly true. . . . This unflinching novel, with its richly developed main character, deserves a place with two other nuanced bully books for teens: Rita Williams-Garcia's JUMPED, a 2009 National Book Award finalist that explores the mindsets of bully, victim and bystander; and Adam Rex's FAT VAMPIRE, in which a main character confronts her guilt as a cyberbully
—The Washington Post
Candlewick, 9780763671648, 272pp.
Publication Date: August 26, 2014
About the Author
Yaqui Delgado Wants to Kick Your Ass is a title that grabs your attention. What makes it so fitting for this novel?
At Piddy's new high school, kids tend to eat lunch with their own kind — blacks with blacks, Latinas with Latinas, and nerds with nerds. Does this also happen at your school? If so, why? Why is there often so little diversity in social groups?
On the surface, Lila and Piddy's mother seem like polar opposites, but look deeper. What are the significant differences between the two women? What are the abiding similarities? Why does Piddy need them both?
"She thinks we get a bad rap as Latinos," Piddy says about her mother, "which she's always trying to undo by being extra quiet and polite all the time" (page 9). How are Latinas stereotyped in popular culture? Why is Ma determined to set herself and her daughter apart? Would their lives be happier if she didn't?
"What's worse?" Joey asks Piddy. "Having no dad or having a mean son of a bitch like mine?" (page 45). How would you answer his question? How would Piddy? Why?
Ma is ashamed of her long-ago relationship with Piddy's father. Should she be? Why hasn't she been honest with her daughter? Has the secrecy been more harmful to Piddy than the truth would have been?
Salón Corazón, according to the Piddy, is "one part hair salon, three parts social hangout" (page 59). Why do customers flock to the salon? What makes the place so important to Piddy?
Many of the women at the salon tell Piddy that she has become a woman, but according to Piddy, "None of them ever sounds too happy about it" (page 63). Why aren't they happy? Consider what might make being a woman difficult from their point of view.
Yaqui Delgado Wants to Kick Your Ass is a serious novel, but it can also be very funny. What are some of your favorite comic lines or moments? What do they reveal about the characters?
Spanish words and phrases appear throughout this novel. If you know Spanish, translate the words into colloquial English. If you don't, use context to determine meaning. Why do you think the author didn't include a glossary in this book?
Best friends in the old neighborhood, Mitzi and Piddy seem headed in opposite directions after Mitzi moves out of Queens. What does each fear that the other is becoming? Are those fears justified? Why or why not?
Although Piddy's life is full of strong women, very few men are included. Who are the significant males in her life? Why are they so rare?
Why do you think Yaqui Delgado wants to kick Piddy's ass? Does she really think Piddy is after her boyfriend? Is she jealous of Piddy's intelligence? Is she just mean? Does her motive matter?
Look closely at the step-by-step bullying that Yaqui and her friends inflict upon Piddy. How does Piddy respond to each stage of this harassment? How does bullying change the way she sees herself and her future? How does it change the way she looks?
"It's not fair," Piddy realizes, "that I have to upend my life because Yaqui is bloodthirsty" (page 254). What does Piddy decide is more important to her than fairness? Would you have made the same decision? Why or why not?
"What constitutes a revolution?" Piddy's history teacher asks (page 39). Does Daniel Jones High School need a revolution? Who will have to lead it? What are its chances of success?
By the end of the novel, Piddy's future once again looks bright. What about Yaqui's future? What do you imagine her adult life will be like?
Despite the sign posted outside the guidance office, DJ is definitely not a "Bully-Free Zone" (page 75). Why is bullying so hard to stop? What steps has your community taken to prevent bullying? How effective have they been?
or
Not Currently Available for Direct Purchase