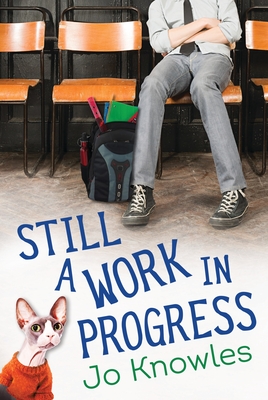 Still a Work in Progress
Hardcover

* Individual store prices may vary.
Other Editions of This Title:
Paperback (3/15/2019)
Description
In a return to middle-grade fiction, master of perspectives Jo Knowles depicts a younger sibling struggling to maintain his everyday life when his older sister is in crisis.

Noah is just trying to make it through seventh grade. The girls are confusing, the homework is boring, and even his friends are starting to bug him. Not to mention that his older sister, Emma, has been acting pretty strange, even though Noah thought she'd been doing better ever since the Thing They Don't Talk About. The only place he really feels at peace is in art class, with a block of clay in his hands. As it becomes clear through Emma's ever-stricter food rules and regulations that she's not really doing better at all, the normal seventh-grade year Noah was hoping for begins to seem pretty unattainable. In an affecting and realistic novel with bright spots of humor, Jo Knowles captures the complexities of navigating middle school while feeling helpless in the face of a family crisis.
Praise For Still a Work in Progress…
Feelings of guilt, grief, bewilderment, and anxiety pervade Noah's present-tense account. Through his eyes, Knowles offers a touching and realistic picture of the effect on those surrounding a person with an eating disorder. A poignant window and mirror into the lives of families affected by a health disorder.
—Kirkus Reviews

Knowles (See You at Harry's) sensitively explores the pain of having a sibling with an eating disorder, including the exhaustion caused by constant worry, the lack of attention for the healthy child, and the tension at every meal as the family tries to accommodate Emma's dietary whims while closely monitoring how much she consumes...the relative lack of eating disorder stories told from a male point of view (especially for middle graders) makes this a welcome addition to the canon and a realistic look at how one person's severe illness can adversely affect everyone around them.
—Publishers Weekly

With moments of genuine warmth and middle school humor, this is a less intense but equally heartfelt exploration of the effects of an eating disorder on a younger sibling than Vrettos' Skin (BCCB 5/06). Readers will appreciate the honesty and accessibility of this tale about Noah's desire to save the sister he loves but doesn't understand.
—Bulletin of the Center for Children's Books

Noah's believable friends and their conflicts will draw in seventh-grade readers, especially boys...The novel is a great addition to a middle grade collection and will promote discussion in classes and homes.
—VOYA

Knowles deftly portrays Noah's response to an intense family crisis in the midst of the usual dramas and banalities of ordinary life. While the latter can sometimes reach the point of silliness, this is a powerful portrait of an eating disorder from a younger brother's unique perspective.
—Booklist Online

Told from Noah's point of view, with fully developed main and supporting characters, the story believably and poignantly shows the effects of an eating disorder on those around the afflicted person...The interests of his friends and classmates begin to seem trivial, and readers will find his reactions honest and moving. A realistic and sensitive depiction of a family in crisis and a young teen's emotional journey through it.
—School Library Journal

As this clear-eyed, gently humorous novel evolves, Noah begins to take in what's "good and new and hopeful" and to understand deeply that we're "all just human, trying to live another day" — insights that may prove key to his own (and the reader's) resilience during tough times.
—Washington Post

Author Jo Knowles has written a beautifully crafted novel about a very tough topic, encapsulating it in a laugh-out-loud, very real story of a young boy...This is a profoundly important book that should not be missed.
—San Francisco Book Review
Candlewick, 9780763672171, 320pp.
Publication Date: August 2, 2016
About the Author
Jo Knowles is the author of Read Between the Lines and See You at Harry's as well as several other acclaimed young adult novels. She lives in Vermont with her family.