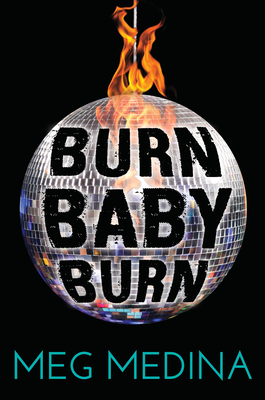 Burn Baby Burn
Hardcover

* Individual store prices may vary.
Other Editions of This Title:
Digital Audiobook (3/7/2016)
Paperback (3/27/2018)
Compact Disc (3/8/2016)
Compact Disc (3/8/2016)
MP3 CD (3/8/2016)
Description
A Kirkus Prize Finalist * A Los Angeles Times Book Prize Nominee * A National Book Award Long List Selection * An American Library Association Top Ten Best Fiction for Young Adults Selection * A Booklist Editors' Choice * A Horn Book Fanfare Selection * A Kirkus Reviews Best Teen Book of the Year *A  School Library Journal Best Book of the Year * A BookPage Best Children's Book of the Year

While violence runs rampant throughout New York, a teenage girl faces danger within her own home in Meg Medina's riveting coming-of-age novel.

Nora Lopez is seventeen during the infamous New York summer of 1977, when the city is besieged by arson, a massive blackout, and a serial killer named Son of Sam who shoots young women on the streets. Nora's family life isn't going so well either: her bullying brother, Hector, is growing more threatening by the day, her mother is helpless and falling behind on the rent, and her father calls only on holidays. All Nora wants is to turn eighteen and be on her own. And while there is a cute new guy who started working with her at the deli, is dating even worth the risk when the killer likes picking off couples who stay out too late? Award-winning author Meg Medina transports us to a time when New York seemed balanced on a knife-edge, with tempers and temperatures running high, to share the story of a young woman who discovers that the greatest dangers are often closer than we like to admit — and the hardest to accept.
Praise For Burn Baby Burn…
Meg Medina is the author I studied, and still study, to learn how to write for children. Her ear is impeccable; the way she captures not only dialogue but also communicates adolescent feelings without being condescending nor pitching extra soft softballs. Few people get the balance of writing about and for teens right.
—Elizabeth Acevedo, New York Times bestselling author

Rooted firmly in historical events, Medina's latest offers up a uniquely authentic slice-of-life experience set against a hazy, hot, and dangerous NYC backdrop. Rocky and Donna Summer and the thumping beats of disco, as well as other references from the time, capture the era, while break-ins, fires, shootings, and the infamous blackout bring a harrowing sense of danger and intensity . . . An important story of one of New York City's most dangerous times.
—Kirkus Reviews (starred review)

Medina weaves historical context throughout Nora's first-person narrative, expertly cultivating a rich sense of atmosphere while still keeping her characters sharply in the foreground...Powerfully moving, this stellar piece of historical fiction emphasizes the timeless concerns of family loyalty and personal strength, while highlighting important issues that still resonate today.
—Booklist (starred review)

Medina uses Nora's story to seamlessly connect readers to an unforgettable period in history, the setting leaving readers thirsting for more information about the summer of 1977. The character development is tight and accurately constructed. Medina holds nothing back, shedding light on the characters' flaws, which teens today will be able to relate to. Medina is on point with the teen voices, evoking their intense fear, panic, and dreams. A devastatingly intense story, this work is a must-have for all collections, especially where Ruta Sepetys's books are popular.
—School Library Journal (starred review)

This vividly evoked coming-of-age story is set against actual events in 1977 New York City...Nora is an empathetic character, and Medina depicts her troubled family and their diverse Queens neighborhood with realistic, everyday detail. Numerous references to New York's budget crisis, arson wave, and "Son of Sam" newspaper stories deliberately ground the story in a real time and place, while an ample sprinkling of seventies disco and funk song references creates a brighter soundtrack for the dreams and romance of teenage girls, hinting at a hopeful future for Nora.
—The Horn Book (starred review)

Nora is strong and believable, a possible romance has heat, and Medina (Yaqui Delgado Wants to Kick Your Ass) gets gritty 1977 New York City right: feminism and disco in the air, Son of Sam, and—come July—the blackout and the ensuing looting and fires...elements in this coming-of-age story are elegantly and eloquently explored.
—Publishers Weekly

I don't know if I've ever called a book "masterful" before, but I'm more than a little tempted.
—Kirkus Reviews

Historical fiction is sometimes a hard sell for contemporary teens; however, Medina's novel entices readers by developing realistic characters and a strong plot framed by the turbulence of 1977 in NYC. At its heart, this is a novel about growing up. Nora struggles to find her identity outside of her family and make choices that will impact her future. There is a strong theme of feminism and redefining a woman's role during that time in history. Nora's outlook on relationships and life in general is frank but refreshingly honest...this novel is a strong choice for its message, characters, and historical perspective.
—VOYA

Medina steeps her narrator in a period world of wearing Sasson jeans, mourning for Freddie Prinze, and screaming at Carrie, but mostly it's an atmosphere of palpable and excruciating tension for Nora as her family drama mirrors the external threat. Her feelings are believably complicated...While Nora's milieu may be different, contemporary readers will respond to her doubt about the world's and her own possibilities, and they'll be glad to see her bravely moving forward nonetheless.
—Bulletin of the Center for Children's Books

Meg Medina once again shines in evoking a specific setting peopled with complex, diverse characters.
—Chicago Tribune

Medina draws her characters deeply, and makes a struggling New York City their perfect, complicated backdrop.
—Plain Dealer
Candlewick, 9780763674670, 320pp.
Publication Date: March 8, 2016
About the Author
Meg Medina, the 2023­­­­–2024 National Ambassador for Young People's Literature, is a Cuban American author who writes for readers of all ages. Her middle-grade novel Merci Suárez Changes Gears received a Newbery Medal and was a New York Times Book Review Notable Children's Book of the Year, among many other distinctions. Its sequel, Merci Suárez Can't Dance, received five starred reviews, while Merci Suárez Plays It Cool received four stars, with Kirkus Reviews calling it "a fabulous finale to a memorable trilogy." Her most recent picture book, Evelyn Del Rey Is Moving Away, received honors including a Charlotte Zolotow Award and was the 2020 Jumpstart Read for the Record selection, reaching 2.24 million readers. She received a Pura Belpré Author Award Honor for her picture book Mango, Abuela, and Me. Her young adult novel Burn Baby Burn earned numerous distinctions, including being long-listed for the National Book Award and short-listed for the Kirkus Prize. Meg Medina received a Pura Belpré Author Award and a Cybils Award for her young adult novel Yaqui Delgado Wants to Kick Your Ass, which has been adapted and illustrated as a graphic novel by Mel Valentine Vargas. She also received an Ezra Jack Keats Writer Award for her picture book Tía Isa Wants a Car. When she is not writing, Meg Medina works on community projects that support girls, Latino youth, and literacy. She lives with her family in Richmond, Virginia.
1. "I tell a thousand little lies about my life every day so I can feel like a normal person," says Nora (page 205). What do you think is the biggest lie that Nora tells? Why does she tell it? Kathleen MacInerney has been Nora's best friend since kindergarten, yet Nora decides "there's just no way she would understand how Mima, Hector, and I work" (page 155). Why does Nora believe this? Do you? Why or why not?
2. Feminism was on the rise in 1977. What opportunities did the movement offer young woman like Nora and Kathleen? What did it mean to older women like Stiller and Mrs. MacInerney? Why were some women, like Mima, appalled by it?
3. "You think we suck as feminists?" Kathleen asks Nora at a women's rights rally (page 78). "We do argue about Wella Balsam versus Prell." What do you think is the difference between a good feminist and a bad one? Does worrying about hair care (or getting dressed up for boys) undermine Kathleen's and Nora's commitments to the cause?
4. Nora has a troubled relationship with both of her parents, but they aren't the only grown-ups in her life. Who are the other important adults? How do they support her? Why? Why is Nora attracted to carpentry? What makes her so good at it?
5. In what ways is 1977 very different from our own time? In what ways is it similar? Almost forty years have passed since 1977. Try to imagine where the main characters of Burn Baby Burn are now. What do you think has become of Nora, Kathleen, and Pablo? Where is Hector?
6. Papi dotes on his youngest son, but is largely absent from the lives of his two oldest children. Whom do you blame for his behavior? Why? How does Nora finally transform her relationship with her father?
7. "Men are reckless," Mimi tells her daughter (page 31). "They're born that way, impulsive, but eventually they find a good woman and outgrow it." Are boys more reckless than girls?
8. Why does Mimi demand more from her daughter than from her son? Would Hector be better off if she didn't? Would Nora? How did a paunchy mail clerk terrorize an enormous metropolis like New York City? What were Son of Sam's most chilling tactics?
9. Burn Baby Burn is both a love story and a horror story. What is your scene? Which scene is the scariest? Why? Pablo is handsome, kind, and smart. Why does Nora keep pushing him away?
10. "Sometimes it's easier to let people think I'm Greek or Italian," Nora says (page 115). Why does she sometimes feel the need to hide her ethnicity? What does being a Latina mean to Nora? What does it mean to her mother?
11. "Remember to reach," Nora's guidance counselor tells her on the last day of school (page 215). "You'll surprise yourself." What does Nora ultimately reach for? How is she surprised?
12. "Burn Baby Burn" is what Nora and Kathleen write on the beach at Breezy Point at the end of this novel. What is the significance of that phrase to the two friends? What makes it such a fitting title for this book?
13. "I wrote this story," Meg Medina writes in her Author's Note (page 306), "because young people everywhere sometimes find that they have to fuel their hope against a bleak backdrop and outpourings of rage." How does Nora fuel her hope? How have other young people in difficult situations, either in your community or elsewhere, fueled theirs?
or
Not Currently Available for Direct Purchase