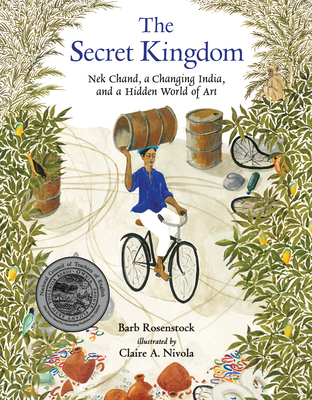 The Secret Kingdom
Nek Chand, a Changing India, and a Hidden World of Art
Hardcover

* Individual store prices may vary.
Description
A 2019 Orbis Pictus Honor Book

The incredible story of the world's largest visionary environment: the Rock Garden of Chandigarh, kept secret by outsider artist Nek Chand for fifteen years.

After the partition of India in 1947, Nek Chand Saini settled in the city of Chandigarh, with nothing but stories brought from his homeland. Dismayed at his stark new surroundings, Nek began collecting river rocks, broken glass, and cracked water pots found on the roadside. He cleared a section of jungle and for seven years he stockpiled odds and ends. They were castoffs and rubbish to everyone else, but to Nek, they were treasures. He began to build a labyrinth of curving paths, mosaics, and repeating patterns: his very own tribute to the winding village of his youth, a hidden land of stories. Nek kept his kingdom secret for fifteen years, until a government crew stumbled upon it and sought to destroy it. But local fans agreed in awe: the Rock Garden had to be protected. Author Barb Rosenstock introduces readers to the outsider artist's stunning creation, while Claire A. Nivola's illustrations bring to life the land's natural beauty and the surreal world Nek coaxed from his wild landscape.
Praise For The Secret Kingdom: Nek Chand, a Changing India, and a Hidden World of Art…
...this biography is valuable for its sheer novelty. Delicate watercolor illustrations bring it to life with texture and detail, and a large gatefold photograph of the actual Rock Garden is a special treat.
—Booklist

Rosenstock weaves the story of folk artist Nek Chand Saini and the magnificent secret garden he built in Chandigarh, India...Compelling, delicate, and spare, this book brings both artist and garden to life.
—Kirkus Reviews

Watercolor illustrations bring life to the vision of Chand and kingdom of magic and imagination. A captivating biographical narrative, this book is an ideal choice for expanding any visual arts–focused picture book collection.
—School Library Journal

A lover of true stories, author Barb Rosenstock (The Camping Trip That Changed America) clearly revels in Nek Chand's remarkable journey from village farmer to world-renowned folk artist. To comprehend the phenomenal scale of his achievement requires visuals, provided here with artistic accuracy and charming detail by Claire A. Nivola (Planting the Trees of Kenya).
—Shelf Awareness Pro

Rosenstock's narration gracefully integrates Chand's early village experiences with their embodiment in his multi-acre built world, and Nivola's airy illustrations are complemented by a closing double foldout photomontage of Chand's wonderland of found materials.
—Bulletin of the Center for Children's Books

This stunning picture-book celebration of folk artist Nek Chand, creator of the Rock Garden of Chandigarh in India, offers a moving depiction of the power of art...When readers are treated to a breathtaking, photographic gatefold spread of the real Rock Garden of Chandigarh, the sight makes plain why Chand's community rallied to preserve his work in the face of government threats to destroy it.
—The Horn Book
Candlewick, 9780763674755, 48pp.
Publication Date: February 13, 2018
About the Author
Barb Rosenstock is a children's book author who loves true stories. Her work includes The Camping Trip That Changed America: Theodore Roosevelt, John Muir, and Our National Parks, illustrated by Mordicai Gerstein; The Noisy Paint Box: The Colors and Sounds of Kandinsky's Abstract Art, illustrated by Mary GrandPré; and many others. Barb Rosenstock lives in Chicago.

Claire A. Nivola is an award-winning artist who has written and illustrated many books for children. She is the author-illustrator of Orani: My Father's Village and Planting the Trees of Kenya: The Story of Wangari Maathai. She lives in Newton, Massachusetts.