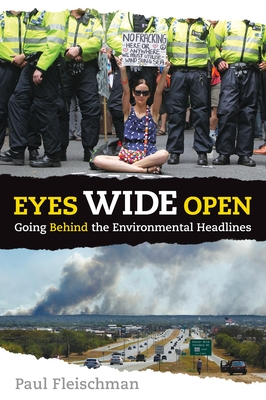 Eyes Wide Open (Paperback)
Going Behind the Environmental Headlines
Candlewick, 9780763675455, 208pp.
Publication Date: September 23, 2014
Other Editions of This Title:
Hardcover (9/23/2014)
Prebound (9/23/2014)
Pre-Recorded Audio Player (9/1/2014)
MP3 CD (9/23/2014)
Compact Disc (9/23/2014)
Compact Disc (9/23/2014)
* Individual store prices may vary.
Description
Paul Fleischman offers teens an environmental wake-up call and a tool kit for decoding the barrage of conflicting information confronting them.

We're living in an Ah-Ha moment. Take 250 years of human ingenuity. Add abundant fossil fuels. The result: a population and lifestyle never before seen. The downsides weren't visible for centuries, but now they are. Suddenly everything needs rethinking — suburbs, cars, fast food, cheap prices. It's a changed world. 

This book explains it. Not with isolated facts, but the principles driving attitudes and events, from vested interests to denial to big-country syndrome. Because money is as important as molecules in the environment, science is joined with politics, history, and psychology to provide the briefing needed to comprehend the 21st century. 

Extensive back matter, including a glossary, bibliography, and index, as well as numerous references to websites, provides further resources.
About the Author
Praise For Eyes Wide Open: Going Behind the Environmental Headlines…
With simple, matter-of-fact language, an attractive layout and an abundance of references, this compact guide to addressing climate change is a must-read for millennials and for all who seek solutions to global warming. ... For high schools that assign one book for all students to read and discuss: This is the one.
—Kirkus Reviews (starred review)

[A] challenging and provocative overview of current environmental and sociological problems, which urges readers to think critically and broadly about the world. ... Few readers will look at the world the same way after finishing this book.
—Publishers Weekly (starred review)

Written in a lively style, lavishly illustrated, and timely in its subject matter, this well-researched book is a call to action: now is the time to save our environment. ... The presentation of facts and the author's positive message are what shine here. An excellent and thought-provoking take on a well-worn subject.
—School Library Journal (starred review)

This remarkable book offers young people the tools they need to become informed, responsible global citizens. ... Thoughtful readers will appreciate this insightful, refreshing title's broad scope, use of specific examples, and the many references to related books, documentaries, and online articles, lectures, and interviews. The appended "How to Weigh Information" section is particularly excellent. A Newbery Medal–winning writer, Fleischman notes that he is "no trained scientist," but his exceptional ability to organize the information here and present it articulately makes him a notable citizen scientist.
—Booklist (starred review)

The compelling format includes numerous short chapters with sidebars, illustrations, and source notes. Every page offers interesting visual design as well as quality content. ... Fleischmann's engaging book will launch readers into further inquiry. ... This unique and up-to-the-minute book builds understanding about how we have reached the current moment in history. ... Compelling. [This] may become the author's most influential book.
—VOYA

Fleischman writes urgently, conversationally, and inspirationally... None of the concepts is dumbed-down, and readers can look up more information if they choose using the copious source notes, resource lists, and a primer on critical media consumption found in the back of the book. Going straight to the issues that matter, this is a refreshingly opinionated approach to informed action, encouraging teens to think and act critically, communally, and responsibly.
—Horn Book

An attractively designed guide for teens to thinking deeply about their world and what they can do to shape it.
—Shelf Awareness

Material is written in short, factual posts like blog posts which students will find easy to follow.
—Library Media Connection

This is certainly a laudable goal and it's approached with a lively voice. ... Perhaps most useful is the volume's back matter, which, besides source notes and an index, offers an extensive bibliography of print and non print media, suggested resources ar- ranged by topic, and an excellent glossary of terms that often carry domain-specific meaning.
—Bulletin of the Center for Children's Books

Few readers will look at the world the same way after finishing this book.
—Huffington Post

An acclaimed storyteller and poet, Fleischman briskly describes, without gloom or doom, how we have gotten into this situation and how we may be able to get out of it. ... Full of pertinent historical references and images, the book provides many ideas on how to learn more, be hopeful and take action.
—The Washington Post

A must-have for activist teens.
—Providence Sunday Journal

Its clarity and scope provide an excellent starting point for classroom discussion or independent reading.
—Science