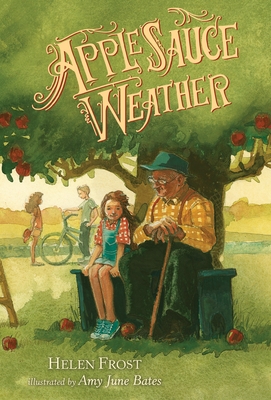 Applesauce Weather
Hardcover

* Individual store prices may vary.
Other Editions of This Title:
Paperback (9/4/2018)
Description
In a touching poetic novel, a fall apple ritual—along with some inventive storytelling—brings a family together as they grieve the loss of a beloved family member.

When the first apple falls from the tree, Faith and Peter know that it's applesauce weather, even though Peter is getting a little old for such things. It also means Uncle Arthur should be here to tell his stories, with a twinkle in his eye as he spins tales about how he came to have a missing finger. But this is the first year without Aunt Lucy, and when Uncle Arthur arrives, there's no twinkle to be found and no stories waiting to be told. Faith is certain, though, that with a little love and patience, she and Peter might finally learn the truth about that missing finger. Paired with warm, expressive illustrations by Amy June Bates, this heartfelt tale by award-winning poet Helen Frost highlights the strength of family and the power of a good story.
Praise For Applesauce Weather…
Throughout the tale, Bates' evocative oil-based pencil drawings build on the intimacy of Frost's narrative, deftly adding motion, whether it be in Faith's wind-swept hair or Peter hanging upside down from a tree. Frost's compact first-person poems shift in perspective from character to character, revealing the inner thoughts and feelings of each while simultaneously propelling the narrative and allowing for concise but realistic character development. Light yet poignant, this multigenerational family tale shows age proves no barrier when it comes to offering solace.
—Kirkus Reviews (starred review)

Frost, the gifted poet who wrote The Braid (2006), Crossing Stones (2009), and Salt (2013), offers a new verse novel for younger readers...Written with simplicity and grace, the story is told in three distinctive voices—or four, counting the seven interspersed verses of "Lucy's Song." From the light, airy lattice motif that opens each chapter to the well-defined character portrayals throughout the book, beautiful shaded pencil drawings enhance the story. Fresh, sweet, and crisp, this novel has a magic all its own.
—Booklist (starred review)

Frost's poetry—both free verse and rhyming—is warm and specific, as crisp as the crunch of a ripe apple. Romance, grief, and growing up are also expressed through the various characters' narratives and provide pauses for reflection without disrupting the flow. The frequent mono- chromatic illustrations are sketchy and vigorous yet structured, and they add cozy charm and texture to the story. Folks looking for poetic narratives or rich family drama for the middle-grade set will find this book to be in apple-pie order.
—Bulletin of the Center for Children's Books (starred review)

The illustrations are charming and bring the setting to vivid life. This quick, charming read is suited for those newly introduced to poetry or coping with a loss.
—School Library Journal

This book is a short, charming novel written in verse...The delightful pencil drawings are perfectly suited to setting the tone of the story and help bring the engaging characters to life. This would be a welcome addition to the novel-in-verse collection of any library.
—School Library Connection

Helen Frost, winner of a Printz Honor for her verse novel Keesha's House (2003), pens verses that resonate with emotion and rhythm. Amy June Bates's black-and-white oil-based pencil illustrations bring this heartwarming tale to life.
—Literacy Daily

[C]lassics from Frances Hodgson Burnett's The Secret Garden to Katherine Paterson's Bridge to Terabithia have shown kids finding everyday magic in the natural world as they grapple with death. Helen Frost calls to mind that timeless milieu with Applesauce Weather, a novel in verse (with charming illustrations by Amy June Bates) that explores the common ground children and adults can find in the wake of loss…an appealing resource for grieving kids and parents alike.
—Time Magazine

Frost, a brilliant poet, whittles words the way Arthur does bits of wood, creating beauty that's solid and true. Pencil illustrations add to the charm.
—Plain Dealer

...all the story's threads weave together nicely, buoyed by satisfying character development.
—Kirkus Reviews (blog)
Candlewick, 9780763675769, 112pp.
Publication Date: August 9, 2016
About the Author
Helen Frost is the author of Step Gently Out, Sweep Up the Sun, and Among a Thousand Fireflies, all illustrated by Rick Lieder, and Monarch and Milkweed, illustrated by Leonid Gore, as well as six novels-in-poems for children and young adults. She was awarded a Printz Honor in 2004 for Keesha's House. Helen Frost lives in Fort Wayne, Indiana.

Amy June Bates has illustrated more than forty books for children, including Ketzel, the Cat Who Composed by Lesléa Newman, Waiting for the Magic by Patricia MacLachlan, and The Dog Who Belonged to No One by Amy Hest. Her work has been honored by the Society of Illustrators. She lives in Carlisle, Pennsylvania.