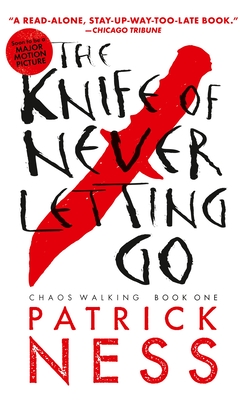 The Knife of Never Letting Go (with bonus short story)
Chaos Walking: Book One
Paperback

* Individual store prices may vary.
Description
The riveting Chaos Walking trilogy by two-time Carnegie Medalist Patrick Ness, reissued with compelling new covers — and a bonus short story in each book.

"Narrated with crack dramatic and comic timing. . . . The cliffhanger ending is as effective as a shot to the gut." — Booklist (starred review)

Todd Hewitt is the only boy in a town of men. Ever since the settlers were infected with the Noise germ, Todd can hear everything the men think, and they hear everything he thinks. Todd is just a month away from becoming a man, but in the midst of the cacophony, he knows that the town is hiding something from him — something so awful Todd is forced to flee with only his dog, whose simple, loyal voice he hears too. With hostile men from the town in pursuit, the two stumble upon a strange and eerily silent creature: a girl. Who is she? Why wasn't she killed by the germ like all the females on New World? Propelled by Todd's gritty narration, readers are in for a white-knuckle journey in which a boy on the cusp of manhood must unlearn everything he knows in order to figure out who he truly is.
Praise For The Knife of Never Letting Go (with bonus short story): Chaos Walking: Book One…
Crack dramatic and comic timing… unforgettable… penetrating… The cliffhanger ending is as effective as a shot to the gut.
—Booklist (starred review)

The emotional, physical, and intellectual drama is well crafted and relentless...Tension [and] suspense…are palpable throughout, mitigated by occasional moments of welcome humor.
—School Library Journal

Todd's world is a fascinating one, and the psychological and sociological impact of being unable to shut out others' thoughts—or hide your own—is creatively explored … Todd's colloquial voice is by turns defensive, belligerent, innocent, and desperate; the strength of his point of view and the subtle world-building contained in it make this series opener as promising as it is provocative.
—The Horn Book

Todd and Viola…are realistically portrayed as kids frequently overwhelmed and terrified by their circumstances…The nicely balanced mix of coming-of-age novel, science-fiction adventure, and dystopic thriller will make this an appealing choice for a range of genre readers…still unsolved mysteries, carefully developed by Ness and left at tantalizing moments of resolution, guarantee anticipation for the next two.
—Bulletin of the Center for Children's Books

Skillfully structured narrative creates an elegant mixture of action, dialogue, and dark, dsytopian pathos.
—VOYA

Gives us a glimpse of the depth of evil in our hearts…the ending of this book is absolutely chilling and leaves the reader begging for more.
—Library Media Connection

This riveting SF thriller is action-packed, with edge-of-your-seat chase scenes, a monstrous villain who just won't die, and moments of both anguish and triumph…Emotionally intense…haunting page-turner.
—KLIATT

Perhaps the most impressive of the recent crop [of dystopian YA]
—New Yorker

A read-alone, stay-up-way-too-late book for older readers looking for the combination of being scared and being stirred to gallop to the end.
—Chicago Tribune

The powerful, gut-clenching cliffhanger will definitely leave you wanting more.
—Orlando Examiner online
Candlewick, 9780763676186, 528pp.
Publication Date: July 22, 2014
About the Author
Patrick Ness is the author of the critically acclaimed and best-selling Chaos Walking trilogy, as well as the Carnegie Medal–winning A Monster Calls, inspired by an idea from Siobhan Dowd. Among the numerous awards he has received are the Guardian Children's Fiction Prize, the Booktrust Teenage Prize, and the Costa Children's Book Award. Born in Virginia, he lives in London.
1. Think about the title of the book: The Knife of Never Letting Go. On page 84, Todd says, "But a knife ain't just a thing, is it? It's a choice, it's something you do. A knife says yes or no, cut or not, die or don't. A knife takes a decision out of your hand and puts it in the world and it never goes back again." What does the knife symbolize? What does Todd do, and not do, with the knife? Think about the Spackle, the turtle, and Aaron. What happens to the knife in the end? What do you think this signifies?
2. Todd tells us on pages 18 and 19 that he has had little education. In fact, reading and writing are forbidden by the Mayor of Prentisstown. How does Todd's lack of education and knowledge affect his journey, especially in terms of his inability to read Ben's note and map or his mother's journal? How does the denial of education allow totalitarian governments (like that in Prentisstown) to control their citizens?
3. On pages 20–22, Todd refers to the Noise that fills his life. Where did this Noise come from? On page 391, Todd describes Noise as "Informayshun, all the time, never stopping, whether you want it or not. . . . And too much informayshun can drive a man mad." And on page 42, he says, "The Noise is a man unfiltered, and without a filter, a man is just chaos walking." Dystopian novels — ones that describe a future that is bleak, dark, and often fearful — offer the author a chance to comment on present-day society. What in our contemporary lives might we consider Noise? What positive and negative impact do you think this Noise has on our lives?
4. On page 26, Todd tells us that Old World (Earth) was full of "corrupshun and sin." On page 163, Hildy says, "Old World's mucky, violent, and crowded, a-splitting right into bits with people a-hating each other and a-killing each other, no one is happy till everyone's miserable." Is Patrick Ness making a statement about the world in which we currently live? What do you think of his assessment?
5. Prentisstown is characterized by a complete lack of privacy. Patrick Ness said, speaking about contemporary life in an interview at www.bookdepository.com, "No one's allowed a private life, because even your friends might sell you to the papers if you've allegedly done something 'shocking.' And with camera phones and Facebook, suddenly every action, even ones meant for just close friends, can be broadcast to the entire world. . . . I think it's robbing us of something." Do you agree or disagree with Ness? Do we suffer from a lack of privacy? What are some examples? What are the costs of lack of privacy? Are there any benefits?
6. Throughout the book, Ness explores gender roles. In a February 10, 2010, interview at presentingLenore.blogspot.com, he said, "The gender roles were more a way of exploring my theory about how bad we are as a species at handling difference. If something is different, it's either better (in which case we need to destroy it) or worse (in which case we need to exploit it). That was more a plea to accept difference as merely difference." How would you respond to Ness's comments?
7. Follow the relationship between Todd and his dog, Manchee. At the beginning of the book, Todd tells us that Manchee was an unwanted birthday present. On page 333 Todd says, "I rub the ears of my . . . ruddy great dog that I never wanted but who hung around anyway . . . and who's right there when I need pulling back from the darkness I fall into and who tells me who I am whenever I forget." The two become true friends and companions. List the ways in which Manchee shows his devotion to Todd. Explain Manchee's part in Todd's ethical dilemma.
8. One of the themes of The Knife of Never Letting Go is that "war makes monsters of men" (page 430). What occurs in the story that proves this to be true? Can you think of present-day examples that either support or negate this idea?