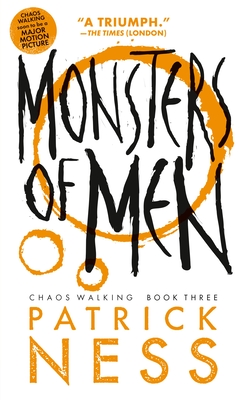 Monsters of Men (with bonus short story)
Chaos Walking: Book Three
Paperback

* Individual store prices may vary.
Description
The riveting Chaos Walking trilogy by two-time Carnegie Medalist Patrick Ness, reissued with compelling covers — and a bonus short story in each book.

"This is science fiction at its best, and is a singular fusion of brutality and idealism that is, at last, perfectly human." — Booklist (starred review)

As a world-ending war surges around them, Todd and Viola face monstrous decisions. The indigenous Spackle, thinking and acting as one, have mobilized to avenge their murdered people. Ruthless human leaders prepare to defend their factions at all costs, even as a convoy of new settlers approaches. And as the ceaseless Noise lays all thoughts bare, the projected will of the few threatens to overwhelm the desperate desire of the many. The consequences of each action, each word, are unspeakably vast: To follow a tyrant or a terrorist? To save the life of the one you love most, or thousands of strangers? To believe in redemption, or assume it is lost? Becoming adults amid the turmoil, Todd and Viola question all they have known, racing through horror and outrage toward a shocking finale.
Praise For Monsters of Men (with bonus short story): Chaos Walking: Book Three…
As in his preceding books, Ness offers incisive appraisals of violence, power, and human nature, and with the series complete, it's clear that he has crafted one of the most important works of young adult science fiction in recent years.
—Publishers Weekly (starred review)

[Ness's] rapid-fire litany of impossible choices makes for captivating thought fodder, and what has already been a potent display of the power of voice to drive, amplify, and transform a story gets a third, unexpected soloist. And in so doing he shows just how deep and complex, as well as how versatile, a symbolic and narrative device the concept of Noise can be. . . .This is science fiction at its best, and is a singular fusion of brutality and idealism that is, at last, perfectly human.
—Booklist (starred review)

This is a complex and engrossing work that series fans will devour.
—School Library Journal

With its dark tone, violence and readerly fanaticism the book belongs firmly beside Suzanne Collins's work.
—The Wall Street Journal

The Chaos Walking trilogy is genuinely imaginative dealing as much with questions of privacy and information overload as it does with the more self evident subject of war (The New World's great menace is a germ that makes men s thoughts audible and visible.) Young adult readers should definitely start with the first two volumes before tackling the third, and, I'm afraid, shouldn't expect to get much sleep until they've turned the final page.
—The Wall Street Journal
Candlewick, 9780763676193, 656pp.
Publication Date: July 22, 2014
About the Author