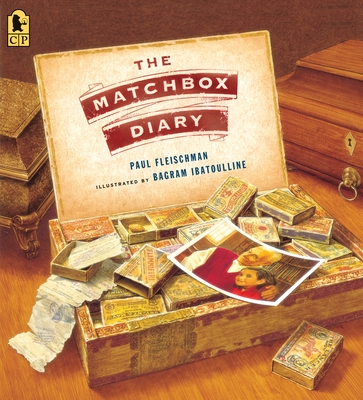 The Matchbox Diary (Paperback)
Candlewick, 9780763676384, 40pp.
Publication Date: August 2, 2016
Other Editions of This Title:
Hardcover (3/12/2013)
Hardcover, Spanish (1/30/2015)
Prebound (8/2/2016)
* Individual store prices may vary.
Description
"Instantly engrossing, free of self-pity, and resonant with resilience and gratitude . . . A powerful introduction to the American immigrant story." — Publishers Weekly (starred review)

When a little girl visits her great-grandfather, she asks about the collection of matchboxes harboring objects she can hold in her hand, each one evoking a memory. Together they tell of his journey from Italy to a new country, before he could read and write: the olive pit his mother gave him to suck on when there wasn't enough food; a bottle cap he saw on his way to the boat; a ticket still retaining the thrill of his first baseball game. Newbery Medalist Paul Fleischman and acclaimed illustrator Bagram Ibatoulline tell a breathtaking immigration tale with appeal across generations.
About the Author
Praise For The Matchbox Diary…
[A] sweet story, illustrated alternately in gauzy color for the pictures of the girl and the old man, sepia-toned images for the olden days...
—The New York Times Book Review

Writing entirely in dialogue, Fleischman employs a natural and believable matter-of-fact tone that provides a fresh view of the immigrant experience, as the humble objects and their stories form the beginning of a loving bond between the little girl and her great-grandfather. Ibatoulline's illustrations, done in acrylic gouache, are extraordinarily detailed and expressive. Modern scenes appear in warm, amber-toned colors, while framed sepia vignettes depict past memories as if part of a family album. Captivating and powerful.
—Kirkus Reviews (starred review)

Small-scale objects tell a large-scale, European coming-to-America story in this beautiful offering from two celebrated children's book creators...An excellent title for sharing and discussion, this will resonate with the many kids who will recognize how small, ordinary things can become treasures.
—Booklist (starred review)

Fleischman's voice for the girl's great-grandfather is instantly engrossing, free of self-pity and resonant with resilience and gratitude. Ibatoulline...is in equally fine form: his characters' emotionally vivid faces speak of hard lives and fervent dreams, and his sepia-toned scenes never lapse into sentimentality. A powerful introduction to the American immigrant story, and fine inspiration for a classroom project.
—Publishers Weekly (starred review)

Ibatoulline's sepia-toned illustrations beautifully express this immigrant's tale from Italy to Ellis Island and the start of a new life...This lovingly crafted picture book tells an amazing story that is uniquely American. Through unsentimental, yet warm and touching dialogue, Fleischman successfully shares a powerful journey that captures the hardships, self-reliance, strength, and simple joys that characterized early immigrants. It provides an inspirational introduction to the immigration story that captures the humanity of the journey.
—School Library Journal (starred review)

This is a thoughtful reminiscence and shows a loving intergenerational relationship... The book will work well with older audiences or studies of immigration and memories.
—Library Media Connection

The illustrator Bagram Ibatoulline can create images so exquisitely realistic that they could be mistaken for photographs. The remarkable verisimilitude of his work is on beautiful display in the sepia-toned pages of THE MATCHBOX DIARY...Though migration can be a sentimental subject, there is nothing mawkish in this fine story of aspiration and human dignity.
—The Wall Street Journal

This poignant immigrant story comes alive through the details a man shares with his great-granddaughter, triggered by mementos he has safeguarded in his matchbox collection.
—Shelf Awareness

Rich and thoughtful, a beautifully crafted ode to those who those who came to America early in the 20th Century.
—Midwest Book Review

[A] beautiful stor[y] about immigrant heritage...
—Newsday