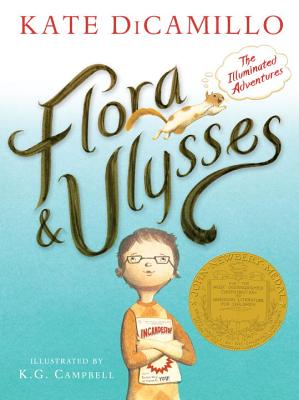 Flora and Ulysses
The Illuminated Adventures
Paperback

* Individual store prices may vary.
Other Editions of This Title:
Digital Audiobook (9/23/2013)
Paperback (9/13/2016)
Hardcover (9/24/2013)
Prebound (9/13/2016)
Description
Winner of the 2014 Newbery Medal Holy unanticipated occurrences A cynic meets an unlikely superhero in a genre-breaking new novel by master storyteller Kate DiCamillo. It begins, as the best superhero stories do, with a tragic accident that has unexpected consequences. The squirrel never saw the vacuum cleaner coming, but self-described cynic Flora Belle Buckman, who has read every issue of the comic book Terrible Things Can Happen to You , is just the right person to step in and save him. What neither can predict is that Ulysses (the squirrel) has been born anew, with powers of strength, flight, and misspelled poetry -- and that Flora will be changed too, as she discovers the possibility of hope and the promise of a capacious heart. From #1 New York Times best-selling author Kate DiCamillo comes a laugh-out-loud story filled with eccentric, endearing characters and featuring an exciting new format -- a novel interspersed with comic-style graphic sequences and full-page illustrations, all rendered in black-and-white by up-and-coming artist K. G. Campbell.
Candlewick Press (MA), 9780763676711, 240pp.
Publication Date: March 10, 2015
About the Author
Kate DiCamillo is the author of many beloved books for young readers, including The Tale of Despereaux, which received a Newbery Medal; Because of Winn-Dixie, which received a Newbery Honor; The Tiger Rising, a National Book Award Finalist; The Miraculous Journey of Edward Tulane, winner of a Boston Globe-Horn Book Award; The Magician's Elephant; and the best-selling Mercy Watson series. Kate DiCamillo lives in Minneapolis. K. G. Campbell is the author-illustrator of Lester's Dreadful Sweaters. He was born in Kenya, raised in Scotland, and now lives in southern California.
1. What's in a name? This book includes funny names, literary names, rhyming names, and superhero names. Which character do you think has the most fun-sounding name? Which character has a name from classic literature? Which character wants his whole name used at all times? What, if anything, can a name tell us about a character?
2. The Illuminated Adventures of the Amazing Incandesto! is Flora's favorite comic book. It includes special bonus comics at the back of each issue including Terrible Things Can Happen to You! and The Criminal Element Is Among Us. Throughout the story, Flora refers to many of the life skills and themes that appear in her comics. One lesson is CPR. One theme is that "impossible things happened all the time" (page 21). What other things does Flora learn from her comics? Name some of your favorite sayings or lessons from her comic books.
3. Flora describes herself as "a natural-born cynic" (page 6). What do you think that means? Dr. Meescham says that "Cynics are people who are afraid to believe" (page 129). Do you agree with her description? What things does Flora do that show she is a cynic? What things show that Flora is not a cynic? What, if anything, makes you feel cynical at times?
4. There is a turning point in the story when Ulysses, Flora, and her father go to the Giant Do-Nut. Describe the action that takes place at the Giant Do-Nut. How does this change things for Ulysses? For Flora? For Mr. Buckman?
5. How does Dr. Meescham support Flora, Ulysses, and Mr. Buckman? What do Dr. Meescham's stories tell you about her?
6. What is the funniest scene in the book for you? Describe it.
7. On page 135, we hear the promise "I will always turn back toward you." It is repeated many times throughout the story. What do you think it means?
8. Describe the relationship between Flora and William Spiver. In what ways are they the same? In what ways are they different?
9. Flora and Ulysses are both lost and trying to find home. Where do they end up? How does each one figure out how to get home?
10. On page 216, a miracle is said to occur and William Spiver is able to see again. What do you think happens?
or
Not Currently Available for Direct Purchase