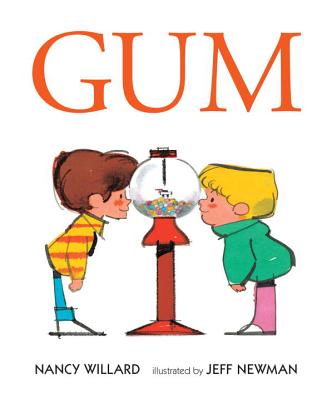 Gum (Hardcover)
Candlewick, 9780763677749, 32pp.
Publication Date: October 24, 2017
* Individual store prices may vary.
Description
In a timeless tale of small moments and big victories, two boys' singular obsession with an elusive prize pays off in a most surprising way.

James has five quarters and Danny has four. That means nine whole tries to get the little silver race car out of the gumball machine at Mr. Wright's store after school. Only very, very lucky people get both gumballs and the silver racer. It's a good thing that one of James's quarters is a Canadian quarter, which just so happens to be very, very lucky. But is it lucky enough to get him that silver racer? Bing! Bang! Kaboom! He's about to find out! Retro-style illustrations in vivid colors add to the classic feel of this new story by poet Nancy Willard, author of the 1982 Newbery Medal winner, A Visit to William Blake's Inn.
About the Author
Nancy Willard (1936–2017) was the author of numerous books for children and adults, including A Visit to William Blake's Inn, illustrated by Alice and Martin Provensen, which was a Newbery Medal winner, a National Book Award Finalist, and a Caldecott Honor Book.The recipient of numerous National Endowment for the Arts grants for poetry, Nancy Willard also taught fairy tales, children's literature, and other subjects at Vassar College from 1965 to 2012.

Jeff Newman grew up in Ashland, Massachusetts, and attended the Art Institute of Boston. He is the illustrator of Phoebe and Digger by Tricia Springstubb. Jeff Newman currently lives in Milwaukee, Wisconsin.
Praise For Gum…
Willard's present-tense narrative has a pace and cadence that never swerve as it smoothly brings readers to the conclusion of whether the Canadian quarter was a lucky one or not. A clever, polished story whose lively illustrations reinforce the retro theme.
—Kirkus Reviews

Newman's vintage-y ink illustrations convey energy and tension as suspense mounts—suspense that dissipates when James's "lucky" Canadian quarter causes the machine to jettison its contents in a spray of candy and toys. Willard treats the boys and their plan with dignity, and the minute-by-minute narrative—more chapter book than picture book text—lets readers savor the details.
—Publishers Weekly

In this hybrid picture book–easy reader, the lengthy text carefully describes each step as the duo try for the prize. Willard utilizes playful alliteration ("Something small and still slides" "Something round and raucous runs") and much repetition ("'I want my quarter back!' 'He wants his quarter back,' says Danny")...this will give readers plenty to chew on.
—Booklist Online

Perfect for a humorous read-aloud; the retro feel and the hilarious results of the boys' determination will keep readers and listeners riveted and rooting for their success.
—School Library Journal