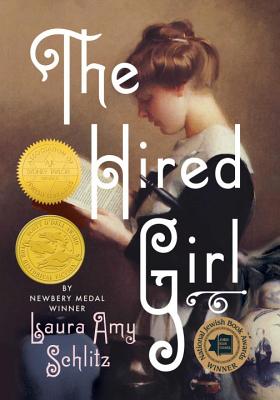 The Hired Girl
Hardcover

* Individual store prices may vary.
Other Editions of This Title:
Paperback (12/26/2017)
Library Binding, Large Print (4/1/2020)
Paperback, Large Print (5/2/2020)
Prebound (12/26/2017)
Description
Winner of the 2016 Scott O'Dell Award for Historical Fiction
A 2016 Association of Jewish Libraries Sydney Taylor Award Winner
Winner of the 2016 National Jewish Book Award for Children's and Young Adult Literature

Newbery Medalist Laura Amy Schlitz brings her delicious wit and keen eye to early twentieth-century America in a moving yet comedic tour de force.

Fourteen-year-old Joan Skraggs, just like the heroines in her beloved novels, yearns for real life and true love. But what hope is there for adventure, beauty, or art on a hardscrabble farm in Pennsylvania where the work never ends? Over the summer of 1911, Joan pours her heart out into her diary as she seeks a new, better life for herself—because maybe, just maybe, a hired girl cleaning and cooking for six dollars a week can become what a farm girl could only dream of—a woman with a future. Newbery Medalist Laura Amy Schlitz relates Joan's journey from the muck of the chicken coop to the comforts of a society household in Baltimore (Electricity! Carpet sweepers! Sending out the laundry!), taking readers on an exploration of feminism and housework; religion and literature; love and loyalty; cats, hats, and bunions.
Praise For The Hired Girl…
The beauty of this novel is that it dares to go beyond the school-is-cruel and paranormal-dystopian-romance conventions and lets its adolescent heroine think on the page about what makes a human being whole: art, love, faith, education, family, friendship.
—The New York Times Book Review

Written as a diary, the first-person narrative brings immediacy to Joan's story and intimacy to her confessions and revelations. The distinctive household setting and the many secondary characters are well developed, while Joan comes alive on the page as a vulnerable, good-hearted, and sometimes painfully self-aware character struggling to find her place in the world. A memorable novel from a captivating storyteller.
—Booklist (starred review)

The diary format allows Joan's romantic tendencies full rein, as well as narrative latitude for a few highly improbable scenarios and wildly silly passion. Tons of period details, especially about clothing, round out a highly satisfying and smart breast-clutcher from this Newbery-winning author.
—Kirkus Reviews (starred review)

Joan is reminiscent of heroines like Anne Shirley, Jo March, Cassandra Mortmain, and her own favorite character, Jane Eyre...Her overactive imagination, passions, and impulsive disregard for propriety often get Joan into trouble, but these same qualities will endear her to readers everywhere.
—Publishers Weekly (starred review)

Coming-of-age drama and deeper questions of faith, belonging, and womanhood are balanced with just the right blend of humor. A wonderful look into the life of strong girl who learns that she needs the love of others to truly grow up.
—School Library Journal (starred review)

The book is framed as Joan's diary, and her weaknesses, foibles, and naiveté come through as clearly—and as frequently—as her hopes, dreams, and aspirations...by the end readers feel as if they've witnessed the real, authentic growth of a memorable young woman.
—The Horn Book (starred review)

Fans of Little Women, rejoice. Janet's impassioned diary, inspired by Schlitz's own grandmother's journals, explores themes of faith and feminism, love and literature, culture and class in early 20th-century America, all the while charming readers with a vivid cast of characters.
—Shelf Awareness (starred review)

What a heroine, not just for the early 20th century, which Ms. Schlitz skillfully evokes through Janet's impressions, but also for our own time. An unsophisticated girl who thirsts for education, an impulsive idealist who, when she errs, passionately seeks to put things right: Janet Lovelace is an utterly endearing young woman on whom not a second of youth, it seems, will be wasted. Brava to Laura Amy Schlitz, whose enchanting writing has brought such a spectacular character to young people's literature.
—The Wall Street Journal

An enlightening portrayal of a young girl's struggle to assert herself at a time when women's rights were just beginning to be established...Joan's strength and determination, despite the expectations of a young woman's attitude and behavior at the time, are inspiring to young readers. Readers of all ages will find her an appealing heroine.
—VOYA

...fans, who appreciate historical fiction as intelligent as it is entertaining, will be well pleased.
—Bulletin of the Center for Children's Books

Joan is a true heroine with whom readers are sure to sympathize, and her exciting and humorous adventures will keep readers engaged. Written in diary form with the Voctorian eloquence reflecting Joan's love of Jane Eyre, this novel is sure to inspire girls of any background and lead to greater understanding of Jews and Judaism.
—Association of Jewish Libraries Newsletter

[Joan's] strong voice allows the reader to understand and sympathize with her feelings and dilemmas. This is a book which can open up discussion on religious tolerance, cultural class distinctions, and women's rights.
—School Library Connection

[Joan's] determined earnestness will lead readers to root for her...
—Star Tribune

An unusual novel, brilliantly executed, this book is well worth the reader's time and will not be easily forgotten.
—Jewish Book Council

"The Hired Girl" is a tender, utterly captivating story about a girl grasping onto small kindnesses and trying to better herself—a classic American story.
—San Antonio Express-News
Candlewick, 9780763678180, 400pp.
Publication Date: September 8, 2015
About the Author
Laura Amy Schlitz is the author of the Newbery Medal–winning Good Masters! Sweet Ladies! Voices from a Medieval Village, the Newbery Honor Book and New York Times bestseller Splendors and Glooms, and several other books for young readers. A teacher as well as a writer, Laura Amy Schlitz lives in Maryland.
1. "I know I'm not nothing," Joan writes while she's still living on the farm (page 36). What is the source of her self-confidence? How did her mother and teacher foster it? Why can't her father and brothers extinguish it?
2. Why does Mr. Skraggs burn his daughter's books? What does he fear reading will do to her? Is he right? Why or why not?
3. Why does Joan rename herself when she arrives in Baltimore? What does she gain by choosing her own name?
4. "She is utterly without guile," Mrs. Rosenbach says of Joan (page 94), "a stranger in a strange land." What does Mrs. Rosenbach mean? Have you ever felt like a "stranger in a strange land"? Do you think Mrs. Rosenbach ever felt like one?
5. Why is Malka reluctant to share her housekeeping duties with a non-Jew? Why does Father Horst think Joan should work for a Catholic family?
6. Joan had never met a Jew or heard the word "anti-Semitism" before she went to Baltimore. What does living with the Rosenbachs teach her about the city's Jewish population? What does she discover about anti-Semitism in Baltimore and beyond?
7. Social class separates Joan from the Rosenbachs perhaps even more than religion. How are hired girls supposed to behave? What are the penalties for breaking the rules?
8. Joan prays regularly to the Blessed Mother. "Sometimes she answers me back," Joan writes (page 6), "though I'm never sure if the voice is hers or Ma's, or if the whole thing is my imagination." What do you think?
9. Alone in a chapel at Corpus Christi Church, Joan realizes, "I have to be a Catholic" (page 354). How would you describe what happens to her there?
10. "I'm sure I ought to feel repentant about not loving Father, but I don't," Joan insists (page 212). Why can't Joan love her father? Should she? Why or why not?
11. What does Mr. Rosenbach love about America? Why do his daughters-in-law criticize him for being "too Amerikanisch" (page 356)?
12. Discuss Mr. Rosenbach's relationship with Joan. How is it different from his wife's relationship with the hired girl?
13. Running away from home has always been dangerous, especially for a fourteen-year-old girl. At what points in The Hired Girl does Joan narrowly avoid disaster? Is she lucky? Or does she make her own luck?
14. What qualities does Joan share with modern American teenage girls? In what other ways is she thoroughly of her own time?
15. What does Mimi realize immediately about Joan? Why does she think of Joan as a friend, not as a servant? What traits do the two girls share?
16. "You think of yourself as a member of this family," Mimi says to Joan (page 327) "as if you're almost Jewish. But you're not. You'll never be one of us." Why is this so hurtful for Joan to hear? Why could she never be David's wife?
17. "The world's changing—not for the better, if you ask me—but in these crazy modern times," Malka says (page 376), "a girl can be anything. A doctor, even." What do you think Joan's career will be? Will Mimi end up running Rosenbach's Department Store?
18. At the very beginning of the book, when Joan receives her new diary, she vows to "write in it with truth and refinement" (page 3). By the end of The Hired Girl, has she kept that promise? Why or why not?
19. The novel takes place in America during the turn of the previous century. Some of the characters are very Old World; others are more attracted to modern, "Amerikanisch" ways. Which characters are wedded to tradition? Which are eager to embrace novelty? Where does Joan stand?
20. Joan begins the novel lamenting the lost opportunity to get an education, and she ends it rejoicing because she's about to go to school. In between, she falls in love with David Rosenbach. As a reader, were you disappointed that Joan's first love affair ended in heartbreak (and recovery)? Would you have rather had the book end with her engagement to David? Why or why not?
21. Joan uses the phrase "real life" in two opposite ways. She thinks of it as taking place in the Swiss Alps or Venice, and she imagines it to be highly colorful and exciting; she's longing for her "real life" to begin. But she also wonders why "real life" (that is, her life) can't be more like the opera. Like many people, she is living two lives: one full of housework and waiting, and another that is marked by emotional peaks (her visit to the opera, the time she spends with David) and valleys. Which is more real? What is Joan's real life?
or
Not Currently Available for Direct Purchase