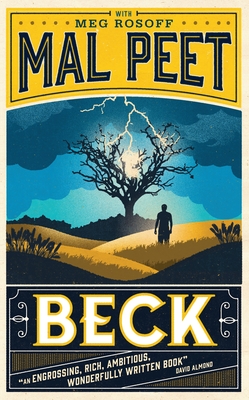 Beck
Hardcover

* Individual store prices may vary.
Other Editions of This Title:
Paperback (8/13/2019)
Compact Disc (9/15/2017)
MP3 CD (9/15/2017)
Compact Disc (9/15/2017)
Description
From Carnegie Medal–winning author Mal Peet comes a sweeping coming-of-age adventure, both harrowing and life-affirming.

Born of a brief encounter between a Liverpool prostitute and an African soldier in 1907, Beck finds himself orphaned as a young boy and sent overseas to the Catholic Brothers in Canada. At age fifteen he is sent to work on a farm, from which he eventually escapes. Finally in charge of his own destiny, Beck starts westward, crossing the border into America and back, all while the Great Depression rages on. What will it take for Beck to understand the agonies of his childhood and realize that love is possible?
Praise For Beck…
A gritty and inspiring survival story, Peet's final novel, completed by Rosoff after his death, has the stoic quality and soul of a Steinbeck tale...Harrowing but hopeful, it's a memorable portrait of a boy struggling to love, be loved, and find his way against overwhelming odds.
—Publishers Weekly (starred review)

This final novel from the deceased Peet, completed by Rosoff, is a not-quite-YA, not-quite-adult historical fiction story of hardship after hardship...The book itself is incredibly ambitious, as was Rosoff's task of finishing it. Beck is a passive character in his own life, but in the moments when he pushes himself to take action, readers will finally get some satisfaction. A heartbreaking, painful work that gives hope to the restorative power of true human connection.
—School Library Journal (starred review)

Characters' dialogue is often rendered in earthy regional dialects, while the narrative prose is brilliantly evocative and precise, producing a sweepingly epic physical and emotional journey. Heartbreaking, hopeful, and inspired.
—Kirkus Reviews (starred review)

Whether a hardened heart can—or should—leave itself vulnerable to love is brilliantly explored in this powerful, vividly told, beautifully written collaboration.
—Shelf Awareness for Readers (starred review)

Peet's posthumous novel, completed by Rosoff, follows Beck from his meager beginnings in early twentieth-century England to his harrowing first days in Canada...older teens and adults who appreciate literary historical fiction might find plenty to appreciate in this story of a hard-won discovery of redemption and home.
—Booklist

This book tackles big issues: racism, sexual abuse by clergy members, poverty, and examines the effects of childhood trauma on developing adults. The plot is driven by Beck's need for security and acceptance, and his traumatic past influences the brooding tone of the novel. A well-written work on a difficult topic, this book would be best introduced with a trigger warning.
—School Library Connection

Some of the harshest episodes of Beck's life are captured in passages of stunning grace, typical of the late Peet's writing.
—Bulletin of the Center for Children's Books

Readers will feel Beck's torture, both physical and emotional; they will experience his physical hardships but also rejoice when he discovers true love. Beck will be enjoyed by Peet's fans, as well as lovers of historical fiction and adventure.
—VOYA

From the very first pages it's clear we are in the hands of a master storyteller (or two; as explained in an appended note, Rosoff finished the novel after Peet's death). The vibrancy, earthiness, and originality of the prose is startling; the spot-on dialogue adds to the immediacy; secondary characters are vividly portrayed. There are no wasted words; no too-lengthy descriptive passages, yet somehow we see, smell, experience everything.
—The Horn Book

Not since A Monster Calls, the novel Patrick Ness wrote based on a story idea from the late Siobhan Dowd, has a collaboration from two of my favorite authors felt so bittersweet. But Beck, Mal Peet's posthumously published novel finished by his friend Meg Rosoff, comes close.
—BookPage

Peet and Rosoff use such poignant and stark language...In the end, it's a love story; not about how two people fall in love, but how one person — despite hardship — can finally feel worthy and open enough to accept love.
—Globe and Mail

The writing is to be savored in this life-affirming novel about the resilience of the human spirit.
—Buffalo News

An epic story set in the 1920s and '30s for erudite, mature readers.
—Boston Globe

...exquisitely written novel.
—People
Candlewick, 9780763678425, 272pp.
Publication Date: April 11, 2017
About the Author
Mal Peet (1947–2015) was a critically acclaimed and award-winning writer. Besides his young-adult fiction, he wrote several illustrated books for younger children with his wife, Elspeth Graham.

Meg Rosoff is the author of How I Live Now, winner of the Michael L. Printz Award. She also received the Carnegie Medal and the Astrid Lindgren Memorial Award and was named a National Book Award Finalist. Meg Rosoff completed Mal Peet's unfinished novel, a promise she made him before he died. She lives in London.
1. When Beck first leaves the Sisters of Mercy orphanage, he is amazed at the world outside of the doors. What things does he notice? What do the discoveries suggest about his upbringing with his mom and in the orphanage?
2. When Beck first arrives at Braemar, he has a moment in the garden when he discusses paradise with Brother Michaelis. How does Braemar mirror paradise? How is it starkly different?
3. When Beck is brutally attacked by Brother Robert, he is given both physical and emotional scars. How do those scars impact the development of the novel, Beck's journey, and his interactions with others?
4. In Part 4: Fire, Beck hears the voices of the priests several times. Why do you think the authors include these memories? How might remembering the past impact his future?
5. Beck is described as mixed race in the novel. How do others perceive Beck's racial identity? In your opinion, why do people focus only on his black identity without acknowledging his white ancestry? Throughout his journey, do the perceptions of Beck change based on the location and/or race of the individuals he is meeting? Think about each geographical location he travels to. How were people of African descent treated in those locations during the early 1900s?
5a. How does Beck feel about being biracial throughout the story? Think about how each event shapes his perceptions and explain how it relates to his self-identity.
6. Beck learns things very slowly on the Giggses' farm, but picks up skills quickly later in the novel. For example, he swiftly learns how to use a Smith & Wesson and how to care for horses. Why do you think there is a difference in the amount of time it takes him to learn skills?
6a. Beck often talks negatively about himself. Do you believe that Beck is a talented and/or intelligent individual? Why or why not?
7. Beck escapes from homes rooted in religion to a place where bootlegging is taking place. Are his homes aligned with Christian values? Why or why not? How do the settings and people differ? Do you believe that he has run away to a better place? What does Beck learn from Bone and Irma? How does his encounter with Bone and Irma impact his perceptions of the world?
8. How does Beck's treatment of Lonnie compare to the burial at sea of the boys in chapter three? Are both wrong? Why or why not?
9. When Beck is left by Bone and Irma, the authors write, "A determination formed in his head right then not to fall for the ruse of kindness again. It led to nothing but pain" (page 145). Do you agree? Based on Beck's background, does it make sense that Beck feels this way?
10. A burning tree is highly symbolic in the Bible. Does the burning tree have similar significance to Beck and Grace? What does it represent for each individual? Support your answer with details from the text.
11. How are Grace's and Beck's family histories similar? How are they different? Think about the following quote: "She cared little for the opinion of society, but understood that the affliction of mixed blood meant she was barely tolerated by those possessed of racial purity" (page 158). What does this quote tell us about Grace? What experiences might Grace and Beck have in common as biracial individuals? Provide examples from the novel as you respond.
12. By the time Beck arrives at Grace's home, he speaks very little. Why does he adopt this approach when encountering new people? How has he changed since the beginning of the story?
13. Grace shares wisdom with Beck by stating, "Nah-ah says that if you lose your own people you need to gather new ones around you; otherwise you turn ghost" (page 174). Is Beck a ghost? Has he found new people? Why or why not?
14. As you read, consider moments when Beck experiences happiness. Do you believe that it is true happiness? Why or why not?
14a. Beck also experiences love in many moments as the text develops. Later in the novel, how do these moments make him feel uncomfortable? How can he move past his discomfort and/or pain? Do you agree with Beck's view that people always want something for their kindness? Give examples from the story as you respond.
15. Throughout the story the terms baptism and rebirth are mentioned. What do these terms mean to Beck? Are the concepts of baptism and rebirth positive or negative for him? Why? Is there any portion of the story where you believe that Beck is reborn?
16. Why are Grace and Beck struggling with their feelings for each other? What issues are they experiencing? What are Beck's perceptions of relationships, sex, and women?
17. In your opinion, what causes Beck to tell Lester his story after so many years of silence? Consider whether you agree with Lester when he says the following: "Your life don't get bigger on the road. It shrinks and shrinks till it's so small all you can see is that little square ahead of you and that bottle beside you on the seat. It turns you old and sick and lonely, and then the day you realize the road's the only thing on earth you love and it ain't never gonna love you back, it's too late 'cause you're just about finished" (page 238). Is it too late for Beck? Why or why not? What does Beck begin to miss on the road?
18. Read the author's note from Meg Rosoff and the afterword written by Elspeth Graham-Peet. What do they tell you about Mal Peet and Meg Rosoff? If you've read another Mal Peet text, how in your opinion is the writing in this novel similar? How does it differ?
19. Mal Peet once said, "I see genres as generating sets of rules or conventions that are only interesting when they are subverted or used to disguise the author's intent. My own way of doing this is to attempt a sort of whimsical alchemy, whereby seemingly incompatible genres are brought into unlikely partnerships." In your opinion, which genres are involved with this novel?