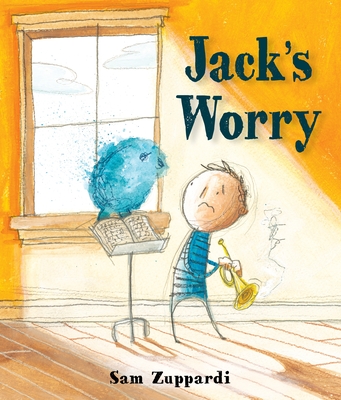 Jack's Worry (Hardcover)
Candlewick, 9780763678456, 32pp.
Publication Date: April 26, 2016
* Individual store prices may vary.
Description
A touching and reassuring story about the jitters associated with first experiences — and the satisfaction that comes with conquering your fears.

Jack loves playing the trumpet, and for weeks he's been looking forward to taking part in his first concert. But on the morning of the big day, Jack finds he has a Worry. And his Worry starts to grow. Even when Jack's mother calls him for a special breakfast, even when he hides under the bed or runs around the yard, his Worry follows him. Suddenly, when it's almost time to leave for the concert, Jack finds it's all too much. For anyone who's ever been afraid of failing at something new, this book offers just what's needed to shrink a Worry down to size.
About the Author
Sam Zuppardi is the author-illustrator of The Nowhere Box as well as the illustrator of the picture book Nobody's Perfect by David Elliott and the middle-grade series the Misadventures of Edgar and Allan Poe by Gordon McAlpine. When not illustrating children's books, Sam Zuppardi is training to be a child and adolescent psychotherapist. He lives in York, England.
Praise For Jack's Worry…
Zappardi successfully describes a universal fear and provides a simple mind-set that even a preschooler can use to help overcome that fear.
—School Library Journal

Ideal antidote for anxious kids facing their own Worries.
—Kirkus Reviews

Performing in a first musical concert can be a nerve-wracking experience, as Zuppardi has artfully visualized...The acrylic-and-pencil illustrations truly transmit the amorphous nature of worrying, using convincing facial and body language, followed by huge happy smiles portraying a joyful resolution.
—Booklist

Zuppardi's scribbly pencils and expressive bursts of paint readily capture the big, intense emotions Jack is feeling.
—Publishers Weekly

This book will appeal to young readers. The simple pencil drawings add to the effect of the emotional nuances, and the text is simple yet comforting for a child. It will be a great lap read!
—School Library Connection

Jack's Worry is about a boy who loves playing the trumpet but can't seem to shake his nervousness at his first concert. The story is a perfect way to teach kids about anxiety or reassure them after stressful situations.
—Parents Magazine

A delightful, spot-on story about addressing fear and conquering it, children will readily identify with this book and gain wisdom and encouragement from it.
—Books to Borrow...Books to Buy (Kendal A. Rautzhan column)

Illustrated with cartoon-like pencil drawings colored with acrylic paint, this book reminds readers of all ages that it's all right to make mistakes.
—Literacy Daily