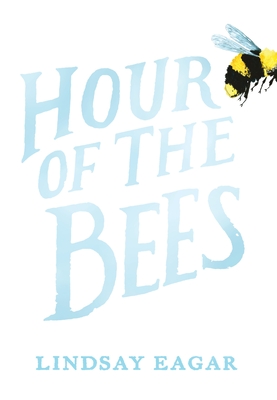 Hour of the Bees
Hardcover

* Individual store prices may vary.
Other Editions of This Title:
Digital Audiobook (3/7/2016)
Paperback (9/12/2017)
MP3 CD (9/12/2017)
Compact Disc (9/12/2017)
Prebound (9/12/2017)
Compact Disc (3/8/2016)
Description
What does it mean to be fully alive? Magic blends with reality in a stunning coming-of-age novel about a girl, a grandfather, wanderlust, and reclaiming your roots.

Things are only impossible if you stop to think about them. . . .

While her friends are spending their summers having pool parties and sleepovers, twelve-year-old Carolina — Carol — is spending hers in the middle of the New Mexico desert, helping her parents move the grandfather she's never met into a home for people with dementia. At first, Carol avoids prickly Grandpa Serge. But as the summer wears on and the heat bears down, Carol finds herself drawn to him, fascinated by the crazy stories he tells her about a healing tree, a green-glass lake, and the bees that will bring back the rain and end a hundred years of drought. As the thin line between magic and reality starts to blur, Carol must decide for herself what is possible — and what it means to be true to her roots. Readers who dream that there's something more out there will be enchanted by this captivating novel of family, renewal, and discovering the wonder of the world.
Praise For Hour of the Bees…
Eagar seamlessly blends a 12-year-old girl's summer of change with a hefty dose of magical realism in this accomplished debut...Fairytale motifs ("No rain for a hundred years") emphasize the stark physicality of the New Mexican mesa, with its oppressive heat, spindly sheep, and numerous dangers. Through this atmospheric setting, Eagar sustains a sense of wonder and longing for small things (bees, seeds, stories) to respond to big human needs.
—Publishers Weekly (starred review)

Tightly plotted and elegantly characterized, this is a striking debut. Both Carol's journey and Serge's stories seem inherently true, and the juxtaposition of the two results in a moving, atmospheric novel of family, heritage, and fairy tales that are more real than not.
—Booklist (starred review)

The delicate magic of Serge's story ties present and past together in a beautifully written, affecting story of forgiveness and understanding that enables Carol to move forward in her own life, resetting her values and claiming her own place in her grandfather's story. Her sulks, fears, and desires render her credibly twelve, and the storytelling ably prepares readers for her less predictable decisions. Offering a compelling introduction to Latin American magic realism, this will have appeal for middle-school lovers of literary fiction.
—Bulletin of the Center for Children's Books (starred review)

Serge and Carolina's story is a touching reminder to "squeeze the juice out of every day" and remember where (and who) you call home. A poignant intergenerational story about finding and honoring your roots.
—Kirkus Reviews

Readers who enjoy Pam Muñoz Ryan's novels or Jennifer Cervantes's Tortilla Sun (Chronicle, 2010) will find Carol's angst compelling and her wide-eyed brushes with the likes of magical bees and life-giving trees amusing.
—School Library Journal

Hour of the Bees is as grand as the landscape it springs from, an ode to family and heritage but also to living fearlessly. Forget about the middle-grade designation; everyone who reads this will be touched, and quite possibly moved to re—secure their family ties. Dreamlike while also gritty and real, this is a gorgeous work of art.
—BookPage

Lindsay Eagar has said that her novel "Hour of the Bees" first came to her as a title without a story, involving elements—bees approaching a man named Serge—whose meanings she did not know. Only after she had finished writing did it all make sense to her, which is a nice echo of what the reader will experience in this mystical, memorable riddle of a book.
—The Wall Street Journal

This is a deeply moving story on so many levels. The family dynamics are so real that readers will be drawn to the emotions and actions of each of the characters...The author does an excellent job of offering character struggles that most readers can relate to—Carolina with her sister Alta, and Carolina's dad with Grandpa Serge. Bordering on magical realism, this book will leave its readers spellbound and is destined to be a favorite enjoyed by readers of all ages.
—School Library Connection
Candlewick, 9780763679224, 368pp.
Publication Date: March 8, 2016
About the Author
Lindsay Eagar lives with her daughter in the mountains of Utah Valley, Utah. Hour of the Bees is her first novel.
Carol's family is Mexican American, but "we never act like the Mexican part," she says (page 37). How does that
change when her family goes to Serge's ranch? Why does it change?
"How am I supposed to know where the dementia ends and Serge begins?" Carol asks herself (page 27). How would
you answer her question? Is there a line between Serge's dementia and his true self? Why or why not?
Bees appear throughout this novel, but the book's title is Hour of the Bees. When do you think that "hour" is? Why?
Clocks are just one way to tell time. How do the people in Serge's stories measure the passage of time? How does
Serge? How does Carol? How do you?
"Twelve," says Serge, "is the border between childhood and old" (page 82). Do you agree or disagree? Why?
Carol was born on the very day that her grandmother Rosa died. Why is that significant? In what ways does Carol
resemble her grandmother? How is she very different?
At several points in the novel, Carol recalls her grandfather's saying: Things are only impossible if you stop to think
about them. What are the advantages of believing this? What are the risks?
Carol loves Serge's stories, but she initially believes they are just figments of his imagination. What does she
believe about his stories by the end of the novel? What do you believe about his stories? Why?
"It's boring," Rosa says of her village (page 89). "It's too safe here. Nothing new ever happens." Would you want to
live in a place without illness or death? Why or why not?
Father Alejandro tells his parishioners that the tree in their village is a gift from God, not a temptation from the devil.
What do you think? In what ways is it a blessing? How is it also a curse? Why does Father Alejandro venture away
from the village? Why is Serge the only villager who stays put?
In the biblical account of Adam and Eve, a snake and a tree play prominent roles, just as they do in this novel. Do you
see any other connections between these two tales? If so, what are they?
Why do you think the bees carried away the water in the lake? Why do you think they return it?
After a summer in the desert, Carol sees her life in Albuquerque with new eyes. How have her relationships with her
friends changed? What has changed about her relationships with her parents and siblings, especially Alta?
The Seville is a high-priced assisted-living facility in a big city. Serge's dilapidated ranch is in a remote desert. What
do these two places have in common? Why is Serge determined to stay in one but longing to leave the other?
"Do not be afraid to live," Serge tells Carol (page 344), "and you will not be afraid to die." What does he mean? Do
you agree? Why or why not? And why do you think Carol switches the order of his words when she recalls them on
page 353 (Do not be afraid to die and you will not be afraid to live)?
Life and death are at the very heart of this novel. Has reading Hour of the Bees changed your understanding of each?
How?
Both Rosa and her son, Raúl, hate living on the ranch, yet they keep coming back to it. Why? What do you imagine
the next generation will do with the land? Will Carol be as devoted to it as Serge was? Will Alta? Will Luis?
"Stories don't end," Serge tells Carol (page 123). "They just turn into new beginnings." How does this novel prove his
point?
or
Not Currently Available for Direct Purchase