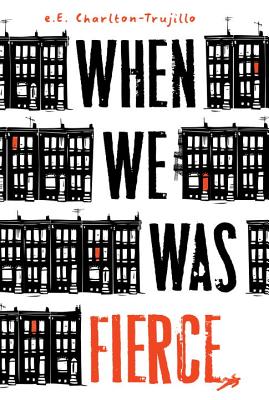 When We Was Fierce (Hardcover)
Candlewick, 9780763679378, 400pp.
Publication Date: August 9, 2016
* Individual store prices may vary.
Description
In an endless cycle of street violence and retribution, is there any escape? A powerful verse novel by e.E. Charlton-Trujillo.

Fifteen-year-old Theo isn't looking for trouble, but when he and his friends witness a brutal attack on Ricky-Ricky, an innocent boy who doesn't know better than to walk right up to the most vicious gang leader around, he's in trouble for real. And in this neighborhood, everything is at stake. In a poignant, unflinching novel of survival told largely in street dialect, e.E. Charlton-Trujillo enters the lives of teenagers coming of age in the face of spiraling violence among gangs, by police, and at home.
About the Author
e.E. Charlton-Trujillo is the author of Fat Angie, winner of the 2014 Stonewall Book Award. In a starred review, Publishers Weekly called it a hard-hitting novel "that swings between incredibly painful low moments and hard-won victories." Kirkus Reviews praised the book for its "entrancingly eccentric prose." e.E. Charlton-Trujillo lives in California.
Praise For When We Was Fierce…
In T's energetic free-verse narrative, Charlton-Trujillo (Fat Angie, 2013) captures a unique, rich sound, drawing out the rhythmic lyricism of slang, rap, and slam poetry, along with a sharp, evocative semi-invented vernacular. That propulsive, staccato language and intense imagery powerfully imbues T's story with solid emotional heft and the pacing and structure of a classic drama. In the midst of the captivating narrative and powerful story, Charlton-Trujillo deftly touches on issues of police brutality, institutional racism, and segregation without ever losing focus on its heart: T's struggle to steer clear of the conflict while feeling the persuasive lure of rage and revenge. Graceful, trenchant, moving, and utterly necessary.
—Booklist (starred review)

This is a compassionate, forceful look at the heartbreak and choices these black boys and men face at the lethal intersection of poverty and gang culture...Direct and raw.
—Kirkus Reviews (starred review)

Minimalist verse, permeated with slang, fits the rough-edged characters and environment Charlton-Trujillo (Fat Angie) so eloquently depicts ("Jive brothers rolled in hard./ They walked intent.... I didn't want nuthin' to do with their truth./ Sometimes it don't matter what you want or intend./ It's gonna go how it go"); the immediacy of the dialogue and T's fears heighten a volatile situation that is all too real and relevant. Charlton-Trujillo gives voice to the unheard in this heartbreaking and powerful modern American story of friendship, family, loss, injustice, and courage.
—Publishers Weekly (starred review)

Charlton-Trujillo has created a world of outsiders that reads like a Beat-generation West Side Story; it sizzles and snaps with an inventive poetry all its own. This story is fierce, fine, and full of moxie.
—G. Neri, author of the Coretta Scott King Honor Book Yummy

When We Was Fierce takes place during one summer, showcasing the split within a community that is frequently discussed in the news today. Written as a novel-in-verse and told in the vernacular, this book will resonate with reluctant readers. It will also strike a chord with readers looking for diversity in their novels and looking for books to reflect the violence of "Black Lives Matter" and police brutality. e. E. Charlton-Trujillo writes an honest book that will be perfect for discussions about how teens in the story react to all the tension, violence, and choices surrounding them.
—VOYA

e.E. Charlton-Trujillo's When We Was Fierce is a powerhouse of a book, rhythmic, immediate, and eye-opening. Charlton-Trujillo creates a distinct dialect and melody to tell a story of violence, belonging, pain, and redemption. I hung on every word. This is some of the bravest and best writing I've laid eyes on in years.
—A. S. King, author of the Michael L. Printz Award Honor Book Please Ignore Vera Dietz

The Outsiders for a new generation.
—Elizabeth Bluemle, The Flying Pig Bookstore

If we can agree that the finest story-making erupts from impassioned empathy and a willingness to bend the rules of language, then we must agree that e.E. Charlton-Trujillo ranks among our very finest story makers. This is a lyric manifest that commands us to hear so that we might have a chance at being healed.
—Beth Kephart, National Book Award Finalist

Young readers are certain to appreciate the prose-poetic form of When We Was Fierce, which affords this gripping, violent, and circumstance-transcending story a musical edge.
—Foreword Reviews (blog)

Author e.E Charlton-Trujillo takes readers right to the streets in WHEN WE WAS FIERCE. Tough, vivid street talk leaps off the page as her characters reveal the odds stacked against them in the hood.
—Reading Junky (blog)
or
Not Currently Available for Direct Purchase