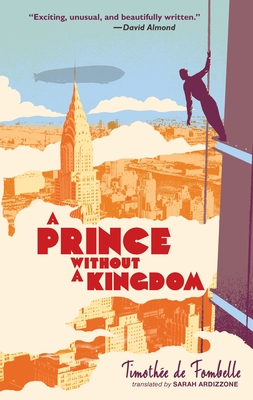 A Prince Without a Kingdom (Hardcover)
Vango Book Two
Candlewick, 9780763679507, 464pp.
Publication Date: August 4, 2015
Other Editions of This Title:
Paperback (10/4/2016)
* Individual store prices may vary.
Description
International award winner Timothée de Fombelle brings the breathtaking global adventure of Vango to a thrilling conclusion.

Fleeing dark forces and unfounded accusations across Europe in the years between World Wars, a young man named Vango has been in danger for as long as he can remember. He has spent his life running along rooftops, fleeing to isolated islands, and evading capture across Russia, Paris, New York, and Italy. Narrow escapes, near misses, and a dash of romantic intrigue will rivet adventurous teens to their seats as Vango continues to unravel the mysteries of his past. In the shadow of a rapidly changing world, can Vango find those who have hunted him for so long and uncover his true identity?
About the Author
Timothée de Fombelle is a popular French playwright who has achieved international success as a novelist with his debut, Toby Alone, and its sequel, Toby and the Secrets of the Tree. He has worked as a teacher and in 1990 set up his own theater company. Timothée de Fombelle lives with his family in Paris.
Praise For A Prince Without a Kingdom: Vango Book Two…
de Fombelle spreads out hints and clues like pieces of an intricate clockwork, and although the audience might catch satisfying glimpses of what fits where, the pleasure lies in watching the author deftly assemble minutiae into a glorious whole. There's justice, loves at last requited, and, even amid the treachery of World War II, the promise of peaceful life on an Aeolian island for characters who have proved themselves worthy. After two volumes of heart-stopping intrigue, readers will enjoy seeing Vango safely home.
—Bulletin of the Center for Children's Books (starred review)

The action is brilliantly operatic as it moves from country to country and from continent to continent. The story runs from 1936 through 1942, which means that it is touched by WWII and the German occupation of France, where meaningful portions of the story are set. But whatever the setting, the story is rich in mysteries, enlivened by surprises, and suffused with suspense. It is so beautifully wrought it reminds us why we love to read, and there can be no higher praise.
—Booklist (starred review)

This sequel is characterized by the same beautiful writing and intricate plotting that made the first so gripping. Mournful at times but also illuminated with moments of humanity and grace: a worthy sequel.
—Kirkus Reviews

A first purchase in collections where there are fans of Vango and students who enjoy reading adventurous and ambitious novels like Gregory Maguire's Egg and Spoon (Candlewick, 2014) and Yann Martel's Life of Pi (HMH, 2002).
—School Library Journal

A cinematic, quickly paced, and clever page-turner, with an adventurous, romantic aura.
—The Horn Book

Fans of this book's predecessor, Vango: Between Sky and Earth (2014), will find that it shines even more brilliantly paired with this concluding volume. The same elements that made the first title so appealing are here: espionage, a dash of romance, intrigue, complicated characters, exotic locations, misplaced loyalty, revenge, heroics, and travel from one continent to another.
—Literacy Daily

...the prose is well written and engrossing. Teens and adults alike will be invested in discovering Vango's true identity and unraveling the web of plot.
—VOYA

Those readers who are eager to discover the fate of Vango will be anxious to read this novel.
—School Library Connection