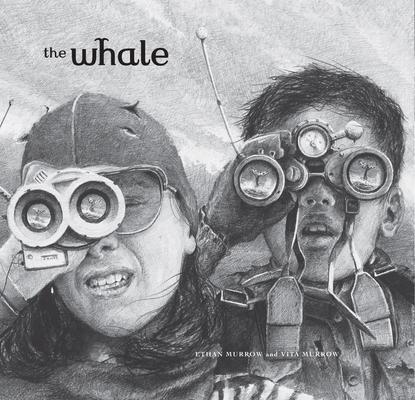 The Whale
Hardcover

* Individual store prices may vary.
Description
A wordless epic sea adventure

There is a legend that a Great Spotted Whale lives in the ocean, although a sighting fifty years ago was never corroborated. Now two young whale watchers each set out to find the whale, one armed with sound-recording equipment, the other with a camera. When their boats collide, they pool their resources to capture incontrovertible proof that the mythical whale exists. The eventual sighting is a magical moment, especially when the children discover that it was their own grandparents who first glimpsed the whale fifty years ago. The Murrows' spectacular wordless adventure is brought to life with stunning graphite drawings that convey the drama and haunting beauty of the ocean and capture the majesty of the awe-inspiring whale.
Praise For The Whale…
These extraordinary black-and-white illustrations, etched with details, crosshatches, shadows, and shading, charge the children's expedition with a pulsing, breathless urgency. Their preternatural technical proficiencies and passion-fueled mission emerge somehow as entirely believable. More astounding is the artist's uncanny ability to reproduce the murky transparency of rippling ocean water, a whale submerged silently just beneath. Wordless, with masterful artwork and an intriguing narrative undertow, this whale's tale will transfix.
—Kirkus Reviews (starred review)

While the story may require some suspension of disbelief, the handsome illustrations show a great range of tonal quality and detail, as well as diverse design and perspectives. Those looking for clear-cut pictures of whales might be disappointed, but the artistically inclined will appreciate the interestingly crafted images.
—Booklist

A whale of a tale, beautifully rendered in nothing but pencil...Minute details, such as those found on the young man's tattered coat, make it worth our while to examine each illustration closely. For its finale, the book comes full circle. A new edition of the Cape Chronicle reveals the connection between the past and present and leaves us with a sense of vindication. A lovely addition.
—School Library Journal

The Murrows, a husband-and-wife team, debut with a sumptuously illustrated, semi-wordless story of discovery and collaboration as two children attempt to prove the existence of a local "Great Spotted Whale."...hard work, determination, and scientific pay off in a big way. Dynamically varied perspectives, the inky mysteries of the water's depths, and attention to realistic detail give the artwork a strong, visceral impact.
—Publishers Weekly Online

The book is a wordless picture book beginning or struggling readers may enjoy. It could also be used by a classroom teacher wanting to do a read-aloud without reading, just have students view the pictures. The dramatic, b&w pencil illustrations help tell the story. This would be a good book to purchase for public or school libraries.
—School Library Connection
Templar, 9780763679651, 32pp.
Publication Date: April 12, 2016
About the Author
Vita Murrow is currently director of the Greater Boston Jewish Coalition for Literacy at the Jewish Community Relations Council. She has worked as a teacher, an educational consultant, and in the films department at the Sesame Workshop. She is also a motion media artist and filmmaker.

Ethan Murrow shows his drawing, film, and video work internationally and has exhibited in Paris, New York, Seattle, and Los Angeles. Dust, a short film he collaborated on with wife, Vita, and Harvest Films, was an official selection of the 2008 New York Film Festival. Ethan Murrow is currently a faculty member at the School of the Museum of Fine Arts, Boston.
or
Not Currently Available for Direct Purchase