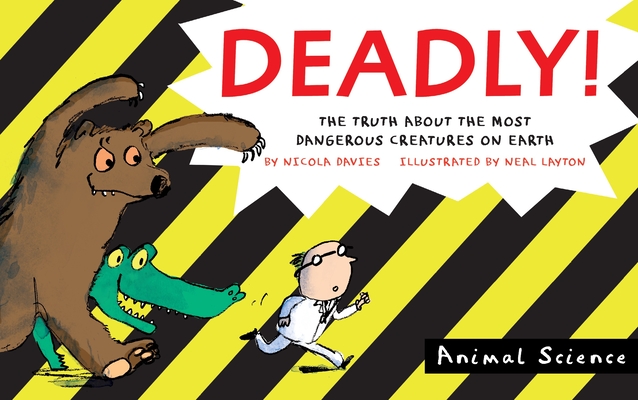 Deadly! (Paperback)
The Truth About the Most Dangerous Creatures on Earth (Animal Science)
Candlewick, 9780763679712, 64pp.
Publication Date: August 25, 2015
Other Editions of This Title:
Hardcover (3/26/2013)
Prebound (8/25/2015)
* Individual store prices may vary.
Description
"Jam-packed with fascinating information with plenty of the ick factor to keep kids (and adults) turning the pages." — San Francisco Book Review

Sometimes nature can be nasty: snakes that spit poison, insects with exploding bottoms, and tigers that have you for dinner. Throughout the animal kingdom, creatures are equipped with lethal weapons, from finger-length fangs to toxic tentacles, and have ingenious ways of killing one another, from poisoning to dive-bombing to strangling and even electrocuting! Discover the murderous methods of attack and defense that make animals armed, dangerous, and deadly. Kids will sink their teeth into this fascinating look at nature's fiercest creatures. Back matter includes an index and a glossary.
About the Author
Praise For Deadly!: The Truth About the Most Dangerous Creatures on Earth (Animal Science)…
Easily digestible.
—Kirkus

In this squat volume, the sixth nature-themed collaboration from this duo, Davies strikes a light tongue-in-cheek tone to explore hostile animal behavior. Layton's characteristically deadpan cartoons show animals using an arsenal of defense mechanisms and demonstrating predatory prowess...While educating readers about the fascinating ways animals kill one another, Davies also speaks to the importance of nature conservation and the human impact on wildlife.
—Publishers Weekly

This humorous and fact-filled book is chock-full of fun. From ants to grizzly bears, from beetles to falcons, these poisonous and armed-and-dangerous creatures will delight young readers...Teachers and librarians looking to teach the Common Core Standards and expository writing will delight in this book and the dynamic way it will engage children.
—School Library Journal

Reluctant readers in particular will have a field day with this, and you can easily bring a booktalk crowd to rapt silence by sharing a juicy snippet.
—Bulletin of the Center for Children's Books

Readers with a taste for the grisly realism of nature will revel in the latest Davies and Layton collaboration...Davies commendably balances spectacle and science, providing accounts that are rich with factual detail and admiration for the diversity and realities of life. ...Layton's cartoon illustrations skillfully lighten the tone, as animals in the throes of death or dismemberment often provide humorous asides and jokes
—The Horn Book

Layton's wacky cartoon illustrations are ... a major high point that elevates the text to a high-interest timbre, offering an irreverent wink that kids will find irresistible. While on the surface it is a book of animal facts and trivia, a coherent message is implied throughout—that although some animals may be scary or ferocious, ecosystems are built on interdependence, and conservation efforts must include all creatures in any given environment.
—Booklist

[F]illed with fun and informative facts about animals from various habitats, well-known and lesser-known. The cartoon drawings and dialogue provide a comical way of showing the animals which enhances the information being presented. ... Boys will eat this book up.
—Library Media Connection

This deceptively small picture book is jam-packed with fascinating information with plenty of the ick factor to keeps kids (and adults) turning the pages. The fun illustrations are a real bonus and suit the writing to a T.
—San Francisco Book Review