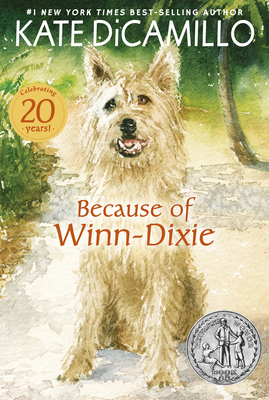 Because of Winn-Dixie
Paperback

* Individual store prices may vary.
Other Editions of This Title:
Digital Audiobook (2/8/2021)
Paperback (1/26/2021)
Paperback, Large Print (3/13/2019)
Library Binding, Large Print (12/20/2018)
Prebound (12/8/2015)
CD-Audio (12/28/2004)
Paperback (2/10/2009)
Paperback, Chinese (9/1/2014)
Paperback, Chinese (1/1/2011)
Description
A classic tale by Newbery Medalist Kate DiCamillo, America's beloved storyteller.

One summer's day, ten-year-old India Opal Buloni goes down to the local supermarket for some groceries – and comes home with a dog. But Winn-Dixie is no ordinary dog. It's because of Winn-Dixie that Opal begins to make friends. And it's because of Winn-Dixie that she finally dares to ask her father about her mother, who left when Opal was three. In fact, as Opal admits, just about everything that happens that summer is because of Winn-Dixie. Featuring a new cover illustration by E. B. Lewis.
Praise For Because of Winn-Dixie…
This well-crafted, realistic, and heartwarming story will be read and reread as a new favorite deserving a long-term place on library shelves.
—School Library Journal (starred review)
 
Brush strokes of magical realism elevate this beyond a simple story of friendship to a well-crafted tale of community and fellowship, of sweetness, sorrow, and hope.  And it's funny, too.  A real gem.
—Kirkus Reviews (starred review)
 
...[E]xquisitely crafted first novel. Each chapter possesses an arc of its own and reads almost like a short story in its completeness; yet the chapters add up to much more than a sum of their parts. . . This bittersweet tale of contemporary life in a small Southern town will hold readers rapt.
—Publishers Weekly (starred review)
 
The books' truthfulness is what makes it so powerful. People can identify with the fact that everyone sort of isolates themselves because of a misconnection or a loss or whatever is in their lives.
—Newsday
 
Poignant and delicately told.
—The New York Times Book Review
 
It's the kind of book people love and tell their friends to read.
—Washington Post
 
A gentle book about good people coming together to combat lonliness and heartache—with a little canine assistance.
—The Horn Book Guide
 
A tale not just about a dog found in a grocery store; it's also about the healing power of truth.
—Boston Globe
Candlewick, 9780763680862, 208pp.
Publication Date: December 8, 2015
About the Author
Kate DiCamillo says of writing BECAUSE OF WINN-DIXIE, "I was living in an apartment where no dogs were allowed. As a result, I was suffering from a serious case of 'dog withdrawal.' One night, before I went to sleep, I heard this little girl's voice (with a Southern accent) say, 'I have a dog named Winn-Dixie.' When I woke up the next morning, the voice was still talking, and I started writing down what India Opal Buloni was telling me. The book is (I hope) a hymn of praise to dogs, friendship, and the South."
Family
1. How would you describe Opal's relationship with her father at the beginning of the book? How does their relationship change by the end of the book?
2. Why do you think the preacher cries when he and Opal can't find Winn-Dixie?
3. At the end of the book, Opal imagines that she is speaking to her mother and says, "I miss you, but my heart doesn't feel empty anymore. It's full all the way up." What does Opal mean? Why do her feelings about her mother change?
Love, Friendship, and Community
1. Do you think Because of Winn-Dixie is a good title for this novel? Why or why not? How does Winn-Dixie change Opal's life? How does Opal change Winn- Dixie's life?
2. Because Gloria doesn't see well, she tells Opal to "tell me everything about yourself, so as I can see you with my heart" (p. 66). What does she mean by this? What do you think it means to see someone with your heart? How is that different from seeing with your eyes?
3. What does Opal learn about friendship? What did you learn about friendship from reading Because of Winn-Dixie?
4. How do the people in Naomi act like a community? In what ways is Naomi, Florida, like your community? In what ways is it different? Encourage students to notice differences and similarities in race and class, as well as the ways people treat and help one another.
Understanding the Characters
1. Opal often finds that her first impression of the people she meets is not always accurate. Choose a character from the book and describe how Opal's impression of him or her changes by the end of the story. What causes Opal's impression to change?
2. Gloria says that she made her mistakes before she learned "the most important thing" (96). What do you think Gloria means by "the most important thing"? Why does Gloria say that "the most important thing" is different for everyone?
3. Kate DiCamillo says, "I love strange names and I love making them up." Names often contain other meanings and can influence a reader's perception of a character. Choose a character with an interesting name. Is there a story behind the character's name or nickname? Does the name influence the way you see and understand the character? Does the name reflect the character's personality and character traits?
4. Why do you think Otis kept on playing music even after the police told him to stop? What do you think Otis means when he tells Opal that "the music is better if someone is listening to it" (p. 130)?
or
Not Currently Available for Direct Purchase