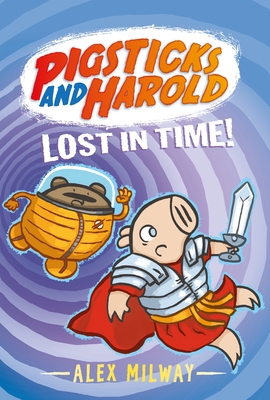 Pigsticks and Harold Lost in Time!
Hardcover

* Individual store prices may vary.
Description
Time travel runs amok as Pigsticks and his loyal sidekick commandeer a faulty time machine, catching comical glimpses of history along the way.

Pigsticks aspires to be a brilliant inventor like his great-aunt Ada Lovepig, and the Tuptown Science Fair would be the perfect showcase for his skills — except his spaceship invention is a mess, and it's already the day of the competition. He needs more time! Luckily, his great-aunt Ada happens to have left behind an intact time machine, and fueled by the thought of future cakes not yet invented, Harold signs on for another Pigsticks scheme. When the lever breaks on the time machine, however, Pigsticks and Harold are catapulted back and forth through history — way back to the era of the dinopigs, ahead to the building of the Statue of Pigerty in New York, back to ancient Rome and its famous Julius Squealer — with no way to make the traveling stop, and with dangerous moments at every turn. Can they buy themselves enough time — and a new lever for the machine — to make it home again in one piece? Piece of cake! (They hope.)
Praise For Pigsticks and Harold Lost in Time!…
The baking skills of Pigsticks' timorous buddy, Harold, come in handy when an out-of-control time machine sends the two careening through history and prehistory...a final twist brings the time travelers a spaceship from the future…so it's interplanetary party time! More inspired silliness, even if some of the more oblique references do go over the heads of younger chapter-book readers.
—Kirkus Reviews

Milway's witty writing and delightful wordplay combine with his digitally-colored ink drawings to create suspense and humor in this accessible early reader.
—Booklist Online
Candlewick, 9780763681869, 64pp.
Publication Date: November 14, 2017
About the Author
Alex Milway is the author-illustrator of the Pigsticks and Harold series, the Mousehunter trilogy, and the Mythical 9th Division series. About Pigsticks and Harold, he says, "These characters are very much a part of me. Some days I'm Pigsticks; some days I'm Harold. Occasionally I'm Bobbins the Angry Mouse, though thankfully those days are very rare." Alex Milway lives in London.