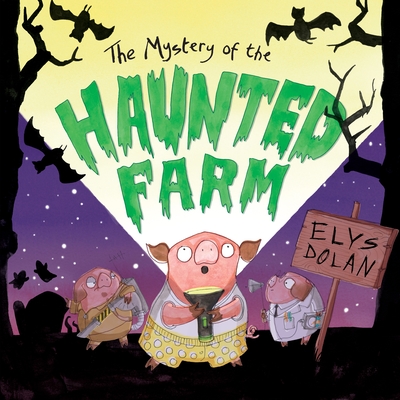 The Mystery of The Haunted Farm
Hardcover

* Individual store prices may vary.
Description
Strange and spooky things are happening down on the farm, and Farmer Greg knows exactly who to call — Ghost-hunters! A specialist team of three little ghost-hunting pigs equipped with the latest gadgets seem to be the perfect guys for the job. There's certainly something suspicious about the mysterious chicken coop up on the hill, but when the Phantom Finder 5000 fails to recognize any paranormal activity, the pigs realize that perhaps all is not quite as it seems.
Praise For The Mystery of The Haunted Farm…
While this is definitely a children's book, Dolan adds some masterful one-liners for adult readers' benefit that are sure to cause chuckles (one Ghost-Hunter says, "I ain't afraid of no goat!"). Dolan's mixed-media illustrations balance the creepy with the silly and are filled with hysterical details, visual puns, and speech bubbles, so readers are sure to find new things on repeat readings. This is one haunted farm readers won't want to skip.
—Kirkus Reviews (starred review)

As in her previous books, Dolan marries text and illustration to very funny effect, with an abundance of visual jokes, speech-balloon commentary, and details that advance both the story and the hilarity ("I ain't afraid of no goat," quips one of the investigators as the pigs head into the "incredibly creepy chicken coop" that might hold the key to the mystery). The large cast, clues tucked into the background, and feisty banter should easily hold up to multiple readings.
—Publishers Weekly

The final surprise is a delight, as is the slight bathroom humor that accompanies this perfect-for-Halloween tale.
—Booklist Online

Don't think too hard about the ridiculous plot—the fun here lies in the supernatural barnyard bedlam, displayed in oversized spreads crammed full of speech balloons and subplots. Readers familiar with Dolan's Weasels (BCCB 2/13) will recognize the chaotic comedy and cunning animal characters, and they'll know to search the spreads for rewarding detail...For those who prefer Halloween silliness to Halloween spookiness, this will be right up their alley.
—Bulletin of the Center for Children's Books

The art is packed with speech balloons, slapstick humor, and visual cues advancing the goofy story. Elementary-age readers will howl at the silly twists, turns, and transformations.
—Horn Book
Nosy Crow, 9780763686581, 32pp.
Publication Date: June 28, 2016
About the Author
Elys Dolan grew up in a part of England that consists almost entirely of trees and cows, and she was named after a department store in Wimbledon. She's never let either of these things hold her back and recently graduated from the Cambridge School of Art. She was awarded second place in the Macmillan Prize and was also short-listed for the Waterstone's Picture This Prize. She lives in Cambridge, England.